Even Sonic's Co-Creator Is Giving This Record Game Price The Side-Eye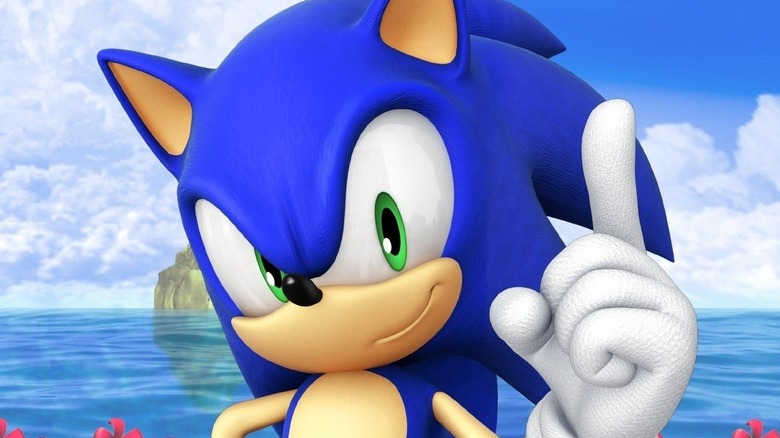 A copy of "Sonic The Hedgehog" for the Sega Genesis has sold for a record price of $430,500, causing confusion for many, including the former head of the Sonic development team. Yuji Naka, the former head of the Sonic team and the director of "Balan Wonderworld" retweeted an announcement from Goldin Auctions, which stated that a copy of the original "Sonic the Hedgehog" had sold for a record price. Naka found the record-setting price confusing, first writing "What's this" with a hedgehog emoji before asking "is it a scam?"
Naka is not alone in being confused by the very high price some video games have sold for in the past year or so. Between April and July of this year, the record for the most expensive video game went from a $660,000 copy of "Super Mario Bros." to $1,560,000 for a copy of "Super Mario 64," which broke another world record. A copy of "Super Mario Bros." once denied on "Pawn Stars" even went on to sell for $2 million. The prices for games have gotten so out of hand, speedrunner and YouTuber Karl Jobst made a video alleging that video game auctions might not be what gamers think, and that alleging that the Wata grading company and Heritage Auctions were artificially raising the prices of record-breaking games. While Heritage Auctions is not involved with this copy of "Sonic the Hedgehog," Wata is involved. The rating group deemed this copy to be a 9.4, A-rated copy. Gamers and professionals alike tried to clear up the matter for Naka, with varying results.
Yuji Naka's brief confusion
Naka continued questioning the numbers, tweeting "That's a scam, right? I wondered if it was time for Sonic to reach a high." He went on to retweet an earlier post from Goldin Auctions, where the current bid was at $150,000. He ended his thread by writing, "I saw the news that Mario was sold at a high price recently, so I thought Sonic was also a high price, but it's different. I'm sorry."
It's unclear where Naka finally landed with his opinion on this sale, but he possibly regretted calling it a scam since he felt the need to retract his statements. The apology may have also come after a conversation with Ken Goldin, the founder of Goldin Auctions, who replied to Naka's tweets.
"Naka San — we can assure you that this is a genuine sale to a real buyer on Goldin. Our customers trust us because all of our auctions are fair and for authentic items. We also vet all of our bidders on high-end items such as this," Goldin tweeted.
Goldin followed that up stating that the buyer was simply someone that wanted a piece of Sonic history and offered to discuss the auction business with Naka in a direct message. Goldin went on to talk about the game itself and why it sold for such a high price, being an early production copy in great condition. It's unclear if Naka spoke with Goldin, but it seems like the current spike in video game prices isn't dropping anytime soon.