Why Some Of Your Video Games Might Have A Cancer Warning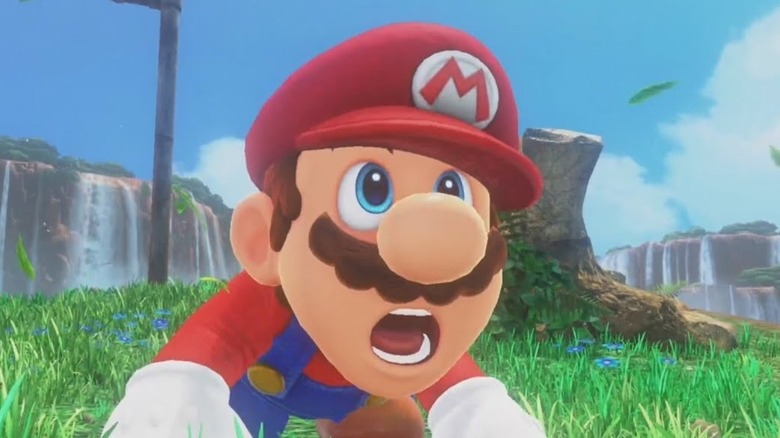 Wachiwit/Shutterstock
While video games are generally considered a safe pastime, most gamers are familiar with some potential risks that can come with the hobby. Fans learned the dangerous truth about "Cyberpunk 2077" after developers failed to include seizure warnings, putting individuals with epilepsy at risk until the offending sequence was patched. Additionally, almost everyone's heard a tragic story about a video game sending someone to the hospital for one reason or another.
Advertisement
Those situations tend to be outliers, however, and the experience of purchasing, playing, and generally just having a video game, console, or controller in one's home should typically be safe. So imagine the surprise that some consumers felt when they looked at a new game and found a tiny label hidden in the fine print of the packaging that read "Warning: Cancer and reproductive harm," followed by a link ending in a mysterious government URL.
Those are some pretty scary labels to hide on the back of a Nintendo Switch game, as users discovered on Reddit. Beyond that, the website provided, which links to an information portal for a California law called Proposition 65, doesn't provide any quick answers as to why the label is on any particular game. So why do some video games include cancer warnings when others don't, and what does it mean for the health of gamers buying these products?
Advertisement
What is Proposition 65 and what does it have to do with video games?
To begin with, gamers should have an understanding of what Proposition 65 is and why its label earned a place on the back of their games. As explained on the resource page linked in the warning, Proposition 65 refers to the California Safe Drinking Water and Toxic Enforcement Act of 1986, which "requires businesses to provide warnings to Californians about significant exposures to chemicals that cause cancer, birth defects or other reproductive harm."
Advertisement
So why would a Nintendo Switch product carry this label, of all things? While the answer isn't immediately apparent through the Proposition 65 information portal or Nintendo's health and safety precautions, a slightly less alarming answer is provided by The New York Times' Wirecutter blog. That article notes that the warnings have become more commonplace following new regulations adopted in 2018 by the California Office of Environmental Health Hazard Assessment. With low-risk items like a controller, these labels are often more about keeping companies compliant in California.
As noted at Wirecutter, electronic products like a Nintendo Switch console could contain trace amounts of chemicals that might be toxic if consumed in significant quantities. The packaging might have some styrene present, the wiring might contain bisphenol A, and there could be Di-n-Butyl phthalate present in a sticker on the side of the box. However, as long as gamers are not collecting and then ingesting these components, there should be no risk of cancer or reproductive harm.
Advertisement
Why is there a Proposition 65 label on a game sold outside of California?
These labels might be unsurprising to gamers who live in California, where Proposition 65 warnings are far more common. A Vox article that tracks the evolution of Proposition 65 from a clean water initiative championed by Jane Fonda in 1987 to a ubiquitous cancer label on consumer goods notes that the warning is even posted on signs at some California coffee shops and retail locations.
Advertisement
Gamers might be wondering why the labels are present on the packaging for products sold outside of California. The answer has been openly discussed by a few different developers over the last few years, and may shed some light on why many of the warnings found so far are on Nintendo products.
Take this Twitter exchange, for example. When a customer asked why a cancer and reproductive harm label was on a copy of "Senran Kagura: Peach Ball" for the Nintendo Switch, the studio behind the game's localization explained it was a part of a directive from Nintendo. XSeed's reply read, "This is a new Nintendo Switch game package requirement to comply with California State Law. It will be on all Nintendo Switch games going forward so no need to worry!"
Advertisement
In essence, California is the most populous state in America, per the Public Policy Institute of California. It is such a huge, and — as Vox notes — potentially litigious marketplace that it is simply safer for Nintendo to make sure all products imported to the United States satisfy the requirements of Proposition 65, even if doing so risks scaring consumers who are unfamiliar with the warnings.