This Game Takes The Internet's Favorite Mod To A Whole New Level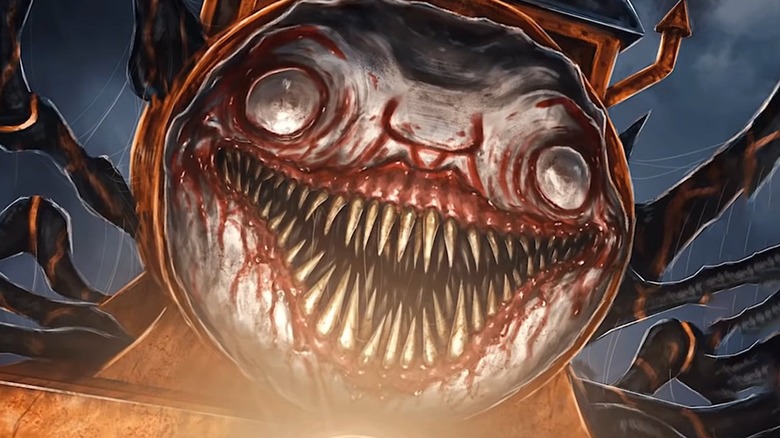 A brand new horror game is coming to Steam in 2022, and if you have ever downloaded (or made) a messed-up "Thomas the Tank Engine" mod for a game, it's basically your fault that it exists. The upcoming "Choo-Choo Charles" also features a train with a humanoid face on it, but this one is decidedly not for children. As shown in the trailer for "Choo-Choo Charles," this sentient locomotive is clearly some type of demon from hell, complete with horrific wide eyes, fangs, and clown-like features. This monstrosity chases the player across an island using its spider-legs (because it wouldn't be as scary if Charles couldn't leave the train track) and you are tasked with surviving the battle.
Like many great horror games, "Choo-Choo Charles" is set in a dark and derelict forest, but there is one saving grace for the player: another train. This yellow train is not alive, but can instead be used to flee from Charles and attack him with a mounted machine gun. According to the game's Steam description, players will need to collect scrap and complete missions for the various people on the island, all while Charles looms in the distance. Once enough upgrade materials are gathered, players can upgrade their train into their own personal death machine, which can be used to take the fight to Charles. So what do fans of horror and memes have to say about this upcoming title?
Choo-Choo Charles is inspired by video game horror icon Thomas the Tank Engine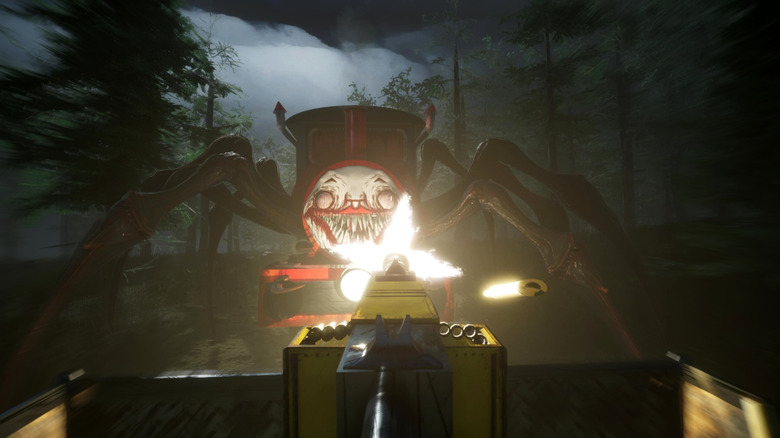 "Thomas the Tank Engine" has appeared in multiple horror games in past years — albeit only on PC and without legal clearance. The children's train has shown up in multiple "Resident Evil" games, including a mod that puts his face over that of Lady Dimitrescu in "Resident Evil Village." Thomas has also replaced dragons in "Skyrim," among other intense mods. It seemed only a matter of time before someone took the meme to its logical conclusion and made a whole game out of it. 
Some Redditors seem to have already grasped the plot of the game pretty clearly. "So you go around collecting scraps while hiding from the not-spider-Thomas-the-train, upgrade your own choo-choo, then pull the choo-choo sound to attract the boss for a final choo-down?" user Momo_Kozuki wrote.
"Choo-Choo Charles" is being developed by Two Star Games, which has released a handful of indie horror games on Steam in the past, all of which have positive reviews. While it's might be a little while before "Choo-Choo Charles" will be available for people to play, it seems to at least be coming from a team capable of crafting a quality horror game, even with a silly premise. For now, the biggest question on everyone's mind is: What characters are going to get modded in place of Charles? "Jay Jay the Jet Plane," perhaps?