Netflix's Squid Game Makes Its Video Game Debut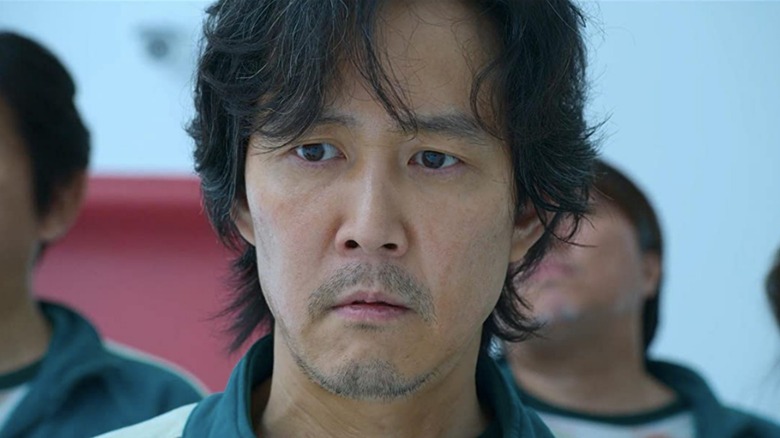 Netflix
Korean drama "Squid Game" is the #1 Netflix show in the U.S. as of October 7, 2021, and it's got everybody talking. Though there are plenty of moments in the gory, dystopian show that will make viewers squirm, it also raises deeper moral questions. There's a lot you might not know about "Squid Game" despite the fact that it's receiving critical and fan attention. Whether you're considering watching the trending show or have already figured out all its Easter eggs, it's clear that the "Squid Game" hype extends beyond the first season. Some viewers have already made the show their own through their fandom-related creations, including some work done by players of a popular online game.
Though it seems natural to assume that a "Squid Game" video game would be just as brutal as the show itself, you might be surprised to learn that the fans who adapted the show into a video game took things in a totally different direction. After all, if there's anything that remains consistent in the show, it's that nothing is what it seems on the surface. Though not everything about "Squid Game" makes sense, its mystery and uniqueness is part of the show's appeal. The strangeness of "Squid Game" might help make sense of the unlikely gaming platform where it's blowing up.
Squid Game Takes Over Roblox
Believe it or not, the game that's blowing up with fan-created "Squid Game" adaptations is none other than "Roblox." It's surprisingly ironic to see such an intense show recreated through a video game that is mostly marketed to younger players. Though "Roblox" is open to all ages and interested in getting more adults on the platform, it's still wildly popular with young people under 13.
Self-described as "a global platform where millions of people...imagine, create, and share experiences with each other in immersive, user-generated 3D worlds," "Roblox" has truly lived up to its promise to offer gameplay that's "just as limitless as the imagination of the creators themselves." When it comes to "Squid Game" on "Roblox," there are countless iterations popping up, with some racking up tens of millions of views. You can relive the games from the show like "Red Light, Green Light", "Honeycomb," "Marbles," and more.
There's no official word yet on whether the fan-created games on "Roblox" could lead to copyright disputes with the makers of "Squid Game." Considering "Roblox" recently got sued for $200 million due to copyright-related allegations, there's good reason for gamers to stay on their toes in case their creations get the proverbial red light.