The Untold Truth Of Ryan Hurst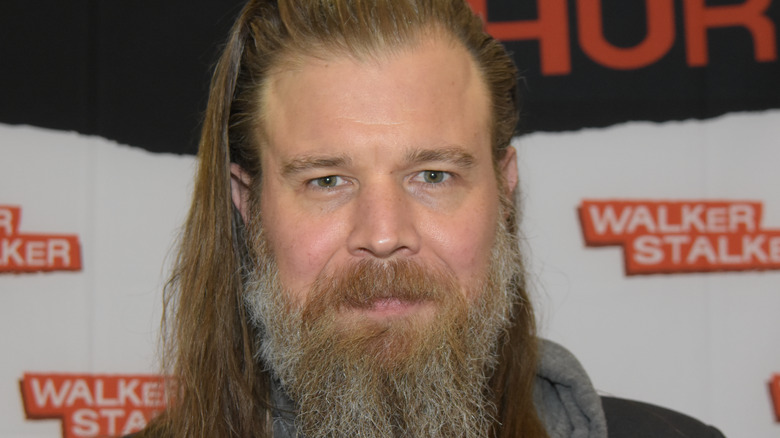 Markus Wissmann/Shutterstock
With a decades-long history in show business to his name, Ryan Hurst has racked up plenty of fascinating experiences. He's starred in films alongside the likes of Tom Hanks and Denzel Washington, recorded music for zombie apocalypses, and bonded with countless castmates. His best known roles have been on television: Hurst starred as fan favorite Opie on "Sons of Anarchy" before moving onto shows like "Bates Motel" and "Outsiders." More recently, Hurst brought the imposing villain Beta of "The Walking Dead" to fearsome life. 
Advertisement
Despite the zeal for violence his characters often indulge, Hurst himself is a practicing Sikh who promotes peace and understanding. When he's not acting, Hurst spends his time with loved ones, in meditation, and, believe it or not, teaching Kundalini yoga. Hurst disappears into his characters so seamlessly, it might feel impossible to picture him doing deep breathing and contemplating the importance of tolerance. But indeed, it's true — and we're here to tell you all about it. This is the untold truth of Ryan Hurst.
His dad was on The Dukes of Hazzard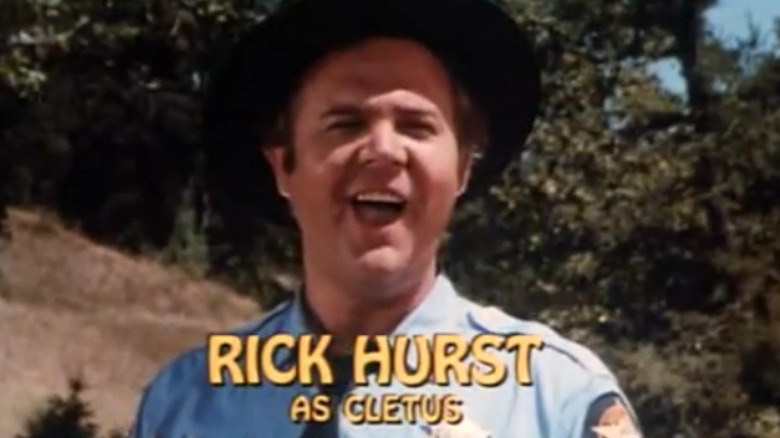 CBS
Some people say that talent runs in a family. That's certainly the case for Ryan Hurst, who's lucky enough to receive colorful creative influences from just about everyone he's related to. "My whole family is in the business," Hurst said in a 2015 interview with Beardbrand. "My mom is an acting coach, my step-dad is a writer, and my dad is an actor."
Advertisement
Most fans of "The Walking Dead" are probably too young to remember Ryan Hurst's father, Rick Hurst. Those who remember the 1970s, however, will remember he played Cletus Hogg on "The Dukes of Hazzard." He also appeared on hits like "Little House on the Prairie," "On the Rocks," and "Murder, She Wrote." That's not even mentioning all of his film appearances, which range from "Steel Magnolias" to "The Cat from Outer Space." Ryan Hurst bears a striking resemblance to his father, and is clearly following in the man's footsteps. At the pace he's moving, Hurst might even surpass his father's impressive 73 acting credits.
One of his first film roles was in Saving Private Ryan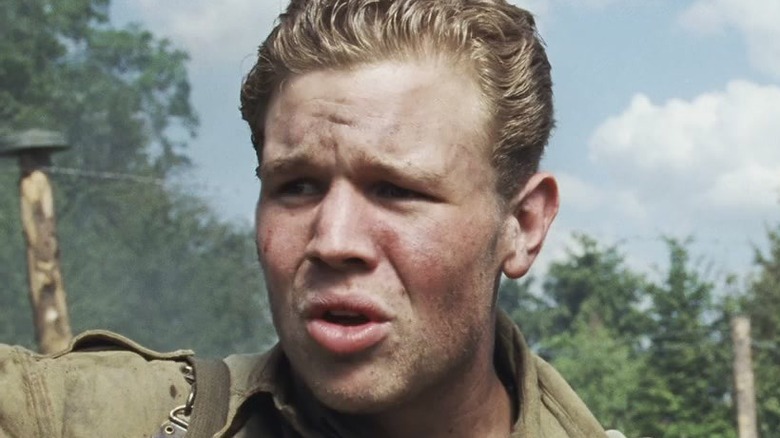 DreamWorks Pictures
Like many actors, Ryan Hurst got his start on television shows. His first onscreen role was Crunch Grabowski on "Saved By the Bell: The New Class." For several years afterward, he exclusively acted on television shows, before finally landing his first feature film role in 1997's "The Postman." This film is a post-apocalypse story (sans zombies) that failed to impress critics. But, luckily for Hurst, his role in this middling movie was quickly overshadowed by his next film appearance.
Advertisement
Ryan Hurst's second feature role made him part of one of the most popular war films of all time: 1998's "Saving Private Ryan." Indeed, fans of the film might have spent the past few years recognizing Hurst as his face popped up on shows like "The Walking Dead" and "Sons of Anarchy." In this seminal film, Hurst plays a paratrooper named Michaelson, who, despite being temporarily deafened by the noise of war, communicates to Tom Hanks's Captain Miller the location of Private Ryan. After "Saving Private Ryan" became a modern classic, Hurst began regularly landing film roles.
Remember the Titans opened his eyes to injustice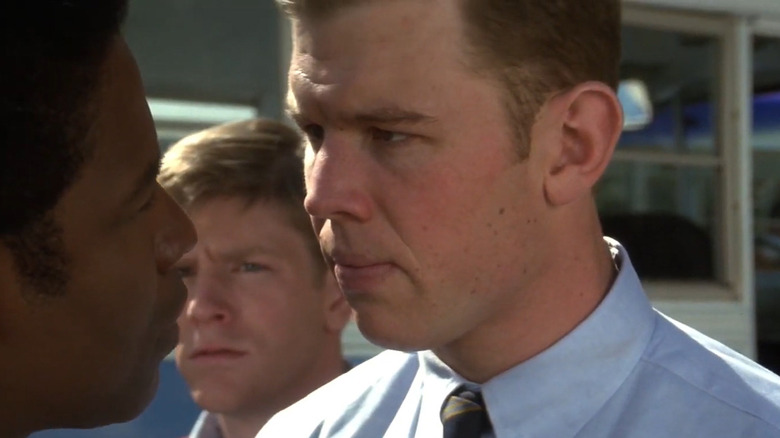 Buena Vista Pictures/YouTube
In 2000, Ryan Hurst appeared alongside Denzel Washington in the celebrated sports film "Remember the Titans." This movie tells the true story of Herman Boone's experience coaching the newly-integrated T.C. Williams High School football team in 1971. Much of the local white community is unhappy about integration, and the film doesn't shy away from depicting the brutal racist backlash Coach Boone and his players were exposed to.
Advertisement
As Ryan Hurst, who plays Gerry Bertier, discussed with E! Online, working on "Remember the Titans" opened his eyes to the ongoing legacy of racism in the United States. One particular incident, in which he witnessed a white woman responding differently to him than to his Black co-star Wood Harris, made a major impression. "It just showed me, it doesn't matter how socially aware [you are]," Hurst mused. "Experientially, as a white man, you're born to be f***ing ignorant." This moment has colored Hurst's approach to the rest of his career, and informed his understanding of injustice.
Sons of Anarchy became his big break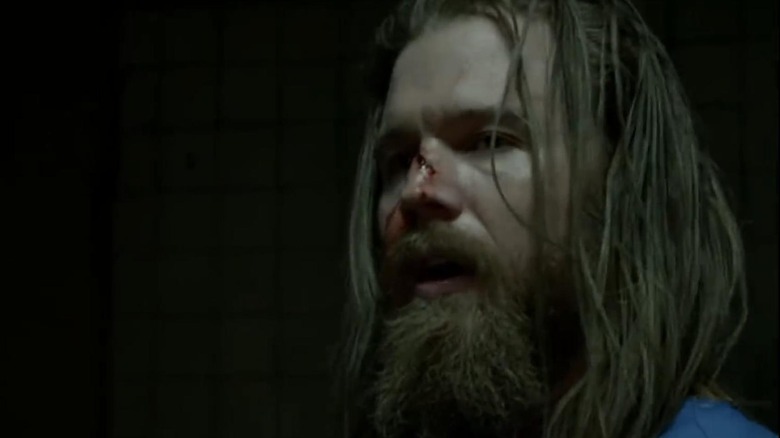 FX
Throughout the 2000s, Ryan Hurst didn't suffer from a shortage of work. But still, these roles didn't manage to take him into the mainstream. What finally pushed things over the edge for Hurst was his part on the intense FX drama "Sons of Anarchy." His character, Opie Winston, started out as a recurring cast member in Season 1. But he proved to be so popular, he became a main cast member in Season 2.
Advertisement
Hurst spent five seasons on "Sons of Anarchy." To hear him tell it to Entertainment Weekly, though, he and his fellow cast members would have liked to keep Opie around forever. "I couldn't stop crying," Hurst said of his reaction when he first heard that Opie was being written off "Sons of Anarchy." After Hurst's last day of filming, he and the show's other actors gathered at Charlie Hunnam's home for a farewell celebration. There, the actors all cut off a bit of Hurst's beard with a samurai sword. It was the end of Hurst's time on the show, but not the end of his relationship with his castmates. "When I buddied up with these people," Hurst said, "I was like 'Okay, we're going to know each other until we're actually dead.'"
Advertisement
He'll never lose the beard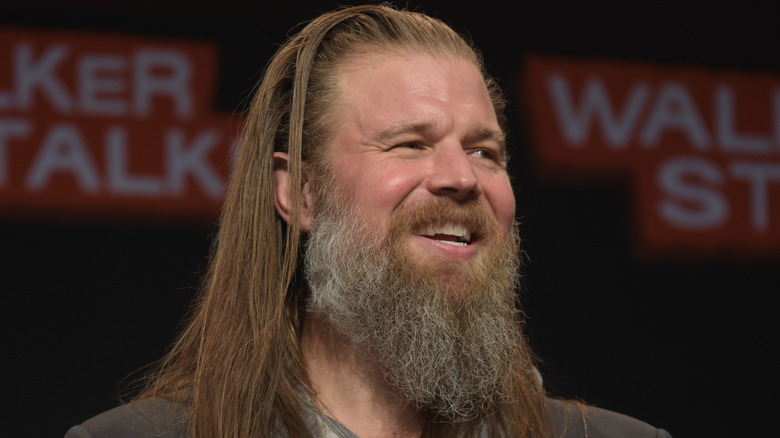 Markus Wissmann/Shutterstock
Show business can be tough on beards. Unless one is specifically required for a role, most actors are encouraged to keep things clean shaven. Ryan Hurst bucks that trend, however, with his luxurious facial hair. Fans might recall seeing him baby-faced in early roles like Gerry in "Remember the Titans," but they shouldn't expect to see his smooth cheeks ever again. Hurst started growing his beard well before his time on "Sons of Anarchy," and has proven that he is willing to sacrifice roles to keep it.
Advertisement
On the first day of filming "Campus Cops," one of his earliest TV series, the show's casting director approached Hurst with a pair of scissors. As Hurst recalled to Beardbrand, he asked, "What are you doing with those?" When the director told Hurst they planned to trim his hair and cut his beard, his answer was firm: "No, you're not going to touch it or I quit." In the end, they let Hurst keep the beard. "When I have a beard, I do feel more protected and stronger," Hurst mused. "I hold myself a little prouder."
He practices Sikhism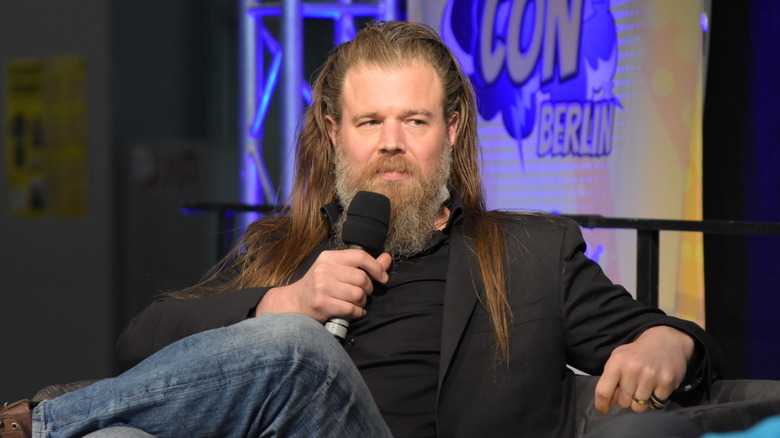 Markus Wissmann/Shutterstock
Sikhism, a monotheistic religion which centers service to others, dates back to the late 15th century, when it was founded in the Punjab region of India. Despite its relative youth (as far as religions go), Sikhism is the world's fifth most popular religion, with millions of followers around the globe — including Ryan Hurst. As he told Beardbrand, his religion "is one of those things that many people don't know about me ... you would never expect it, but I am also a yoga teacher, as well as a Sikh in training." Despite the public's ignorance, it is central to his identity.
Advertisement
"Covering the head and growing the beard is one of the foundations of Sikhism," Hurst detailed. "It is about holding yourself as a powerful being and that is one of the main reasons I continue to grow a beard." His beliefs don't just inform his trademark look, though — they shape his relationships, and his connection to the wider world. When he says he holds himself "a little prouder" with his beard in place, it's a spiritual statement, rather than a simply aesthetic one.
He enjoys playing difficult characters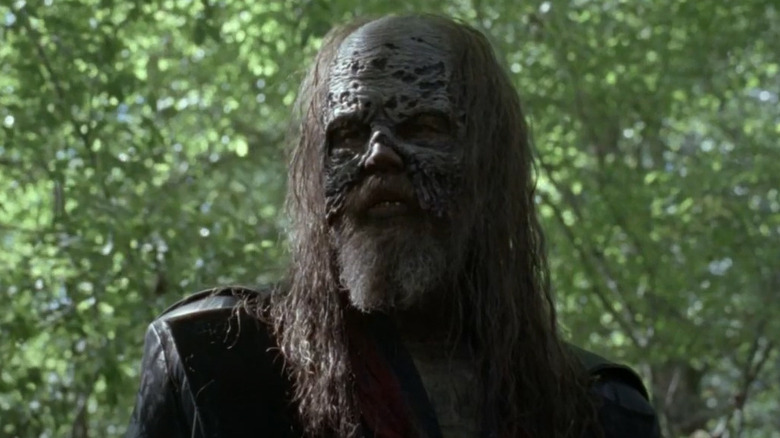 AMC/YouTube
Every actor wants to stretch their abilities, but Ryan Hurst makes that desire the center of his career. He consistently chooses roles that offer unique challenges and demand something from him he's never had to give before. Take Beta, the role he plays on "The Walking Dead." He's a seemingly impossible character on paper: A big, lumbering monster of a man, he never removes his mask, never talks about his past, and never wavers in his loyalty to his leader. That's exactly the kind of part Hurst lives for.
Advertisement
"I tend to find myself doing roles, that for whatever reason, other actors can't do," he explained to Beardbrand. "If it's a role that is just awkward, strange, or different, I love taking those roles. I love the challenge." That drive has led him from war movies to the undead apocalypse to the weird world of mysticism that shows up on the WGN show "Outsiders." Chasing challenges doesn't just boost Hurst's career — they also help him grow personally. "Every role that I do is like a tool to learn something new about myself," he mused. "Some tools you kind of recognize and it is easy to learn to use, and then other times it stretches you."
He teaches Kundalini yoga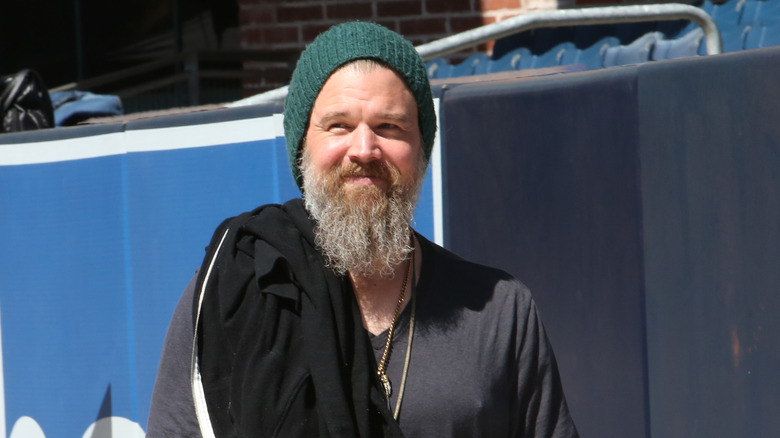 Jesse Grant/Getty Images
Everyone needs something to do that's entirely removed from their career. For Ryan Hurst, yoga is an outlet, a practice, and a way to continually focus on his personal growth. "I go to yoga four times a week," Hurst told Los Angeles Magazine. He's not just a participant, though — he's a Kundalini yoga teacher. As he explained, "Kundalini is sort of the mother yoga that spawned all the other branches."
Advertisement
Aside from being good exercise, yoga is also a spiritual experience for many. As Yoga Journal details, it is an "ancient healing practice" that "affects the energy, emotion, and motion" of the body and soul. Ryan Hurst's practice isn't as removed from his acting life as you might guess from this high-minded description: The class he teaches is "a big class — a lot of celebrities are there a lot of the time." Thus, Hurst is able to bring the two sides of his life together, at least four times a week.
He wants to do comedy someday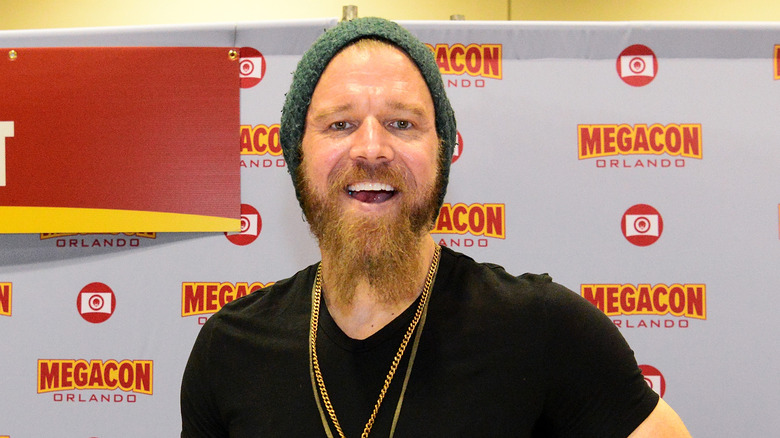 Gerardo Mora/Getty Images
What could be next for Ryan Hurst? His roles have taken him everywhere, from the bloody fronts of war to the ravages of the zombie apocalypse. If there's been a through line in Hurst's career, aside from the uniqueness of his characters, it's been a pull towards deep, dramatic content. Though his fans are pleased by this meaty material, that doesn't mean that Hurst is always on the lookout for intense work that calls for violence, brooding, and tragedy. In fact, he's pointedly interested in lighter fare.
Advertisement
"I don't get to do enough comedy," Hurst told Beardbrand. War movies, he explained, are "physically, emotionally, and psychologically draining." By contrast, "Whenever you are making a comedy, it is just the best feeling." Happily, he recently got a chance to dig into some sunnier material as Milligan on the Disney+ show "The Mysterious Benedict Society." If Hurst has his way, there's plenty more laugh-a-minute work to come. As he put it towards the interview's end, "Any sort of comedy is where I would be headed."
Beta's backstory was Hurst's idea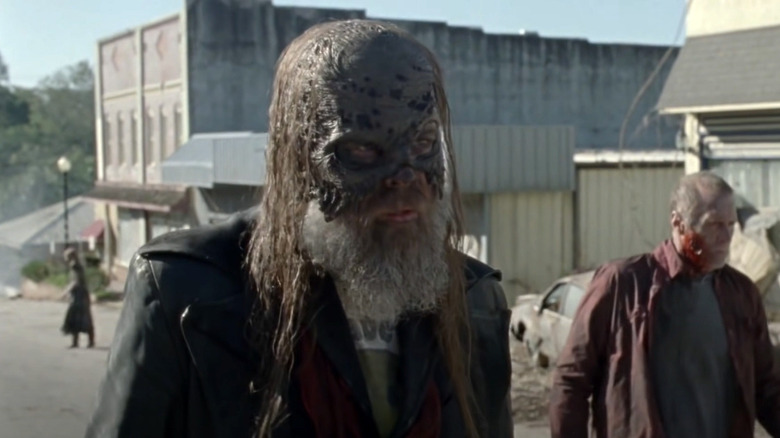 AMC/YouTube
Beta's backstory is slowly teased throughout Season 10 of "The Walking Dead." In the comics, Beta was a basketball player before the apocalypse hit, but the show decided to go in a completely different direction. Beta's TV backstory isn't just original, however — it's Ryan Hurst's creation.
Advertisement
As Hurst told Insider, he was meditating on the character one day when a thought occurred to him: "I was just like, 'Oh, I think he's a country music singer.'" Hurst went to work writing down the story of a singer gone mad after the fall, carrying around the face of his best friend for reasons only he can understand. When he took his ideas to showrunner Angela Kang, she loved them and decided to use them on the show.
Hurst is even responsible for the Whisperers' signature catchphrase: He wrote "this sort of poem song" as his character, which became the "We are the end of the world" chant. "They used all of it," Hurst said. "I'm just so, so thankful for that."
Hurst recorded music as Beta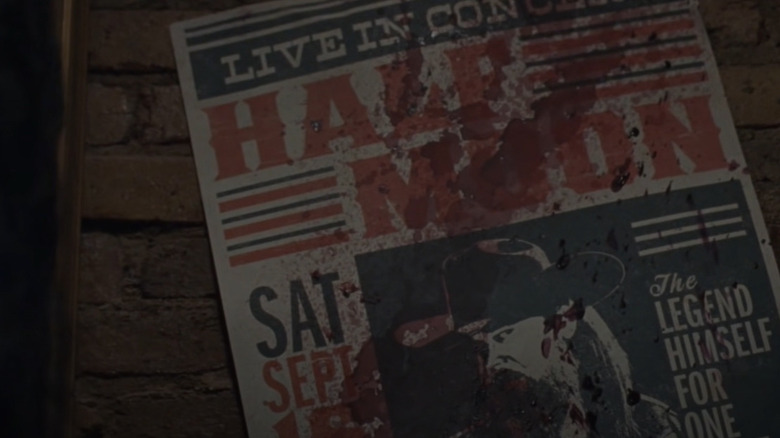 AMC/YouTube
To bring Beta the country singer to life, "The Walking Dead" needed Ryan Hurst to get into a recording studio and lay down some tracks. As he told Insider, "It was one of those sort of like actor's nightmare situations," as he wasn't all that sure he could sing. On top of his shaky confidence, Hurst was also told that he'd only have three days to nail down his tracks.
Advertisement
Hurst ended up recording two songs. The first was written by Emily Kinney, who played Beth on the show long before Beta and the Whisperers showed up. The second was written by Dan Fogler, who plays Luke, and Ryan Hurst himself. According to Hurst, the two of them "were just vibing one day ... And I said, 'You should write a song for Beta.'"
Hurst's singing first shows up on Season 5 of "Fear the Walking Dead," which aired before "The Walking Dead" fully revealed Beta's backstory. The entire process of bringing Beta's story to life is "a testament to how it's a true sort of meritocracy on 'The Walking Dead,'" Hurst explained. Anyone with "a great idea" is invited to leave their mark on the show, however they may wish.
Advertisement
He's played Thor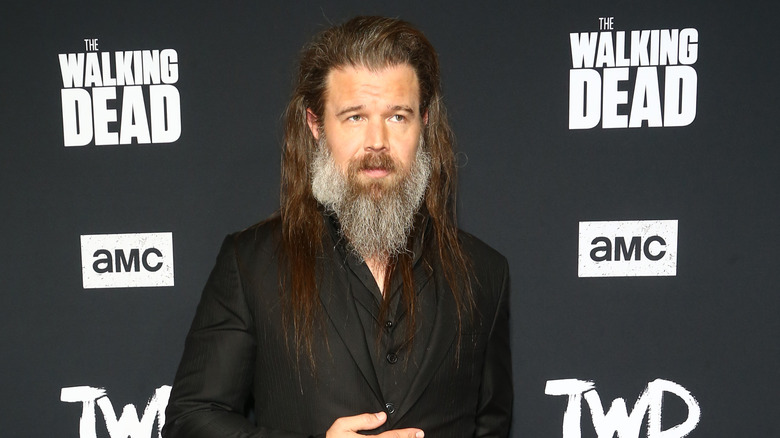 Tommaso Boddi/Getty Images
After years of working in front of the camera, Ryan Hurst has recently gotten to explore working onscreen in a whole new way. He is the voice of Thor in the Sony Interactive Entertainment game "God of War: Ragnarok." This hotly anticipated game is the ninth entry in the popular and mythologically-inspired "God of War" franchise, which means Hurst is jumping onto a vehicle that already has plenty of momentum.
Advertisement
Hurst was asked about his work on the game during the "Sons of Anarchy" panel held at Fan Expo Dallas in September 2021. He described the game as "a hoot to make." It was also a major departure from his usual work: As Hurst explained, "It was the first video game that I made with motion capture stuff. It was like playing with a marionette." If Hurst manages to bring some of Beta's imposing energy to Thor, then the thunder god will surely be one of the most fearsome foes Kratos and his son encounter in the game.