Chris Pratt Shares His Official Unofficial First Look At The Mario Movie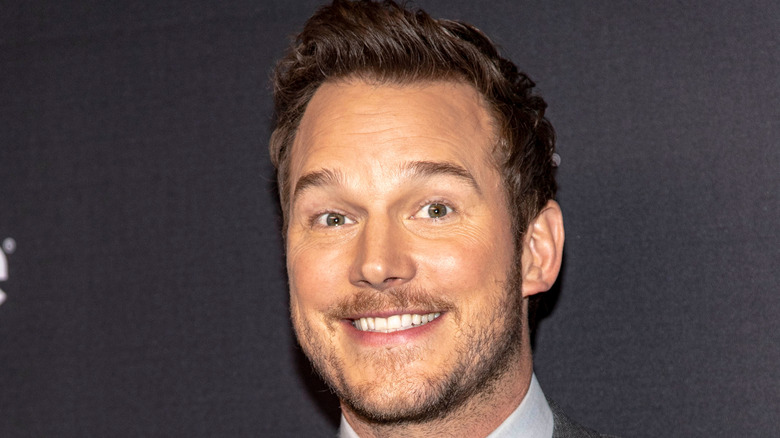 Eugene Powers/Shutterstock
Since news broke that Chris Pratt had been cast as the iconic Mario for the upcoming "Super Mario Bros" animated movie, fans of the long-running video game series have been divided, but Pratt appears to be having fun with his new role.
Pratt may have endeared himself to audiences as one of the more notable leading stars in Hollywood today, but fans of the "Mario" series have had a tough time coming to grips with their favorite protagonist being portrayed by someone not directly associated with the series to this point. Many fans feel that Charles Martinet — who has voiced the iconic character for over two decades — should have been offered the part. Instead, Martinet will be playing an undisclosed side role in the film.
Despite polarizing reactions to his casting, Pratt has been steadfast in expressing his gratitude and excitement in nabbing the role. In a story that seemed to predict the future, Pratt has recounted how he used to steal quarters from wishing wells just to play "Mario Bros." at arcades as a kid. And, in true Chris Pratt fashion, the "Jurassic World" star has just given fans a cheeky "first look" at his upcoming role.
Chris Pratt posted a hilarious video of him as Mario
With a caption reading, "Amazing first look at Super Mario Brothers. This is going to be epic," Pratt posted a hilarious video on his Instagram under the guise of being an exclusive sneak peak of the new "Super Mario" film. In a fan-made edit of a scene from "Guardians of the Galaxy," the clip sees Pratt — with Mario's trademark hat, nose, and mustache imposed onto his face — jumping for a Super Star. The video — originally posted by YouTube user PFINNEY — also shows Zoe Saldana's Gamora with a mushroom hat, as well as various other Easter eggs, like the image of Princess Peach's crown on Laura Haddock's Meredith Quill.
The hilarious (and obviously fake) "first look" is a testament to Pratt's sense of humor, and is sure to convert at least some detractors of the actor's casting. Previously, Pratt has posted videos of him practicing Mario's signature voice. As of right now, it is unknown how the character will look when on the silver screen — though fans have some ideas.
Though an official release date has yet to be disclosed, the "Mario" film is currently in post-production with a 2022 release in mind. Opposite Pratt, Charlie Day will star as Mario's equally iconic brother, Luigi, while Anya Taylor-Joy and Jack Black are voicing series favorites Princess Peach and Bowser, respectively.