What Mortal Kombat's Most Iconic Move Looks Like Without Special Effects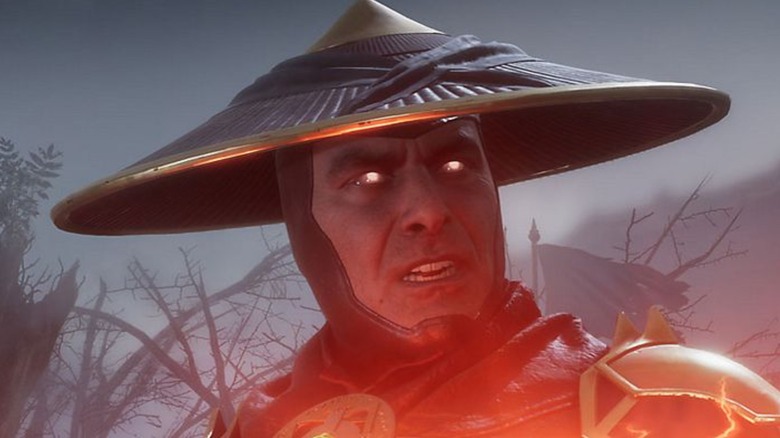 At this point, "Mortal Kombat" is part of video games' DNA. It's a property that most people know about, even if they don't enjoy picking up a console controller. The series is known for its excessive gore, memorable characters, and brutal fatalities. However, the most recognizable move from the "Mortal Kombat" series arguably isn't a complicated death blow. Instead, many fans would agree that honor belongs to Scorpion's spear and chain trick, which drags his opponent towards him as he yells, "get over here!" After nearly 30 years, "Mortal Kombat" director and co-creator Ed Boon has shared where that move originated, showing fans how it looks without the special effects and blood of the finished game.
Boon posted a video to his Twitter account, writing, "Mortal Kombat will be 30 years old in 2022. But 2021 marks 30 years since we actually BEGAN working on the game. To celebrate, it seemed like a fun idea to share some behind-the-scenes stuff." In the clip, a young Ed Boon and his crew walk Scorpion's actor through a potential new move. Viewers can almost hear the idea taking shape when Boon asks, "You know what would be a cool-a** move? Do Ninjas ever have this sort of rope?" Boon then proceeds to describe what it might look like for Scorpion to throw a small dart or spear and hook an enemy with it. 
"Mortal Kombat" approached its characters differently from many other games at the time, as the characters were based on actual actors performing in front of a blank screen. As Jordan H.J. showed in his short documentary about the game, actors performed martial arts moves for hours to provide content that the game developers could later digitize. Boon's historical behind-the-scenes clip illuminated the birth of the series' most recognizable move.
"Get over here!"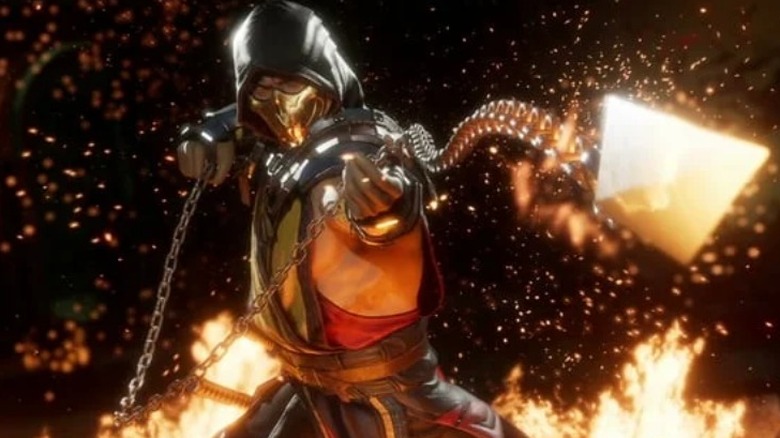 Boon's clip of working through the infamous "Get over here!" move showed that creating personalities for each character was a fluid process with both the game's creators and its cast, which included martial artist Daniel Pesina as Scorpion.
Boon explained the process a bit more in follow-up tweets. He said that one of the biggest struggles in creating a new move was determining if the game card would have space for it. In his clip, viewers can hear Boon talking about how many frames the move can use, directing the performer to complete the motion quicker in order for it to be digitized efficiently. Boon tweeted, "We were so tight on memory, that we didn't even capture any motions for the victim reactions. Instead, we borrowed from their existing animation frames." While there were many more components to creating the move, seeing a young Boon excitedly flailing to communicate his ideas reminded gamers of the series' origins.
Boon said that he hoped this was just the first video of many more, tweeting, "Fingers krossed, I'm hoping to release more (fly on the wall) videos like this in the future as we lead up to Mortal Kombat's 30-year anniversary." 
"Mortal Kombat" has an exciting future ahead of it, even after 30 years. Gamers have recently learned all sorts of interesting "Mortal Kombat" trivia, like how the series narrowly missed adding Buffy the Vampire Slayer. It's unclear when "Mortal Kombat 12" will appear, but hopefully fans get more news as the franchise celebrates three decades of action.