We Finally Know What Took Sony So Long To Respond To This Faceplate Maker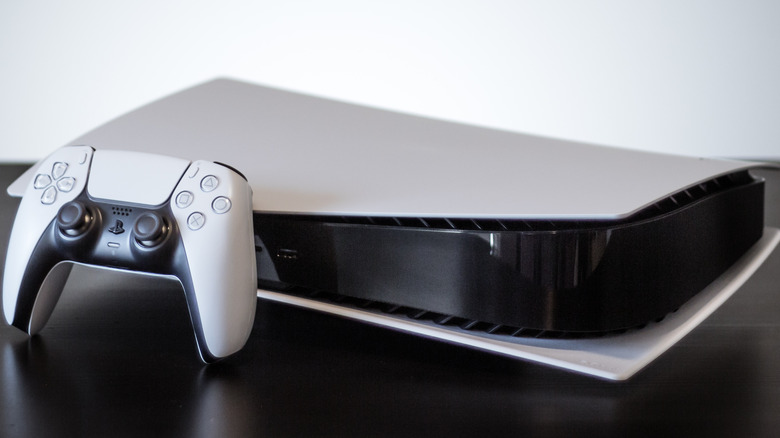 Mohsen Vaziri/Shutterstock
Sony finally responded to the company that dared it not to sue with — what else? — legal action. Electronics skin maker Dbrand announced that Sony approached the company with a cease and desist letter, ordering it to stop producing its Darkplates, plastic covers that can change the color of one's PS5. After fans had to say "RIP" to the all-black PS5s created by another third-party company, Dbrand stepped up to fill the faceplate void. While Sony eventually stated it would take legal action if Dbrand did not stop production of its faceplates, many fans wondered what took the tech giant so long to address the situation in the first place.
Advertisement
It seems that Sony might not have registered its own design. In a lengthy Reddit post from Dbrand, the company claimed that when it first developed and produced its Darkplates, Sony had not yet registered the design for the PS5's side panels. Now that Sony has registered its design, it has legal grounds to sue Dbrand, even though there was no registration when Darkplates were originally designed. Dbrand said that it didn't think that Sony would ever register its design, but now that it has the company has to rethink its strategy. However, Dbrand isn't one to give up easily. It's already got a new plan in place to deliver style to its customers, and preorders are available now.
Darkplates 2.0 makes some improvements
Dbrand revealed that it will redesign Darkplates into a 2.0 version, which will include both stylistic and functional improvements. The company claimed that creating a new design will "close[] the loop" with Sony's legal team while still allowing the product to be sold. However, Dbrand said it's doing consumers one better by making Darkplates 2.0 beneficial to the PS5.
Advertisement
Dbrand argued that Sony's original faceplates block the PS5's fans from cooling properly. Darkplates 2.0 will include an opening to increase airflow, along with an optional mesh plate to protect the system from dust. The new design will also offer colored strips to change the PS5's light design and three different colorways — Retro gray, white, and black. Darkplates 2.0 are already available to preorder on Dbrand's website. While the first couple of waves are sold out, the third wave will ship in January.
Throughout its Reddit post, Dbrand took the opportunity to poke fun at some of the commenters that offered "armchair legal advice" about the situation with Sony. Dbrand revealed that it had, in fact, been toying with a redesign for months and decided to complete Darkplates 2.0 while Sony's patent was in the approval stage. It's unclear if Sony will pursue further legal action against Dbrand in the future, but the slogan for Darkplates 2.0 — "Checkmate, lawyers." — shows that Dbrand anticipates the challenge.
Advertisement