RIP Black PS5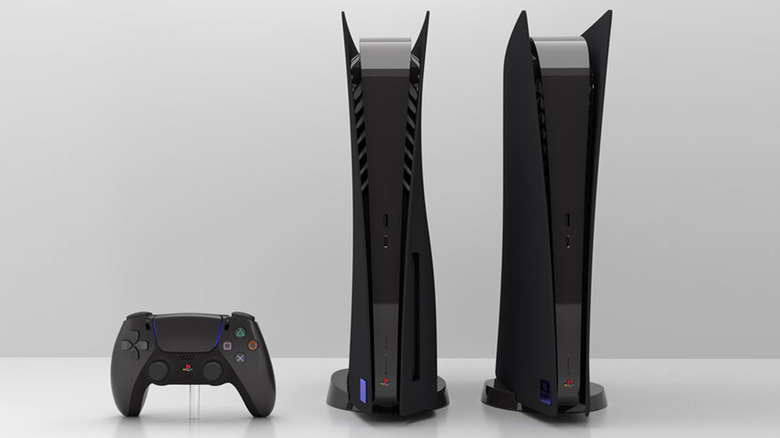 SUP3R5
As it turns out, PlayStation fans will not be getting their hands on a black PS5 after all. The third-party company who planned to sell a limited supply of retro-inspired black consoles, SUP3R5, canceled all orders this week after the team allegedly received threats to their safety.
Advertisement
As Eurogamer reported, SUP3R5 shared the news in a statement on its since-deleted Twitter account following a pre-order sale for the black PS5s on Jan. 8. According to the statement, the SUP3R5 team members received "credible threats" to their safety, and as a result decided to cancel all orders of the highly-anticipated product. "We take these threats seriously, and as a result, we're not proceeding forward. All orders are being cancelled with full refunds," SUP3R5 wrote.
All hope is not lost, though. SUP3R5 also mentioned (before shutting down its Twitter account) that it would return to selling the black PS5 systems if and when "it's safe to try again." The statement concluded, "We intended this to be a fun way to celebrate a shared nostalgia. As it turns out, there are people out there who are willing to interfere with that."
Advertisement
In late December, SUP3R5 unveiled its plan to produce customized PS5 consoles with all-black outer shells and a colorful PlayStation logo reminiscent of the PS2. Anyone who wanted one needed to act fast when Jan. 8 rolled around, considering that only 304 units of the console would be made. The disc version of the black PS5s did come with a heftier price than Sony's standard PS5 — $750 as compared to $499 for the standard edition — but the designs were met with positive reception. A matching DualSense controller came alongside the console, but was also available to purchase separately for $99.
When pre-order day arrived, the consoles allegedly sold out in seconds. Unfortunately, as TheGamer noted, the high demand did cause a bit of trouble for SUP3R5's website. Some had issues processing payments, while others were charged and never received a confirmation email. SUP3R5 acknowledged the issue on Twitter and said it would work on fixes, but then released the cancellation statement.
The circumstances surrounding the black PS5 have left skeptical fans scratching their heads, with some wondering if SUP3R5 may have been a scam all along. Reddit user _Cubed followed the situation closely from the start and questioned SUP3R5's credibility, given that it had no prior history of selling products. However, the Redditor did order one of the consoles and reported that they received their refund. _Cubed wondered if the "threats" may have actually been a cease and desist from Sony — as was the case for a seller producing custom PS5 faceplates last year. 
Advertisement
The black PS5 was a glimmer of hope for many fans who have tried and tried to get their hands on one of Sony's new consoles since its launch in November. Just one week after the PS5 hit shelves, Sony stated that the systems were sold out everywhere. The PS5 has been incredibly hard to find since then, with some retailers not slated to receive more stock until sometime this year.