The Xbox Mini Fridge Is Being Ruined By Scalpers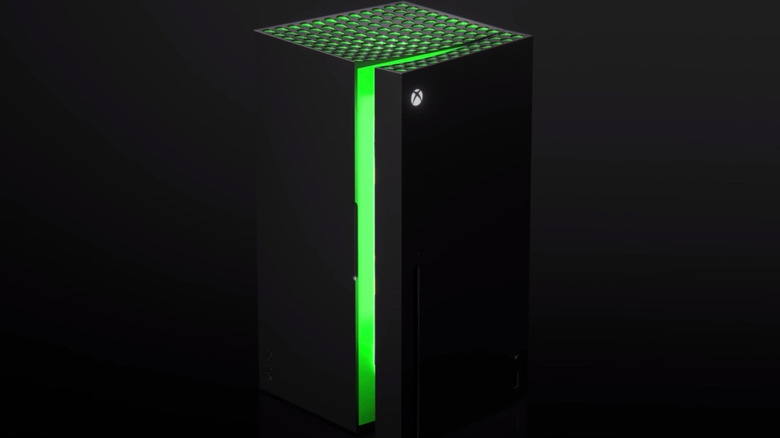 Xbox
What started as a Microsoft meme-turned-reality has become a nightmare for thirsty customers seeking the Xbox Series X Replica Mini Fridge. The Xbox Series X-styled appliance was officially revealed during this year's E3 presentation (after a full-sized version had been shown off the year prior) and seemed like the ultimate marketing stunt. However, now that the console-themed mini fridge has opened up preorders, fans are already struggling to find one without going through scalpers.
Advertisement
When Microsoft originally announced its new consoles, it wasn't long before players began comparing the design of the next-gen gaming hardware to kitchen appliances (via IGN). Microsoft rolled with the meme and the fan community, eventually hosting a contest that awarded one winner with a full-sized Xbox Series X-styled refrigerator. From there, an ensuing popularity war on Twitter between Skittles and Xbox resulted in the promise of Xbox Mini Fridges if the company was voted into victory on the social media platform. 
But now that Xbox has emerged victorious and made good on its promise, the biggest question is whether the fans can actually get one. Like the actual next-gen consoles themselves, a select few have scooped up all stock of the fridge and are now selling units for double to triple the retail cost. Here's how scalpers are actively ruining the launch of the Xbox Mini Fridge.
Advertisement
What is Xbox going to do about the lack of mini fridge stock?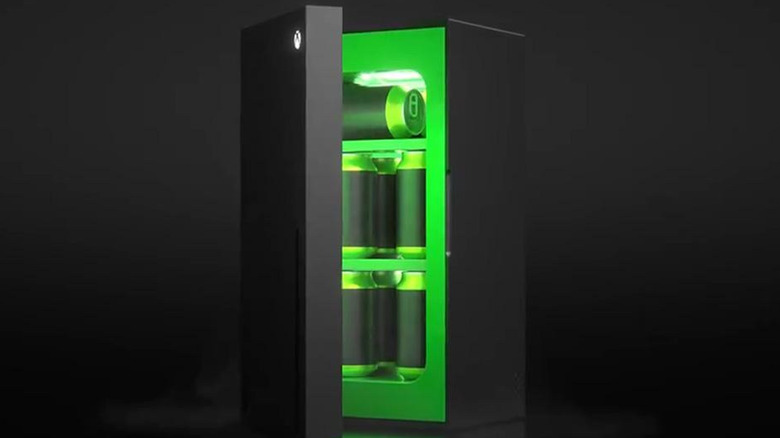 Xbox
Despite the objective oddity of owning a refrigerator that looks like an Xbox, the modestly priced Xbox Mini Fridge drew attention for its sleek appearance and uniqueness. Being sold exclusively at Target for $99, it represented a little conciliation to fans who have been chasing the actual new consoles since last years' launch — or at least that was the plan. 
Advertisement
Within minutes, preorders for the Xbox Mini Fridges were sold out across the board on Target's website, forcing those who really want the item to look towards resellers on eBay or other marketplaces.
With the Xbox Mini Fridge selling out almost instantly and with the majority of that stock going to scalpers, customers have become vocally irate, review bombing the item on Target's website and taking to social media to voice their frustration with bots and scalpers. Not only are customers upset about availability (or lack thereof), but now that the products reside in the hands of scalpers, they'll have to pay double (or more) if they want to get their hands on one. 
Thankfully, Xbox has said this is not the first and last time people will have a chance at the Xbox Mini Fridge. According to an official blog post, Xbox plans to "bring the Xbox Mini Fridge to as many fans as possible and will continue to expand regional availability in 2022." That said, eager fans will then have to hope resellers don't immediately gobble up subsequent stock.
Advertisement