The Truth About Timothee Chalamet's Time As A Gaming YouTuber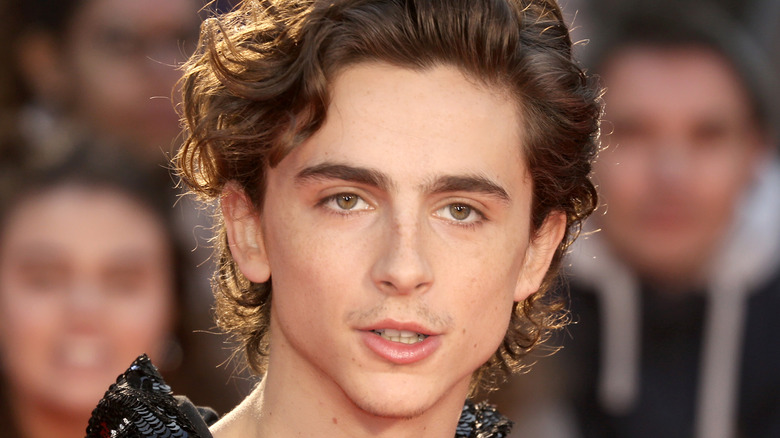 Cubankite/Shutterstock
After years of waiting, Denis Villeneuve's adaptation of "Dune" has arrived, and it seems that the famously unfilmable novel has finally been successfully translated for the screen. Viewers have generally been kind to the new "Dune," and the film's success in theatres and HBO Max have led to the news that fans have been waiting for: a sequel is officially on the way.
Critics praised Villeneuve's "Dune" for its stunning visuals, careful interpretation of the novel's complex plotlines, and compelling worldbuilding. At the core of the narrative are the characters, and the film builds an ensemble cast of some of the most prominent actors in the world to tell its story. Stars from superhero blockbusters, such as Jason Momoa and Josh Brolin, share screen time with actors best known for intimate dramatic work, such as Rebecca Ferguson and Oscar Isaac. However, at the center of everything are two of the most exciting young actors today, Timothée Chalamet and Zendaya.
However, while it may seem like individuals with personas as public as these may not have much to hide, it turns out that one of them has a secret past that includes some clandestine social media channels and customized Xbox controllers. That's right, Chalamet had his own YouTube channel. 
Timothée Chalamet had a YouTube channel dedicated to creating customized Xbox controllers
As exhaustively researched by Vice, who enlisted the help of Aric Toller, a researcher for Bellingcat who typically investigates war crimes, it appears that Timothée Chalamet once was behind the YouTube channel ModdedController360. The channel has three videos, all less than a minute long and posted in 2010, which feature short clips of a young person showing off customized Xbox 360 controllers. A face is never shown, and a name is never given.
Rumors began circulating on Instagram that Chalamet might be behind the channel when a fan noticed that Chalamet's official YouTube channel had liked some of the videos on ModdedController360. However, since the videos in question only show the controller and the individual's hands, positively identifying Chalamet was difficult. Thankfully, Vice was able to compare stills from the footage to old Instagram photos shared by Chalamet, finding clues like the floor pattern, rug alignment, and finally, their smoking gun – a bean bag chair with a soccer ball pattern.
Vice packaged all of this information and sent it to Toller, who confirmed that it was likely Chalamet, writing, "I'm ancient and have no idea who chalamet is either lol. Oh he's the Kyle MacLachlan of new 'Dune.' Ya, seems like it's him." While all of that might seem like enough proof, soon after Vice published their findings, they were sent a video of an interview with "Fortnite" streamer NateHill in which Chalamet owns up to the channel and even divulged the profits his customized Xbox controller operation brought in — $30.