What's The Next Ride Opening At Universal Studios Hollywood?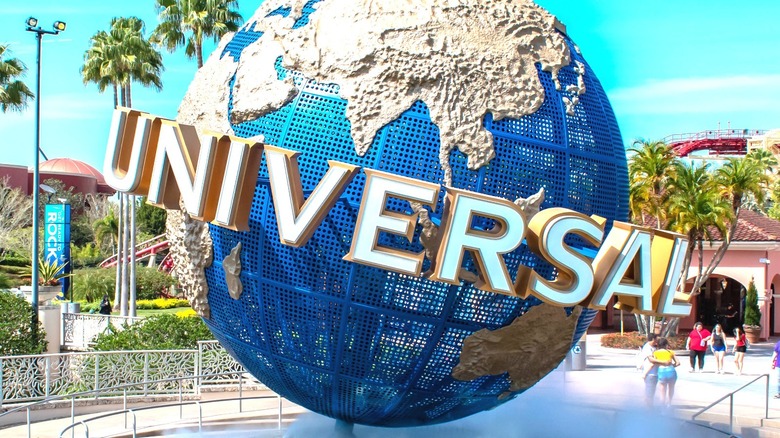 Viaval Tours/Shutterstock
We may receive a commission on purchases made from links.
The theme park wars have died down from their mid-'90s height, as described in Sam Gennaway's book "Universal vs. Disney," but both theme park giants are still constantly adding new attractions at their various locations to try and lure guests away from each other. In 2019, Universal Studios Hollywood tried to compete with Disneyland's "Star Wars: Galaxy's Edge," which opened in May (via Star Wars), by introducing its revamped "Jurassic World" ride (via YouTube). And shortly after parks reopened in 2021, Universal introduced their latest dark ride based on "The Secret Life of Pets," as documented by Attractions Magazine.
Advertisement
Universal Studios Hollywood has been a tourist attraction since 1915 (via The Studio Tour). When movies were still silent, studio founder Carl Laemmle invited the public to watch the movies get made from risers erected facing the sets. Once things had to get a lot quieter, Universal began operating the Studio Tour. Trams would take sightseers on the Universal backlot, where numerous special effects gags had been constructed for their enjoyment. The backlot tour was highlighted in such films as "Animal House," "Big Fat Liar," and "Mallrats," where the "Jaws" part of the tour was dressed to look like Orlando's Jaws: the Ride.
From the Studio Tour, Universal Studios Hollywood has built up an impressive theme park. New attractions arrive at a pretty regular pace, with the park currently featuring two Harry Potter rides, a land-based on Illumination Entertainment properties, and a land-based on "The Simpsons." But what does Universal have in store in the next few years?
Advertisement
Construction on Super Nintendo World is already underway
The next ride coming to Universal Studios Hollywood isn't a standalone attraction — it's an entirely new land. In 2016, Universal Studios announced it would be incorporating characters and rides from Nintendo's Mario franchise into the land, according to Anime News Network. Construction began before theme parks were shut down due to COVID-19. As photos from Inside the Magic tease, Super Nintendo World could open as soon as spring 2022.
Advertisement
We know many details of what ride (or rides) Super Nintendo World will include since a version of the land is already open in Japan (via Attractions Magazine). Universal Studios Hollywood is definitely getting the Mario Kart ride, as it is the cornerstone of every Super Nintendo World across the globe. It is the big-ticket ride, much like Harry Potter and the Forbidden Journey is the flagship ride for Harry Potter World in Hollywood and Orlando.
You can watch a ride-through of Mario Kart: Koopa's Challenge in Universal Studios Japan on YouTube right now. Guests not only ride through Bowser's castle, but they use Augmented Reality (AR) technology to interact with other karts. Per Inside the Magic, Super Nintendo Worlds are also coming to Universal Studios Singapore and the still unbuilt Epic Universe, an entirely new theme park coming to Universal Orlando Resort.
Advertisement