PewDiePie Breaks His Silence On Astroworld Concert
There's no way to sugarcoat what happened at Travis Scott's Astroworld festival in Texas on November 5. After 8 fans died at the concert, Scott announced he'd help support the victims' families by covering funeral costs, but the blow to his reputation had already occurred. As lawsuits continue to pile up against Scott and Live Nation Entertainment (per Fortune), "Fortnite" has taken action against Scott by removing his dance emote from the game. A number of content creators have acknowledged the tragedy, and now PewDiePie has weighed in, sharing some thoughts with his fans on Astroworld and Scott's apology.
Advertisement
PewDiePie released an entire video "reviewing" Scott's apology video, but before he could get into the details of the apology, he had to talk about the incident itself. PewDiePie called the atmosphere of the concert "actual pure havoc," noting that tension was already high and fans were already injuring one another earlier in the day, while the sun was still out. Furthermore, PewDiePie pointed out, the artists performing and the concert venue staff didn't seem to respond to fans' pleas for assistance.
While the Astroworld incident is a tragedy no matter how you look at it, PewDiePie also had strong words for Scott himself.
PewDiePie's thoughts on Travis Scott's apology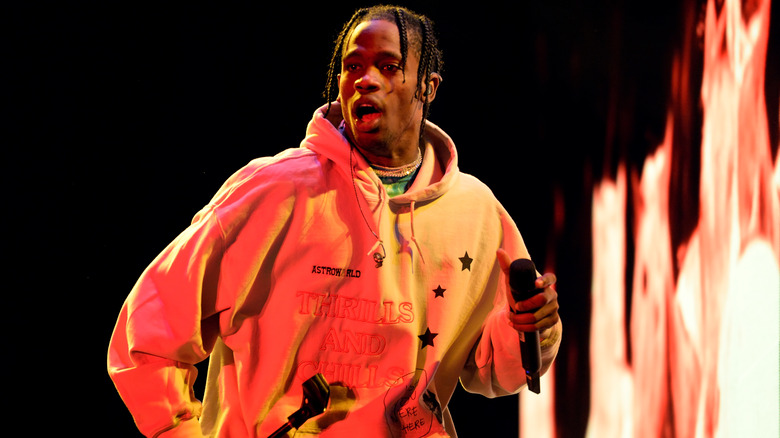 Christian Bertrand/Shutterstock
PewDiePie pointed out some strange behavior in Scott's apology video, especially commenting on the way Scott continuously rubbed his forehead, comparing it to "what kids do when they apologize, but they don't know how to fake cry." PewDiePie added, "It's a little late for thoughts and prayers."
Advertisement
PewDiePie said that Scott's comments seemed contradictory throughout. He speculated that Scott might not have realized how bad the situation was, but that he must have known that something bad was going on, especially considering that ambulances and paramedics were weaving through the crowd to help concertgoers.
"It doesn't matter how it happened," PewDiePie said. "People understand that concerts can get out of control; the problem is that no action was taken when it was happening. That's the whole issue. It doesn't matter at this point." Ultimately, PewDiePie rated the apology a "0/10," saying that although the situation is complicated, Scott should take more responsibility.
In the wake of Astroworld, fans seemed to agree with PewDiePie, with some pointing out that in the past Scott had stopped a concert over a stolen shoe. The debate about what really happened at Astroworld isn't likely to stop anytime soon, but fans seemed to appreciate PewDiePie's comments on the incident and share his sentiments.
Advertisement