The Rock Confirms What We All Suspected About His Fortnite Character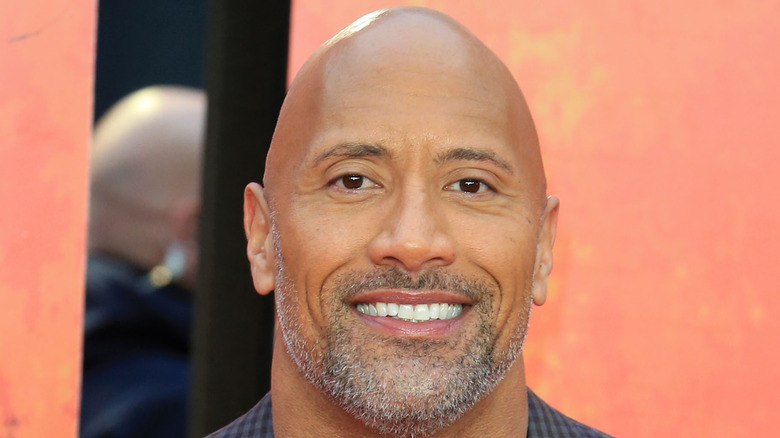 Cubankite/Shutterstock
Epic recently announced that "Fortnite Chapter 2" will be ending on Dec. 4, leading fans to ponder their lingering questions about previous events. One of the biggest questions was whether fans would ever learn the true identity of The Foundation, an armored character who appeared in Chapter 2 to help Jonesy seal the Zero Point, a nexus of every reality in the Omniverse. Over time, fans have become convinced that The Foundation was voiced (and modeled after) Dwayne "The Rock" Johnson, and now the actor has basically confirmed it.
Advertisement
The Rock first ignited fan speculation back in March of this year, around the time of the "Zero Crisis Finale" event in "Fortnite Chapter 2" and the kickoff of Season 6. On March 16, day Season 6 launched, Johnson posted a video on Instagram in which he explained that it had been a pretty important day for communities around the globe, specifically in regards to "a certain world." In both the Instagram caption and hte video itself, The Rock very pointedly referenced "the Foundation." On Reddit, fans began comparing the pattern of The Rock's tattoos and The Foundation's color scheme, as well as how similar the two names are.
However, The Rock has mostly played any connection to "Fortnite" relatively low-key — until now, when another social media post pretty much confirmed that the Hollywood star is playing The Foundation.
Advertisement
The Rock's Twitter post basically sealed the deal
In a Twitter post on Dec. 1, The Rock shared a video that was seemingly meant to promote his ZOA energy drink. However, throughout the video and in the accompanying Twitter post, The Rock constantly dropped popular "Fortnite" terms, including "Higher Ground," "Zero Point," and "Foundation." In one part of the video, a helmet resembling The Foundation's can even be seen in The Rock's fridge, pretty much sealing the deal.
Advertisement
Fans were thrilled by the clip. There were multiple memes in the replies that fused The Rock and The Foundation together, with one even depicting The Foundation dancing to Tech N9ne's song "Face Off," which features The Rock himself on a verse. Ali-A, a popular "Fortnite" player, commented that the video could be hinting at what "Chapter 3" will hold, and many fans seem to agree. 
There hasn't been any official news about what "Chapter 3" will look like or how it will impact the entire storyline of "Fortnite" just yet, but it seems pretty obvious that The Rock will be playing a significant role.