Tails' Voice Actor Is Gorgeous In Real Life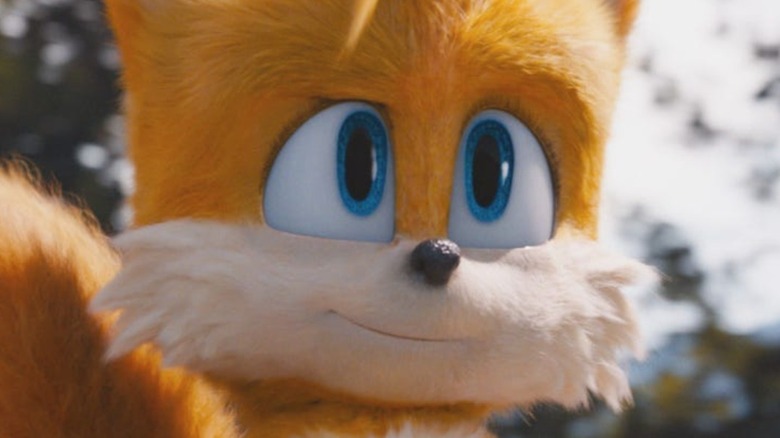 When it comes to iconic characters in the "Sonic" franchise, it's hard to beat Tails. The twin-tailed fox has been by Sonic's side since "Sonic the Hedgehog 2," and his personality and character design are pretty adorable in comparison to other major characters in the games, like Knuckles — who probably won't be sexy in the upcoming "Sonic" film. While some think he's just a side character who nearly ruined the entire game, he's still among some of the most popular "Sonic" characters. However, there's more to Tails than his cute exterior – he's actually got one of the most depressing backstories in the game. Now, fans finally know who will take on the role of Miles Prower in "Sonic 2."
"Sonic the Hedgehog 2" officially announced that Colleen O'Shaughnessey will provide Tails' voice for the film. She's been involved in the series for quite some time, and she's way more gorgeous than you probably thought.
Meet Colleen O'Shaughnessy
Colleen O'Shaughnessy has played the adorable fox since 2014's "Sonic Boom: Shattered Crystal," but she's been in the franchise since 2010 in various capacities. Before voicing Tails, O'Shaughnessy voiced Charmy Bee.
When it was announced that she would be voicing Tails in the upcoming "Sonic" movie sequel, fans were beyond excited – even one of Sonic's most beloved voice actors, Roger Craig Smith, congratulated O'Shaughnessy.
O'Shaughnessy doesn't just voice Tails, she genuinely seems to be a fan of the series. In a tweet from December 1, O'Shaughnessy shared that the first ornaments on her Christmas tree were actually of Tails, Sonic, and Knuckles. She's even shared pictures celebrating Tail's birthday, complete with a cake of Tail's face.
Most importantly, O'Shaughnessy cares about the fandom itself. She often shares special moments with fans at both cons and virtual events, like the official "Sonic" Twitter Takeover. She's also active in other fandoms where she's played a role, like "Digimon" and "Naruto." 
Colleen O'Shaughnessy's time away
When Colleen O'Shaughnessy isn't entertaining fans, she's probably hard at work voice acting or sharing her thoughts on the profession. She's got over 200 credits to her name between various TV shows, video games, and movies. She's extremely talented, and her awards and nominations prove it. In 2017, she was part of the "Digimon Adventure tri. Part 1: Reunion" cast that won Best Vocal Ensemble in an Anime Feature Film/Special at the BTVA Anime Dub Movie/Special Voice Acting Awards. In 2015, she was even nominated for the Best Female Lead Vocal Performance in a TV Series – Comedy/Musical for her performance as Tails in "Sonic Boom." 
For O'Shaughnessey, voice acting is acting, and she said she approaches animated characters like anything else. She pointed out that "background and context" are fundamental to shaping her performance, and animated characters are just as developed and complex as live-action ones.
Outside of the booth, she's also very fond of animals, and she shares pictures of hers quite frequently. She's got two adorable dogs and even a mischievous cat.