Destiny's Most Powerful Weapon Has Finally Made It To Real Life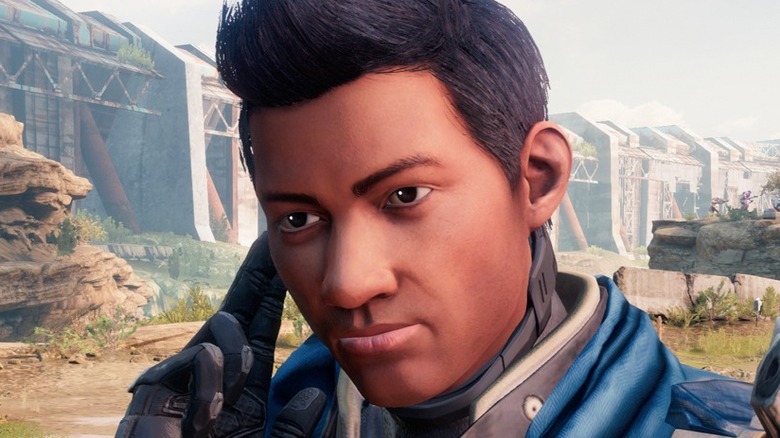 To coincide with the fan-favorite Gjallarhorn Exotic rocket launcher making its way from the original "Destiny" to "Destiny 2" — after players speculated the Gjallarhorn would return for ages – Bungie has partnered with Nerf to bring the weapon into the real world. Thankfully the folks at Nerf specialize in making plastic guns that shoot foam balls rather than homing rockets, so this version of the iconic weapon is perfectly safe for fans' homes. That said, getting one isn't as simple as just ordering the item online. If players want to get their hands on the Nerf Gjallarhorn, they'll need to put some work and money into "Destiny 2," even among recent player outrage over paywalls
Advertisement
The Nerf Gjallarhorn replica looks remarkably like the real thing, albeit forgoing the gold trimming for a more classic Nerf orange, and it even mimics some of the functions of the weapon when fired. In-game, the Gjallarhorn became famous for firing rockets that split apart into a swarm of mini homing rockets; the Nerf version fires "mega shells" that offer a similar effect. Before players can start imagining the chaos they could cause with a replica Gjallarhorn, there are a few things worth knowing about Bungie and Nerf's collaboration. The most powerful weapon in "Destiny" has finally made it to real life, but fans still need to know how they can order and what to expect.
How Can Fans Buy Nerf's Gjallarhorn Replica?
Before the Nerf Gjallarhorn replica is available for fans to purchase, they'll need to acquire the new Gjallarhorn in-game in "Destiny 2." Obtaining the iconic rocket launcher itself isn't too difficult; It involves a quest asking players to complete the new Grasp of Avarice Dungeon followed by a couple of other meager tasks. However, this Quest to get the Gjallarhorn is only available to those who've purchased the $25 30th Anniversary Pack. This means anyone serious about getting their hands on Nerf's Gjallarhorn will need to have bought the DLC and worked their character up to a point where they could obtain the weapon. Once players are eligible to purchase the Gjallarhorn from Bungie's online store, they'll see a notification in-game. 
Advertisement
The Nerf Gjallarhorn will set fans back another $160 on top of the $25 Anniversary Pack, but the collaboration seems well worth the price for fans and collectors. The Nerf Gjallarhorn sports a full 1:1 scale, coming in at over four feet of Nerf launcher. Buyers will also get three Nerf Mega Shells and nine Mega Darts to load using a game-accurate breech-loading mechanism. The Nerf Gjallarhorn is complete with a certificate of authenticity and some premium packaging just begging to be shown off. While players can act now to fulfill the requirements needed, players won't be able to pre-order until sometime in late 2022. Bungie's store noted that the sale will open to the public after a brief period of players-only preorders. 
Advertisement