Sonic 2 Trailer Confirms What We All Suspected About Knuckles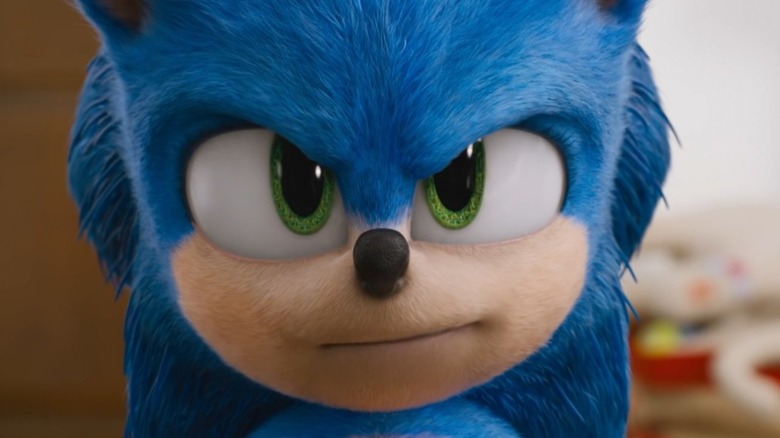 Paramount Pictures
Fans were thrilled to hear that famously handsome actor Idris Elba would voice Knuckles the echidna in the upcoming "Sonic 2" film, but they were ultimately left with questions about what Knuckles' role would be. After all, Sonic and Knuckles have a complicated history, and have been at odds more than once. Knuckles has been an antagonist and reluctant friend to the blue blur over the years, and "Sonic 2" could choose to interpret his role either way. Now, a new trailer for "Sonic 2" at The Game Awards has provided an important hint at what fans might expect for the brash echidna in the new film.
Advertisement
After the news of his casting, Elba admitted in an interview with Screen Rant that things weren't looking good for a sexy Knuckles, and that he was looking to bring a different sort of energy to the role. A leaked plot for "Sonic 2" (via IGN) pointed to Knuckles being an antagonist, set to team up with the evil Dr. Robotnik (played by Jim Carrey) in order to take on Sonic and his new pal Tails. However, until now that little detail was unconfirmed by any official materials. The new trailer gave fans a brief, but important look at Knuckles in "Sonic 2," allowing them to work out a few answers for themselves.
Knuckles will be an antagonist
Ben Schwartz, who voices Sonic in the two films, appeared at The Game Awards — along with a video from Jim Carrey — to introduce a new trailer for "Sonic 2." The trailer showed off several new additions to the films' lore, like Dr. Robotnik's new mustache, Sonic's ally Tails, and a tiny glimpse of Knuckles.
Advertisement
In one cleverly edited scene, Sonic tells a figure, "You'll never get my power!" before turning to see Knuckles, who growls, "Do I look like I need your power?" before unleashing a blast back at the hero. This brief interaction confirms that Knuckles will be some sort of antagonist in the new movie — at least initially.
Fans are already praising Knuckles' intense confidence, noting that his one line was enough to get excited over. Others were simply confused about what source material "Sonic 2" drew inspiration from. Either way, it's comforting to see that Knuckles will begin his time in the "Sonic" film universe as some sort of bad guy, giving him an opportunity to live through the same redemptive arc that makes him so beloved in the games.
Advertisement