Tiny Tina's Voice Actress Is Gorgeous In Real Life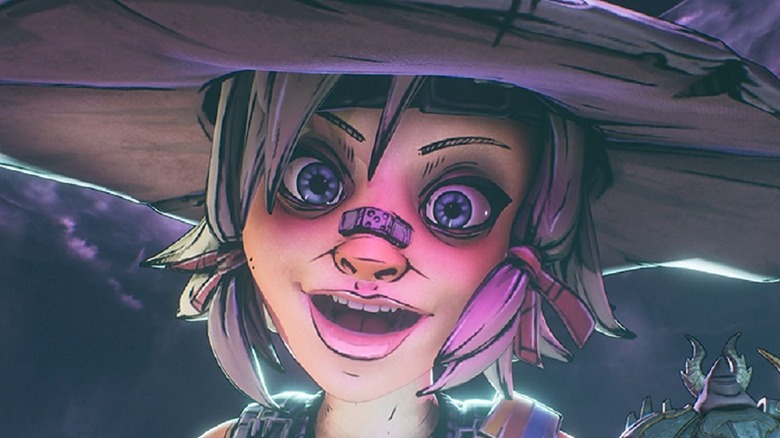 The hyperactive (and hyper-violent) Tiny Tina is one of those divisive characters you either love or you hate. Wherever you fall in regards to the breakout star of "Borderlands 2," one thing is very clear: Tiny Tina is getting a larger share of the spotlight these days — and her voice actor is no different. 
As far as the character in concerned, fans are already counting down the days until Tiny Tina's first standalone game, "Tiny Tina's Wonderlands," finally arrives and blows them away. This upcoming big adventure will draw heavy inspiration from "Tiny Tina's Assault on Dragon Keep," a fan-favorite DLC released for "Borderlands 2" in 2013. 
"Assault on Dragon Keep" dropped the cast of "Borderlands 2" into a fantastical world inspired by "Dungeons & Dragons" and nerd cultire. The new game looks to be following suit, packing in a superstar cast that includes Wanda Sykes and Andy Samberg — as well as Ashly Burch, who voices the controversial and bubbly protagonist.
Speaking of this beloved actress, Burch has made a name for herself beyond the fame of Tiny Tina. In addition to her success in the "Borderlands" games and the anticipated upcoming release of "Wonderlands," Tiny Tina's voice actress has worked on dozens of video games as both a performer and a writer.
Perhaps most notably, fans can catch Burch as Aloy in both the mega-popular hit title "Horizon: Zero Dawn" and its highly anticipated sequel "Horizon: Forbidden West." On top of voicing a ton of fan-favorite video game characters and being an incredibly talented individual, Tiny Tina's voice actress is drop-dead gorgeous in real life.
Meet the voice behind Tiny Tina: Ashly Burch
For those who didn't already know, Tiny Tina is voiced by the incredibly charming Ashly Burch. According to her official site, she's BAFTA-nominated in acting, an Emmy award winner for her writing, and one of Forbes' 30 Under 30 from the 2018 gaming category. Talk about multi-talented. With a winning smile, striking eyes, and a variety of hairstyles that are always on point, Burch is also 100% crush-worthy.
Burch is, of course, much more than her outer appearance. Her inner beauty shines through her vibrant, passionate, and fun-loving personality. Best of all, she's a huge fan of video games, which is a big part of the reason she's found such success in voice acting work within the industry. In fact, Burch launched her voice acting career while working on the writing team for "Borderlands 2." Partway through the production, her brother, fellow writer Anthony Burch, suggested that she audition for the role of Tiny Tina (per Engadget). The rest is history. 
In addition to working hard on her upcoming games, Burch stays active on both Twitter and Instagram where fans can catch her nerding out right along with them, sharing cute pics, and posting about causes close to her heart. As if that's not swoon-worthy enough for her fans, she's got an adorable dog.
Ashly Burch is a multi-talented performer and writer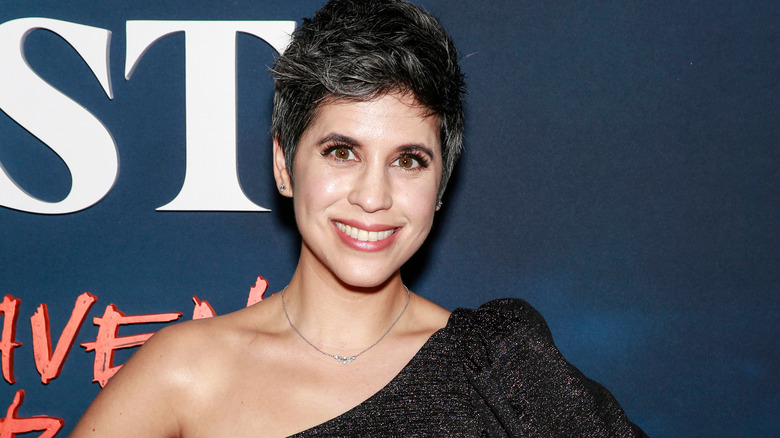 Ovidiu Hrubaru/Shutterstock
Tiny Tina is just a small part of Ashly Burch's expansive and impressive resume. She's also voiced characters in games as varied as "Fortnite," "Valorant," "Fallout 4," and "The Outer Worlds." Her roles have brought home the gold on more than one occasion; her performances as Chloe Price in "Life Is Strange" and Aloy in "Horizon Zero Dawn" both earned her Golden Joystick Awards for Best Performance. Anime fans may recognize her voice best from the English dub of "Attack on Titan," in which she voices Sasha Braus.
When she's not lending her voice to video game and TV characters, Burch is writing words for others to say — and earning plenty of laughs as she does it. In addition to her award-winning writing for "Adventure Time," Burch is also a story editor and member of the writing staff on the hit Apple TV+ comedy series "Mythic Quest." Burch also plays the role of Rachel on "Mythic Quest," making her another of the show's impressive double threat cast members. Fans who can't get enough of Ashly Burch in live-action may be happy to learn that she also appeared in multiple episodes of the mega-popular role-playing series "Critical Role," adding to her list of nerd bonafides.
2022 is shaping up to be a massive year for Burch in the world of video games, particularly when it comes to revisited some of her most famous performances. In addition to the return of Tiny Tina in "Tiny Tina's Wonderlands," fans can look forward to hearing Burch once again assuming the role of Aloy in another highly-anticipated sequel, "Horizon Forbidden West."