The Real Reason Ben Affleck Gave MrBeast A Shoutout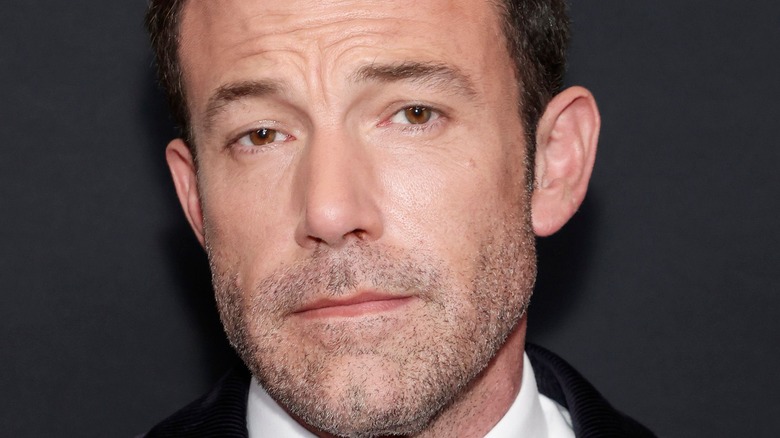 Arturo Holmes/Getty Images
Plenty know Ben Affleck from his role as Batman, or even from some of his biggest roles in films like "Good Will Hunting" and "Pearl Harbor" — but how many expected the actor to give streamer MrBeast a shoutout during a recent interview? It seems the YouTuber is on Affleck's radar, although it's likely to result from efforts to better relate to his son. Despite playing one of the most iconic superheroes, it seems parents will always have a hard time appearing cool in their children's eyes, and Affleck is no different in this regard.
Advertisement
MrBeast built his reputation on his larger-than-life stunts — like his real-life "Squid Game" – and his philanthropist efforts. The YouTuber sees no shortage of positive reactions to his work, and it seems like Ben Affleck has jumped on board too.
While it's likely Ben Affleck took the time to learn who MrBeast was because that's his son's favorite celebrity, the actor has revealed he does actually have a profound respect for the streamer. In an interview alongside his son with Entertainment Tonight, Affleck had a chance to share his thoughts on the streamer after he briefly came up in conversation. Ben Affleck has nothing but nice things to say about MrBeast; here's the real reason the actor admires the streamer.
Advertisement
Why Does Ben Affleck Admire MrBeast?
During an interview to promote his upcoming film, "The Tender Bar," Affleck was joined by his son. The young Mr. Affleck was asked what cool things he'd learned about his dad after spending some time with him, but a nervous laugh was all he could muster. Ben took over at that point, saying, "If I played 'Minecraft' on YouTube, I'd be impressive to my son. But, you know, unfortunately I don't." After a quick laugh, Affleck's son added that he likes MrBeast saying, "There's this guy named MrBeast and he's very nice." Ben quickly jumped in, joking, "My kid loves MrBeast too! This guy's the king of the world, MrBeast." 
Advertisement
Adding to his comments during the interview, Affleck said, "MrBeast, actually a very kind guy. I had the chance to talk to him once, very nice guy, very cool." At hearing this news, Affleck's son lit up, asking if he'd really gotten the chance to talk to the philanthropist YouTuber.
It turns out Affleck's conversation with MrBeast gets him much further with his son than donning the cowl of the legendary caped crusader. Finishing their conversation, Affleck joked, grumbling, "I was Batman..." After the video made its way around the web, MrBeast even invited Affleck to bring his son to be in one of his videos. That's good news for Ben's son, as the shoutout might lead to an opportunity to meet his hero.
Advertisement