Keanu Reveals What He Really Thought About That Cyberpunk 2077 Mod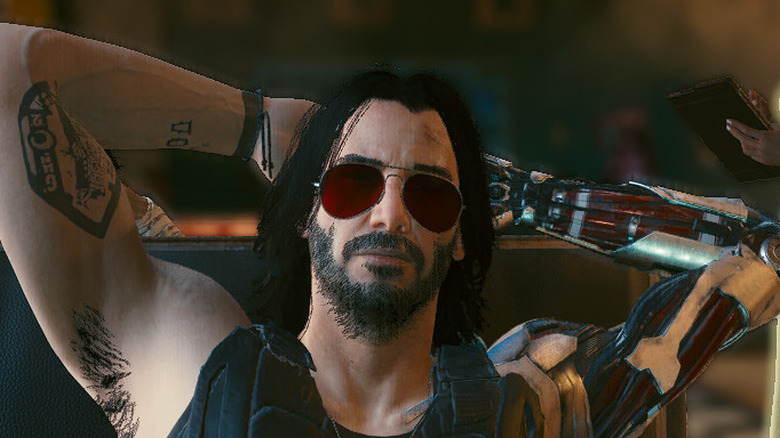 Though it's primarily known for its notorious flaws, "Cyberpunk 2077" still managed to carve out a massive following since its release in 2020. In addition to being massive fans of the CD Projekt Red-developed title and creating deep dives into the characters and lore it contains, the "Cyberpunk 2077" community has dedicated its own resources into fixing the game by adding its own mods to it, creating a much better experience for future players — should their curiosity win out over their hesitance. These mods haven't been limited bug and glitch fixes, either. 
Advertisement
In "Cyberpunk 2077," players assume the role of V, a criminal with high hopes of becoming a legend of Night City's underworld. As sometimes happens in RPGs, V can romance different supporting characters. However, some of these options are completely dependent upon which gender they choose for V. For instance, the player can only romance Judy Alvarez's character should their V be female, with a female voice, and female... well, you know. However, upon discovering male V dialogue in the code, some modders added the ability for the male V to romance Judy as well.
However, no matter how the player creates V, one romance option is mysteriously missing: the ability to put the moves on Johnny Silverhand, a construct of a classic Night City punk rocker and anarchist, played by the esteemed Keanu Reeves. In a move that possibly went one step too far, modders later added a romance option for Silverhand's character. It seems that the mod has gotten around to Reeves himself, who revealed what he thought about it in a recent interview.
Advertisement
Keanu Reeves says "it's nice"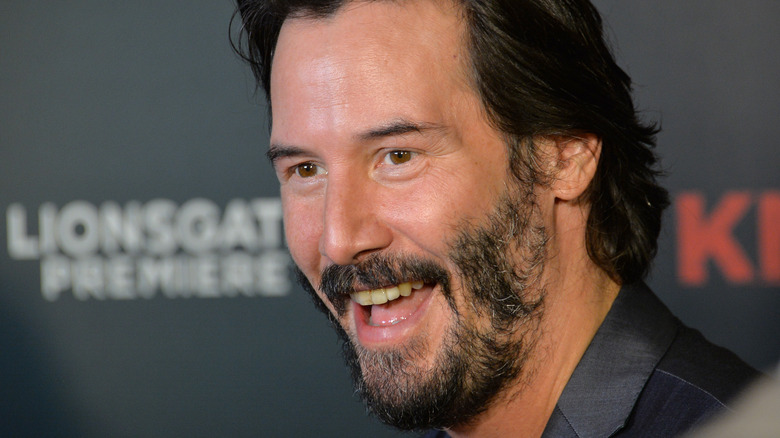 Featureflash Photo Agency/Shutterstock
In a recent interview with The Verge while promoting "The Matrix Resurrections", Keanu Reeves revealed a small bit about his role as Johnny Silverhand in "Cyberpunk 2077," including the truth about if he's played the game or not. During the interview, Reeves was told about the subset of fans who have modded the game to allow its main character the ability to romance Silverhand, to which Reeves replied with an emphatic "yes!" He even seemed to express a bit of disappointment upon learning that CD Projekt Red had removed the mod, frowning at the news. 
Advertisement
When asked his opinion on the romance mod's existence, Keanu seemed flattered. "It's always nice, when it's nice, you know?" However, his "Matrix co-star, Carrie-Ann Moss, didn't seem as pleased about the idea. It's possible that Moss has a different take on fan creations, since she's part of both the MCU and several enthusiastic video game fandoms, like "Mass Effect." 
"I, on the other hand, say no thank you," Moss smiled.