The Real Reason Elden Ring Fans Are Excited About The Newest Leak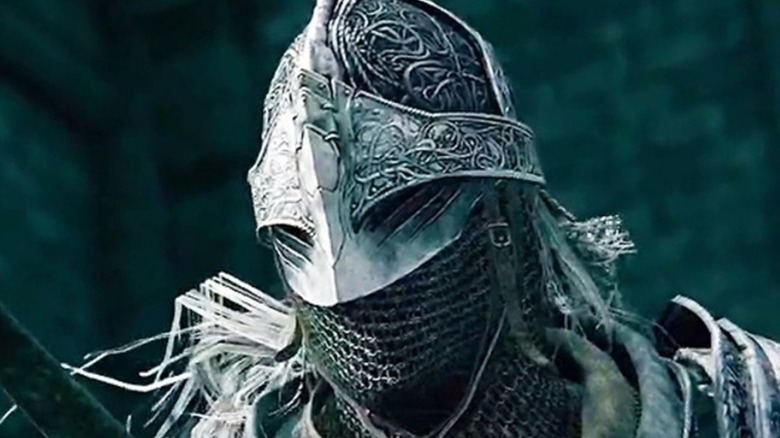 There were a lot of big announcements at the 2021 Game Awards. From "Hellblade 2" and "Star Wars: Eclipse" to "Alan Wake 2" and "Slitterhead," it seems like every fan saw a reveal that blew their mind. Of course, there's one studio that fans will get excited for any time it puts out a new game: FromSoftware. And now fans are going wild over some new leaks from "Elden Ring," the next big release from "Dark Souls" and "Sekiro" creator FromSoftware. 
"Elden Ring" was first announced at E3 2019 as a collaboration between FromSoftware and "Game of Thrones" author George R.R. Martin. This legendary crossover made serious waves, but fans received very little news about the project until 2021's Game Awards ceremony, when it was finally announced that gamers would finally be able to get their hands on the anticipated title on February 25. 2022.
With the release of "Elden Ring" so close, gamers are eagerly seeking out any tidbits of information they can find about the game. Fans have been combing through the trailer for any missed details, trying to break down its gameplay mechanics, and even seeking out spoiler leaks. The newest leak to make its way onto the internet is a video showing off the game's character creation engine — and, so far, fans are loving it.
Elden Ring's character creator is smooth and versatile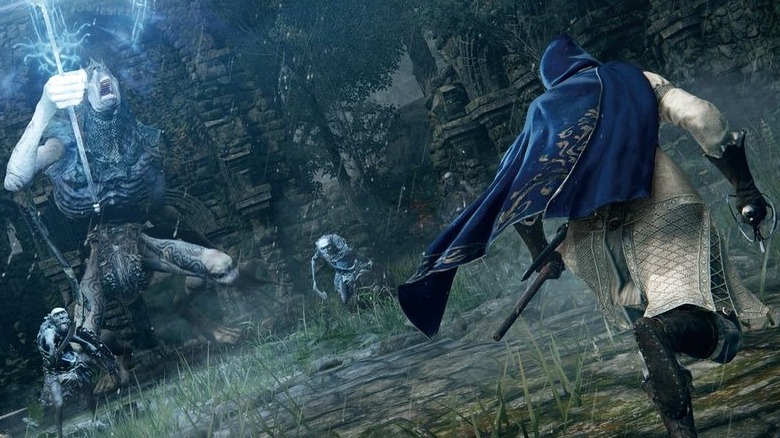 The leaked footage (which has since been deleted) appeared to have first been posted by YouTuber ER-SA and features a character being built inside the game. According to IGN, the footage was pulled from the game's closed network test. The clip starts off by showcasing a Character Status screen, which lists Level, Vigor, Mind, Endurance, Strength, Dexterity, Intelligence, Faith, and Arcane as modifiable stats. 
Then the player proceeded to edit the character's physical appearance. Several of the option descriptions were blanked out, but you can see the effects on the character model as the player scrolls through them. Gender, muscle tone, build, facial presets, hair and complexion all appeared to be highly modifiable. To prove this, the player exacerbated many of the character's features in order to shape what was initially a human male into what appeared to be a goblin-like creature (which some fans have jokingly compared to Shrek). 
Of course, many gamers have lamented the hours they poured into the other games' character creation engines when they realized that none of their hard work is visible as soon as their character puts on their first helmet. It remains to be seen if these design choices will be visible for most of the game, but this character creator is still certainly impressive. Some fans have noted that the character creation options in "Elden Ring" seem to far outpace those seen in previous FromSoftware games, while others are so excited about the leak that they've finally decided to preorder "Elden Ring."