The Tragic Reason These Cows Are Wearing VR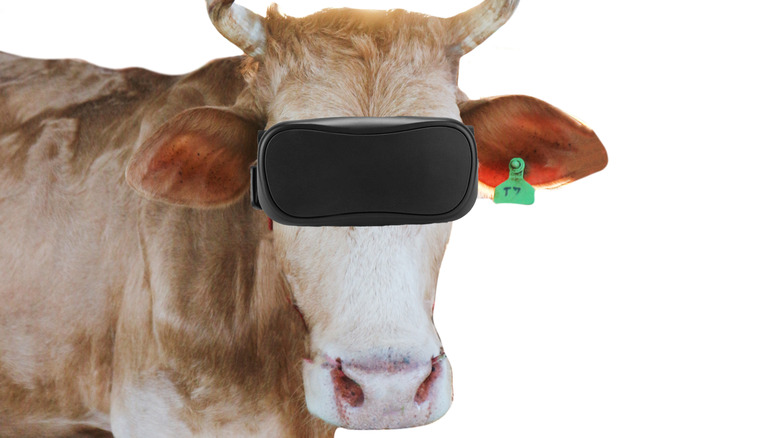 Sunet Suesakunkhrit/Shutterstock
As big tech companies like Meta (formerly known as Facebook) and Epic Games continue to try and build a virtual "metaverse" for humans, someone in Turkey already has one up and running for cows. As reported by Turkish news outlet Anadolu Ajansi (via Kotaku) a rancher in Turkey has strapped VR goggles onto their cows, because they believe cows produce more milk if they believe they are on a nice sunny farm. Besides seeming like the plot of "The Matrix 5," the experiment has seen positive results, with the cows indeed producing more milk with the goggles on.
Advertisement
The ranch is owned by Izzet Kocak, who lives in Aksaray, Turkey. "They are watching a green pasture and it gives them an emotional boost," Kocak said, explaining the simulation he's provided for his cows. "They are less stressed." 
The headsets were reportedly developed in Moscow and Kocak worked with veterinarians to ensure that the goggles would be both safe and comfortable for the cows. Kocak has tested this method with two cows so far, both of which have gone from putting out 22 liters of milk per day up to 24 liters. Kocak said he is in the process of expanding his experiment to 12 total headsets for the cows. But what does this have to do with the metaverse?
Would people perform better in a happy VR space?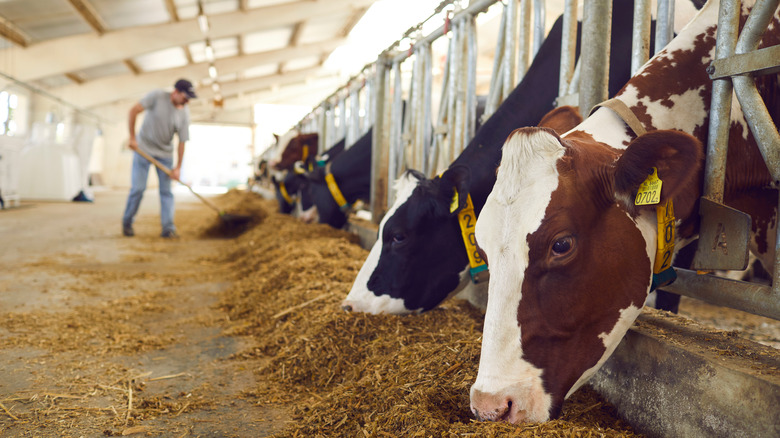 Studio Romantic/Shutterstock
While there are plenty of differences between cows and people, the general concept remains the same when it comes to working and existing inside the metaverse. Current concepts for the metaverse — including the demo shown by Meta — can make it look like a generic mobile game with no practical uses. However, people could end up finding applications for it that work in the same way it does for these cows. As suggested by Kotaku's Zack Zwiezen, if people continue to work in sad-looking offices filled with tiny cubicles, it seems almost inevitable that someone would suggest strapping VR helmets to people.
Advertisement
After all, wouldn't someone produce better work if they had a nice beach or a peaceful forest in the background? The same could be said for people who work from home, especially those who don't have a dedicated office space. While keeping people happy will be more complicated than cows, it's not impossible. 
And as for the cows, unless one of them finds a red pill, learns kung fu, puts on a trench coat, and becomes The One, they will likely continue to wear the VR goggles — as long as it causes them to produce more milk. Who knows? Maybe this unorthodox method will catch on with more farmers.