Horizon Forbidden West Has Already Been Leaked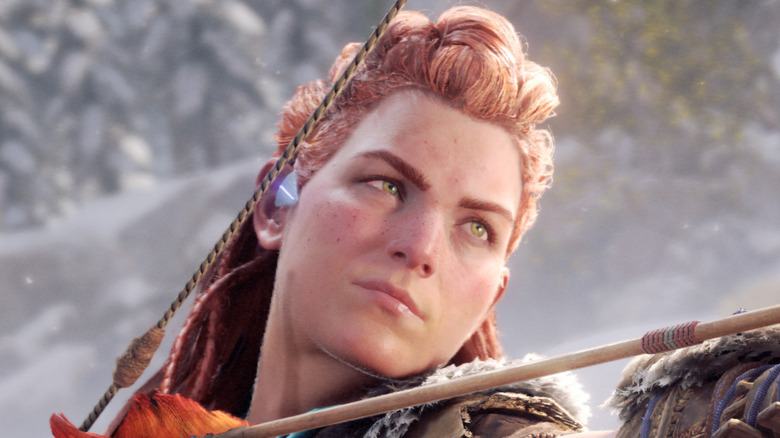 Over the last few days, fans have been circulating a few pictures from what appears to be the PlayStation 4 version of "Horizon Forbidden West," meaning that the game has seemingly leaked online ahead of its full retail release. Since these snapshots started appearing online, VGC confirmed with sources that the leaked build was not only "legitimate," but it also "contained the entire core content planned for the final game." 
The photos have been taken with a camera pointed at a television screen, rather than uploaded as screenshots. Both images also include Russian text, which GamesRadar translated in its report on the leak. In one image, Aloy asks fellow tribesman Varl, "How can we deal with him?" The second photo shows Aloy approaching a machine with the dialogue "It's clear" appearing in subtitles. On-screen instructions, which appear in blue, guide the players on how to scan the enemy and locate the entrance to some nearby ruins.
There's not much context for the missions seen in this scene, so fans aren't sure how far into the game they can expect to encounter this machine in the game's campaign. However, that hasn't stopped fans from gushing about the leaks and speculating about them even further.
Public response to Horizon Forbidden West leaks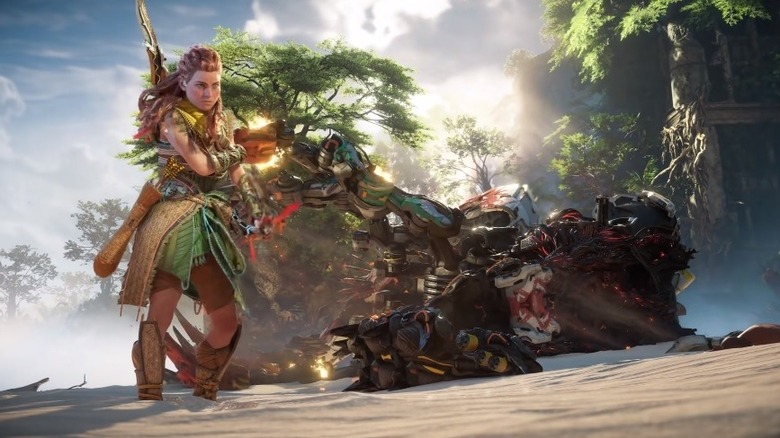 Most fans seem to be pleased with the leaks rather than angered by them. Many commented on the quality of the graphics, even though these images are supposedly from the PlayStation 4 version (and viewed through the lens of a camera). 
Sony and Guerilla Games haven't publicly confirmed whether or not the images are actually from "Forbidden West," but Twitter has removed some of the photos following copyright claims. Though some tweets with the photos are still available, this swift response from the social media platform lends a bit of legitimacy to the images.
Although VGC reports that this leaked build has yet to surface on any file-sharing networks, it is possible that more "Horizon Forbidden West" spoilers will come in the following weeks with the leaked build on the loose. Spoiler-averse fans might also want to consider muting mentions of the game on Twitter and other social media sites before it's release. Thankfully, it won't be long until February.
"Horizon Forbidden West" releases on February 18, 2022 as a PlayStation exclusive. Those who buy the PS4 version of "Forbidden West" — which apparently looks fantastic — will be able to upgrade to a PS5 version for free if they later decide to purchase the next-gen console.