The Truth About The TimTheTatman Curse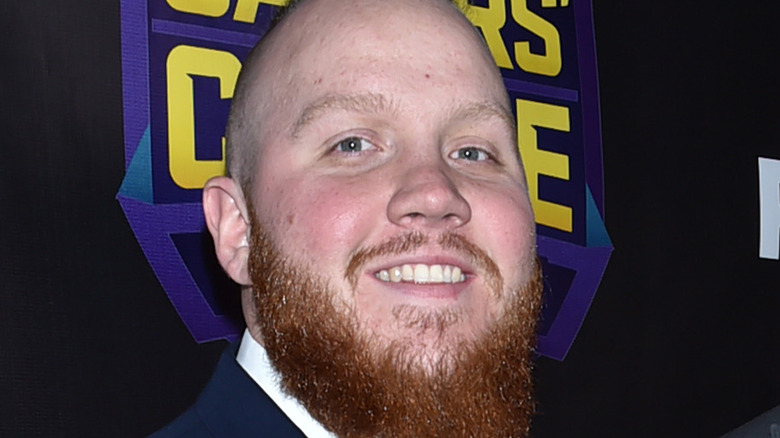 Michael Bezjian/Getty Images
TimTheTatman built his streaming career on not being great at video games. In fact, that's a core part of his theory about why viewers watch him in the first place. Tim is relatable above all else, and viewers can see themselves reflected in each fumbling play he makes in "Call of Duty," each L he takes in "Fall Guys." While Tim's lovable personality and good-natured approach to gaming earned him fans, he now has another reason for fans to tune in. He might be cursed — or maybe he is a curse himself.
It turns out that TimTheTatman is really bad at making sports predictions, so much so that some fans have likened his abilities to the Madden Curse. For the uninitiated, the legend of the Madden Curse refers to a rich history of players featured on the cover of each years' "Madden NFL" getting injured soon after making their box art debut — a trend that wasn't officially broken until 2020. TimTheTatman's curse is a little less dire than the Madden Curse, as no one is necessarily getting injured based on his faulty predictions, but that doesn't mean that fans are any less amused by it.
As this year's Super Bowl approaches, all eyes are on Tim to see if he can break his bad prediction streak. Meanwhile, Tim is trying desperately to convince fans that there's no truth to the curse.
TimTheTatman has a recent history of incorrect predictions
In a Jan. 27 video, TimTheTatman addressed his alleged curse. "I made some football predictions this weekend," Tim began. "And I tweeted out 'y'all think I'm a jinx?'" He then tweeted out his predictions, which were, of course, wrong. Over the course of the weekend, Tim predicted that the Green Bay Packers would "demolish" the 49ers, which didn't happen. He also claimed that the Tampa Bay Buccaneers would win against the Los Angeles Rams and that the Buffalo Bills would win against the Kansas City Chiefs, but neither of those games played out as he claimed, either.
"I've had a couple of hot takes here that have been wrong," Tim said. "But I don't think I'm a jinx, okay? I'm not going to accept this." Tim said that he would make another round of predictions over the weekend to prove that he wasn't cursed. On Jan. 29, Tim tweeted out his calls, claiming that the Chiefs would win against the Bengals and the 49ers would win against the Rams. Both were solid choices, considering their wins the week before, although Tim didn't offer his reasoning for these picks. Unfortunately, TimtheTatman only provided further evidence for the curse by being completely wrong about both games.
Tim was optimistic about his calls, and even tweeted some confident messages to his haters, noting that the 49ers were winning against the Rams going into the 4th quarter. However, the tides quickly changed and Tim was faced with two incorrect predictions yet again.
Tim's Super Bowl predictions are on the way
As Tim tweeted about the game in real-time, fans nervously looked on, pleading with him to stop bragging about the game, lest he curse it even further. Others theorized that Tim picked his predictions to spite pal Dr Disrespect, not because he thought they'd actually win. Regardless of what the truth was, Tim's picks were wrong yet again, leaving him wondering if he really is cursed.
After the games, Tim tweeted, "As someone who has struggled with sports curses in the past may I ask how did you overcome it? Asking for a friend." Tim tagged Drake, poking fun at the rapper's own sports curse. Somewhat famously teams Drake seems to favor inevitably lose, to the point that some teams jokingly said they shouldn't let him pose in their jerseys (per The Guardian). Though Tim took the opportunity to make a joke at Drake's expense, it's clear that he was also addressing his own bad luck.
Despite his consistently wrong predictions, Tim told fans, "I'll reveal my Super Bowl pick soon." Fans were quick to say that they'd be selecting the opposite of whichever team Tim chooses for their own Super Bowl winner. Some even compared Tim to the grim reaper, knocking on the doors of each team Tim has chosen in the past.
Though it's unclear if Tim is actually cursed — or if such things are even real — it's true that he's captured the attention of sports fans everywhere. As Tim said himself, part of what makes him so enjoyable to watch is his down-to-earth sense of humor and his completely average video game abilities. It turns out that his football predictions are perhaps less than average, but that hasn't stopped fans from joining him on the ride.