TimTheTatman Has A Theory About Why You're Watching Him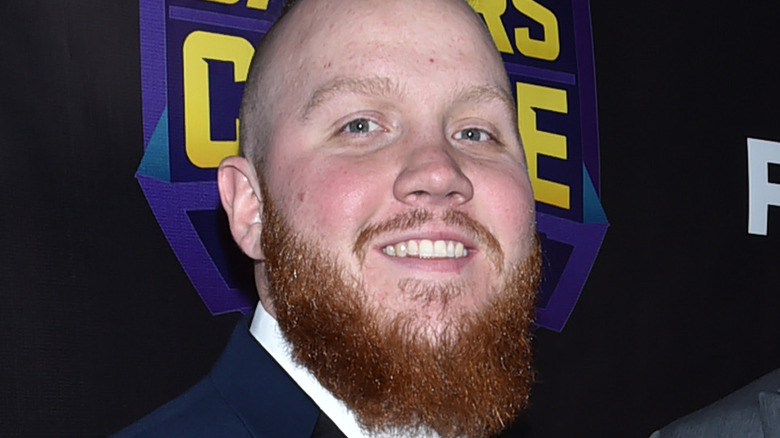 Michael Bezjian/Getty Images
TimTheTatman, also known as Tim Betar, a popular Twitch streamer with 6.4 million followers on the platform, has an interesting theory as to why viewers might choose to watch him over some of the other streamers out there. In an interview with LEO, TimTheTatman suggested that people might enjoy watching him because he isn't as good at video games as some of his peers.
"That's probably the reason why a lot of people watch me — because they can relate with me. Maybe you're the worst one in the squad, so it's like, 'Oh I'm going to watch Tim because he's the worst one in the squad.' I just try to have fun," TimTheTatman told LEO. He said his role as the "comic-relief," someone who isn't necessarily terrible or great at the game, is probably appealing to people who play games more casually.
Based on TimTheTatman's success streaming Fall Guys last year, his theory might be right. After struggling with the lighthearted battle royale, he garnered a large audience of people watching him, despite (or perhaps because of) his inability to win. Finally, after being savagely taunted by the game's official Twitter account, TimTheTatman was able to get a win in the game with 350,000 people watching. 
Tim told LEO, "It was created for like, a 5-year-old, and I was just really struggling with it. And, finally, I got my win; I got one. And there were about 350,000 people watching me—and I was like, 'I'll never see a number like that again." The excitement surrounding this feat was so great that ESPN made a documentary chronicling TimTheTatman's Fall Guys journey.
In the interview with LEO, TimTheTatman also talked about his future as a streamer and what his career could look like outside of streaming. Last year, he signed with Hollywood talent agency WME as a way to potentially branch out of gaming. As a "31-year-old dad," Tim explained that he is older than some of his streaming peers, and he wants to make sure he still has a clear "avenue" for success.
TimTheTatman recently hinted at his issues with new Twitch guidelines, including those that prevent him from streaming with Dr. Disrespect. TimTheTatman was upset at the time of the Doc's ban, expressing his disappointment they couldn't stream together. Despite these frustrations, TimTheTatman has carved out a comfortable viewership for himself on the platform, and it seems like it's all thanks to his relatability.