Why This YouTuber Is Taking Pokimane To Court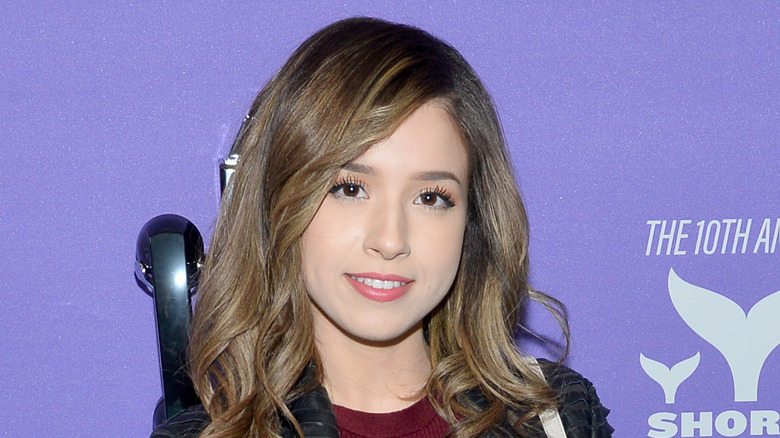 Noam Galai/Getty Images
Pokimane has had a dramatic start to 2022, to say the least. She nearly quit Twitch following a hate raid scuffle with YouTuber JiDion last month. Now that a copystrike email has riled up YouTuber TheQuartering, she might have to spend some time lawfully defending herself.
TheQuartering revealed that he would be taking Pokimane to court after a legal team representing the streamer contacted him via email and demanded the immediate takedown of two videos. To Pokimane and her legal team, the videos in question violate the fair use of copyrighted content. In a Tweet later shared by @TheQuartering, an attached image of the email shows that Pokimane is serious about guarding any photo, video or even text content that she's created and uploaded. It's no surprise The Quartering is on Pokimane's radar. The YouTuber — who has been called out for toxic content on more than one occasion — has also taken jabs at Pokimane in the past.
However, TheQuartering has argued that he hasn't done anything wrong, and he's willing to spend time and resources to prove that point. In a new video uploaded to YouTube, TheQuartering declared that he won't be taking down either video and explains why he feels Pokimane is in the wrong.
Why isn't TheQuartering afraid of going to court?
TheQuartering certainly isn't a stranger to controversy, but this time, the YouTuber feels he's reacting to being bullied. He believes that the takedown request results from Pokimane's desire to control her image, It's worth noting that Pokimane herself is not pursuing the takedown request, but has instead employed the agency Corsearch to "protect and optimize brand presence." However, this also wouldn't be the first time that Pokimane's camp filed a copystrike against another YouTuber, which has made her some famous enemies.
TheQuartering argued that Corsearch intentionally sent communication from outside of YouTube, indicating that either the agency didn't have an air-tight case or was afraid of pushback. By circumventing YouTube and opting for direct communication, TheQuartering believes Corsearch wanted to scare him into compliance — something he admits would likely have happened if he were a smaller content creator. TheQuartering said, "I feel very blessed that I have a large audience, so I can feel confident in saying, like, 'Okay, well, let's go to court.' You know? ... That's not something a lot of creators have, so they just delete the video because they're afraid."
The Youtuber concluded by saying, "First of all, my videos were absolutely fair use. I will go to court, I will spend exorbitant amounts of money in court defending my videos, and I will enjoy the discovery phase greatly." Pokimane has yet to add her own comments to the transpiring events.