VR Is More Dangerous Than Ever, According To Insurance Company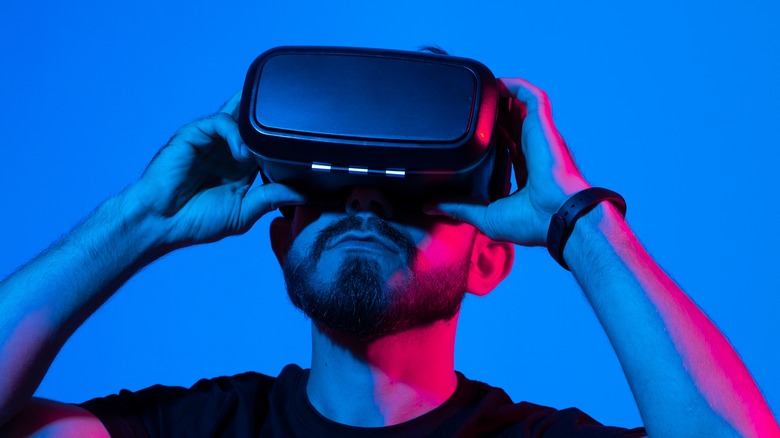 Volodymyr_Shtun/Shutterstock
Virtual reality gaming is a trend that has swept the world. Originally beginning as a bit of a small niche within the community, VR gaming has more or less gone mainstream in the past few years with. Established video game companies like Sony have introduced their own VR setups, while big corporations such as Meta have entered the space and begun creating their own virtual universes accessible to anyone, anywhere. With each passing day, the world of VR gaming becomes even more popular and accessible. But with more participants in VR gaming, that also means more people are discovering the pitfalls of the medium.
VR gaming's novelty is in largely eliminating the need for a mouse and keyboard, with many experiences instead relying on player movements. And because of this fact, accidents are sure to happen. People have gotten seriously hurt while playing VR games, including superstar content creators like Markiplier. Such instances are responsible for the existence of the subreddit VR to ER, which is dedicated to covering the variety of injuries people have sustained while playing VR games. And these don't seem to be anomalies, either. According to one insurance company, VR gaming is more dangerous than ever.
A British insurance company has reported a rise in VR accident claims
According to British multinational insurance company Aviva, insurance claims relating to VR gaming incidents went up 31% in 2021. This coincided with the medium becoming more popular and accessible. Since 2016, such claims have had a 68% increase overall. 
Kelly Whittington, Aviva's UK property claims director, told The Guardian, "As new games and gadgets become popular, we often see this playing through in the claims made by our customers." According to Whittington, however, injuries related to games or other time-passing activities aren't too uncommon. "In the past we've seen similar trends involving consoles with handsets, fitness games and even the likes of rogue fidget spinners."
Whittington noted that a majority insurance claims related to VR often come from gamers accidentally breaking an item in their home — like a TV or glass table — while flailing their arms around. Other common occurrences involve players accidentally hitting a family member or friend. Thus far, it seems like Aviva specifically has typically accepted claims related to such incidents. However, according to Whittington, VR gamers should take a second look at their insurance policy to "make sure it suits their needs" when it comes to accidental damage coverage.