This Major DCEU Star Is Hinting At A Fortnite Crossover
Since exploding onto the gaming scene in 2017, "Fortnite" has maintained its place within the contemporary cultural zeitgeist and stands as one of the biggest staples of gaming and pop culture. The free-to-play battle royale game reinvigorated the genre and brought about a trend that still reverberates years later. Because of its continued success and popularity, "Fortnite" has served as a platform for many collaborations, introducing playable characters from the likes of the Marvel Cinematic Universe and Star Wars, hosting interactive concerts, and even featuring a guest appearance from Dwayne "The Rock" Johnson. Now, it seems that a new type of collab could be in the works.
Advertisement
It makes sense that companies would want to work with "Fornite." According to ActivePlayer.io, Epic Games' marquee title still attracts millions of concurrent players each day and over 24 million monthly users. So long as it remains popular, big companies and prominent cultural figures will continue to use the game as a marketing platform. It seems that a major star from the DC Extended Universe will soon be joining the ranks of playable avatars that players have access to in "Fortnite," expanding the reach of the battle royale title even further.
John Cena's Peacemaker could be coming to Fortnite soon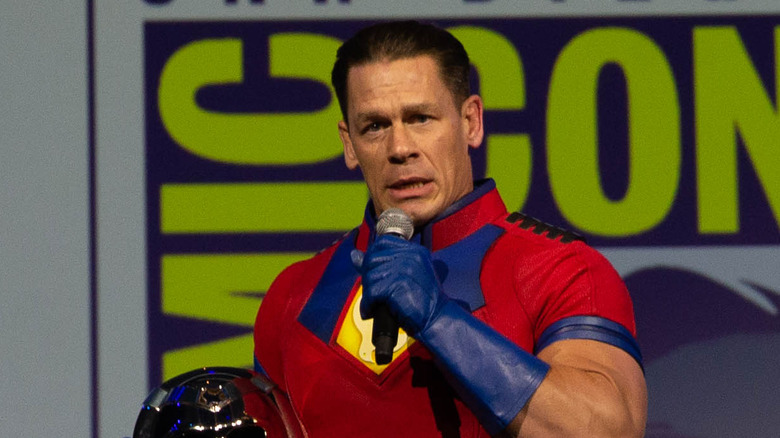 Bill Watters/Getty Images
First appearing in 2021's "The Suicide Squad," Peacemaker has since become an incredibly popular character within the DCEU. Portrayed by 16-time WWE world champion John Cena, Peacemaker's straight-laced, oblivious nature quickly endeared him to fans so much so that he received his own TV series, "Peacemaker," that currently runs on HBO Max. The show has been a hit with critics, with its first season garnering a stellar critical rating of 95% on Rotten Tomatoes. Having had success on both the big and small screens, it seems the Peacemaker character could be coming to "Fortnite" quite soon. That is, if a tease on Instagram is to be believed.
Advertisement
On Feb. 16, Cena posted a picture of "Fortnite's" map to his Instagram. This immediately created speculation of a Peacemaker skin making its way to the game in the near future. The timing of the post — a day before the season one finale of "Peacemaker" — couldn't be ignored, either (via TheGamer). In keeping with the tradition of his Instagram account, Cena posted the picture without a caption or explanation.
Of course, this could be a huge hint of a Peacemaker skin soon coming to "Fortnite's" battle royale, or it could be Cena just yanking everyone's chain, something he's been known to do on Instagram. Nonetheless, it certainly has a lot of people excited. Here's hoping those dreams come to fruition.
Advertisement