The Street Fighter 6 Detail That Has Fans Up In Arms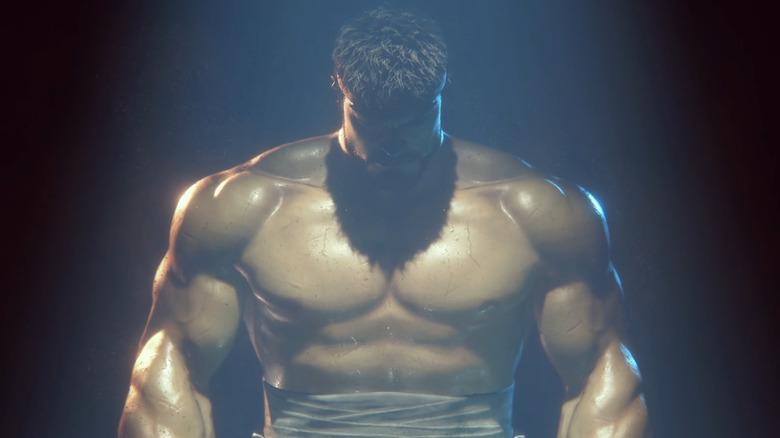 Capcom dropped an announcement trailer for "Street Fighter 6" yesterday, which should have excited fans. "Street Fighter 5" pleased critics and average players alike, and one would expect "Street Fighter 6" would build on its momentum. Unfortunately, fans were immediately disappointed at one small detail: its logo.
 "Street Fighter" historically boasts fiery branding, like typeface that burns with fighting spirit. In comparison, the new "Street Fighter" logo forgoes the iconic reds and yellows of the original and replaces them with a monotone palette. Text features a smooth, minimalist "SF" framed in a hexagon, and "Street Fighter" spelled beneath in neat print. It's a normal design in and of itself. However, next to "Street Fighter" logos of the past, it looks undeniably uncharacteristic. 
One Twitter user joked about the simplification with a meme, though another user suggested it was beyond that. "It's barely even simplification," the user wrote. "[It] is an entirely different identity, where the hell did it even [come] from?" 
Well, as some fans pointed out, it could've come from the Adobe stock website. 
"Where did it come from?" Apparently the Adobe Stock site
In addition to the rebranding, fans were disappointed that the new "Street Fighter" logo looked almost exactly the same as one particular logo from the Adobe stock site. Aurich Lawson, Creative Director of Ars Technica, was just one of the most popular users to mention it, commenting that the new "Street Fighter" logo looked awfully similar to a now-deleted stock image from Adobe.
"The new Street Fighter 6 logo is $80 on Adobe's Stock site," Aurich wrote. "I don't even know what to say. I knew it was generic but I didn't realize it was this bad. They searched for "SF" on a stock logo site and rounded a couple corners and added the 6. I cannot."
At the end of the "Street Fighter 6" trailer, the fine print reads that the footage is from a game in progress. It's unclear if the current "Street Fighter 6" logo is a placeholder for the actual logo or a set-in-stone redesign. So far, fans are hoping for the former. 
Capcom hasn't revealed what platforms "Street Fighter 6" will support. In a press release, the company wrote that it hoped to "[elevate] the fighting game genre to a new level in the world of esports while also utilizing its cutting-edge development technology to produce an enthralling game experience" with this new installment. No release dates or other notable details have been revealed.