The Batman Star Reveals The Video Game Characters He Fell In Love With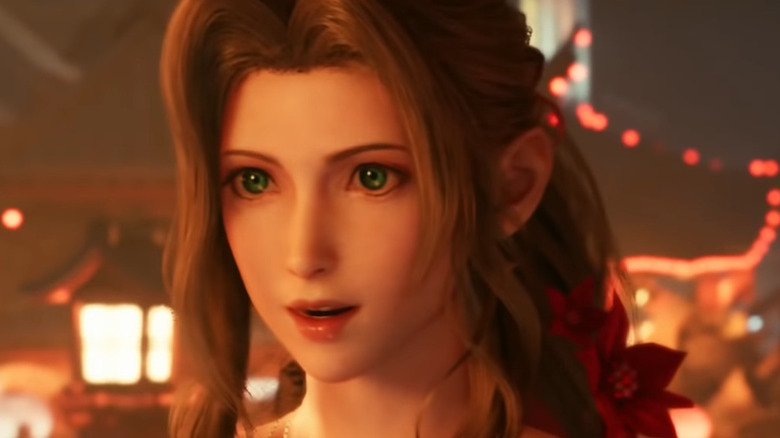 "The Batman" stars Robert Pattinson and Zoe Kravitz have had more than a couple interviews to publicize "The Batman" movie releasing later this week. However, not all of the conversation topics revolved around the highly anticipated superhero film. In an interview with French outlet Clique X, Pattinson discussed his love for "Final Fantasy 7" — and the female leads, in particular. In one of the most popular clips from the interview, he passionately spoke about the famous love triangle between Cloud, Tifa, and Aerith, as well as the difficult choice between the two girls.
"I was in love with Aerith and Tifa," Pattinson said. He went on to introduce the two, mentioning that Aerith might also be called "Aeris" depending on the version on the game, before digging into the appealing details between the two. When he spoke about Aerith, he emphasized her kindness and positive energy. "She's the really kind girl that has superpowers to heal everyone and make the world a better place," he said.
"Poor women, we have to heal everyone," Kravitz joked. "It's exhausting." 
However, Pattinson wasn't done, shifting focus to Tifa's looks and sense of style. Here's what he had to say about the midriff-bearing martial artist. 
Beware of spoilers ahead for "Final Fantasy 7."
Tifa's got the assets but Aerith has the heart
When Pattinson spoke about Tifa, one of the first things that came to mind was her "short skirt."  He explained, "Tifa is this sexy little thing; she's like a thief and wears this short skirt, and you're like, 'I can't decide!'" Pattinson said. "Then Aerith, right at her peak, gets killed. This is how every guy who plays figures out what love is."
In response, Kravitz lightheartedly poked fun at the differing interest between the two girls. "The one that's going to heal everything and the one in the short skirt? These are the options? Oh my god, this is the problem with the world," she laughed.
For the record, Pattinson already revealed that Aerith was his "first love." In fact, when he was doing press for Christopher Nolan's "Tenet" in 2021, Pattinson told GameSpot that "Final Fantasy 7" was his favorite game of all-time and that he hasn't gotten over Aerith's death. He described that heartbreaking moment as "one of the only times [he's] cried in [his] life."
Also, to be fair, Pattinson isn't the only one focused on Tifa's looks. She's been an internet sex symbol since the beginning of the twenty-first century. In fact, someone recently interrupted an Italian senate meeting with a Tifa-related pornographic clip.
Pattinson plays the titular character in "The Batman," which comes out on March 4, 2022. Co-star Zoe Kravitz plays Selina Kyle (aka Catwoman), another infamous femme fatale.