Everyone Has The Same Reaction To Phil Spencer's 'Weaponized' Comment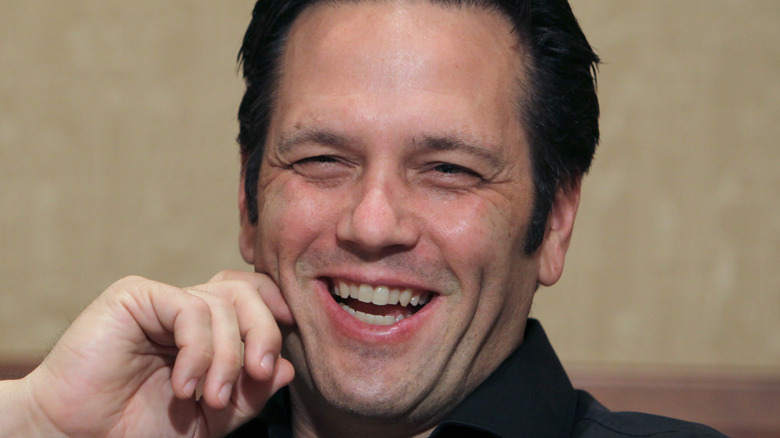 Bloomberg/Getty Images
Xbox head Phil Spencer recently accepted a lifetime achievement award at the DICE (Design Innovate, Communicate Entertain) Awards, a ceremony held to honor visionaries within the gaming industry. Spencer graciously accepted the award, but he also made a comment that communicated to gamers that he seeks to unite the industry as a whole, not just elevate Xbox above other developers.
Bethesda director Todd Howard introduced Spencer, comparing him to Superman and stating that he's used his superpowers for good, to make "the world a better place through video games." Howard said that Spencer is concerned with helping others and often asks how the people behind the games are doing in addition to how the product is progressing. Howard also praised Spencer's commitment to games as a fan, praising the trophies under his gamer tag and his love of stories. Howard's comments set up Spencer's acceptance speech wonderfully by providing some levity to a serious ceremony.
While the evening was spent praising Spencer's accomplishments, his speech had a pointed message for gamers that wish to see the so-called console wars continue. Spencer said that players need to stop "weaponizing" the games they love, and start being more accepting of each other. Here's what Spencer said, and how the gaming community responded to it.
What did Spencer say?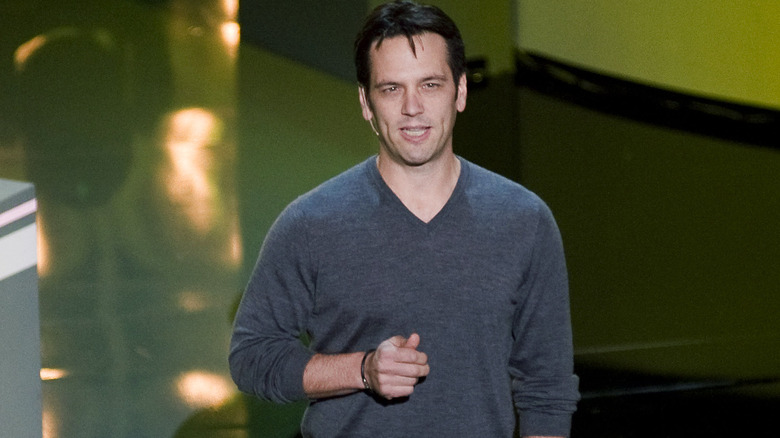 Michal Czerwonka/Getty Images
After he won the Lifetime Achievement Award at DICE 2022, Phil Spencer took a moment on the red carpet to talk with IGN about what the award means to him and how he hopes gamers will continue to shape the community. Spencer asked gamers to continue speaking out and building their community, but he also urged fans to remember creators are people. "And the other thing I would just say is, let's respect creators. I think it's very often that creations can be kind of weaponized and used in battles between platforms and other things," Spencer explained. He elaborated that creating a product and choosing to share it with the world is something to be celebrated, not used as a point of comparison for other achievements in the community.
In his acceptance speech, Spencer also focused on positivity and the celebration of creators. "Our responsibility is simple: do everything possible to ensure that this entire industry is about treating every single person with dignity and respect," he declared. "We fall short when we fail to provide a safe and inclusive environment for every person who works in our industry. We fall short when we tolerate abuse." Spencer ended with a promise to do better, which falls in line with his – and Xbox's – commitment to accessibility in gaming. After all, an industry and its products likely aren't accessible if its creators lack diversity. While there were some fans stuck in the console wars era of gaming, people seemed genuinely happy for Spencer, for the most part, and saw his words as a call to action for gamers everywhere.
Fans react to Spencer's speech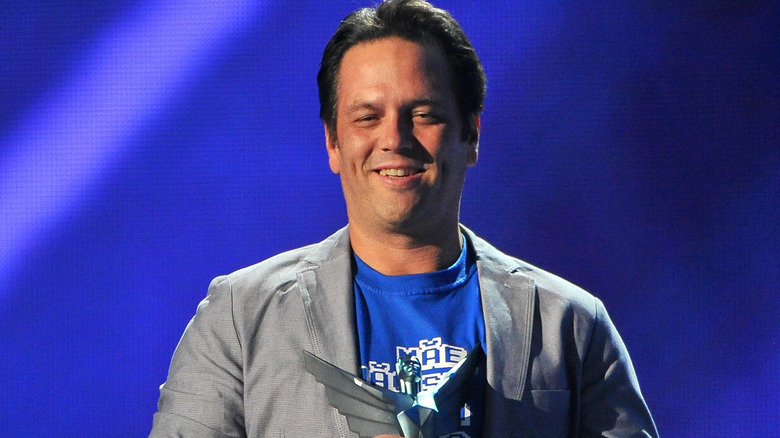 Allen Berezovsky/Getty Images
On Twitter, gaming fans rushed to congratulate Spencer on his DICE Award win, praising his work in the industry and wishing him continued success. One gamer tweeted, "Phil is helping to positively change the way we play video games. He deserves the award, my best wishes for him and for the Xbox team."
Others hoped that Spencer would be able to help the ongoing trouble at Activision Blizzard. One person tweeted, "He changed the gaming industry for the better. I hope he can continue to do so by improving the situation at Activision/Blizzard." Notably, Microsoft recently purchased Activision Blizzard in a massive deal that had the internet going wild. While gamers don't know what the acquisition means for the companies – especially in terms of the fate of Activision CEO Bobby Kotick, who stands to see a substantial payday from the deal. Spencer has notably spoken out in support of both Xbox's own developers and its competitors. After news of Microsoft's deal with Activision Blizzard broke, Spencer said that he trusts and puts a lot of faith in established gaming companies like Nintendo and Sony.
Even those that ultimately disagree with some of Spencer's decisions as the leader of Xbox, still acknowledged that he deserved the DICE Lifetime Achievement Award. One gamer said, "You deserve everything. We might disagree on the future of Xbox in some points, no one can deny the work you have done by putting the gamers above everything else."
Some gamers insisted that respect is something developers must earn, but others were quick to point out that most delays and game-breaking decisions happen on the part of executives, not the developers themselves. Spencer's hope for a more inclusive, gentler, kinder gaming community was mostly well received.