Babylon's Fall: What's The Difference Between The PS4 And PS5 Versions?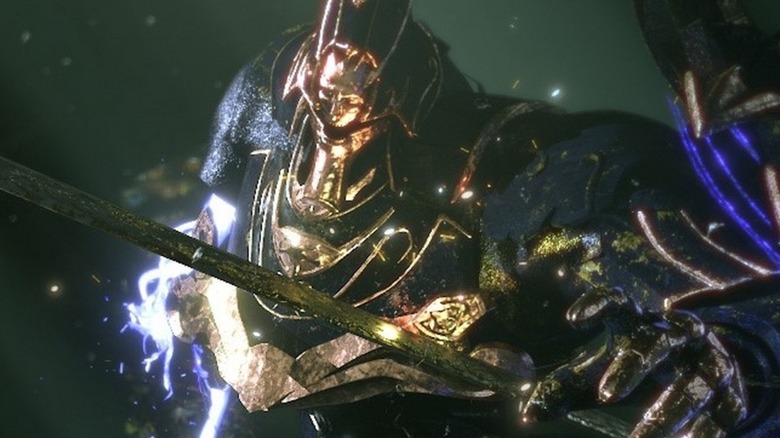 Square Enix recently released "Babylon's Fall," its collaboration with PlatinumGames, on March 3. This is yet another shot at a live service game for Square Enix, which has published versions for PC (via Steam), PlayStation 4, and PlayStation 5. Unfortunately, it doesn't seem like many people are playing "Babylon's Fall" so far. However, for interested console players, here's what you need to know about the difference between the PS4 and PS5 versions.
First off: It does not appear to be necessary to get the PS5 version. Comparison videos show a very slight difference, with the PS5 version appearing only somewhat sharper and more defined than the PS4 edition — when there even is a perceptible difference, that is. It's still easy to tell what's going on, even though the game's graphics are reportedly "not very good," no matter the platform. 
Critics have widely mentioned poor animation and "ugly" graphics that were further aggravated by the blurry textures and interminable loading times. For instance, Twisted Voxel reported improved resolution and load times on the PS5 in comparison to more pronounced "minor jaggies and shimmering issues" that stood out on the PS4. This could be because of the lower resolution used to maintain a higher frame rate. Either way, nobody seems to be impressed by the graphics in "Babylon's Fall," regardless of platform.
Babylon's Fall didn't exactly install much faith in its graphics
"Babylon's Fall" raised doubts about its graphics months before its official release. It received critical comments about its quality after the debut of its E3 trailer and further complaints from beta testers, which Square apparently said it would address. In the end, "Babylon's Fall" retained the paintbrush-esque graphics it seemed to be going for, which critics again said were more of an eyesore than a plus.
Graphics were just one of the few complaints among grindy early game progression, lackluster combat, and others. Overall, critics had a generally neutral reception toward it, but it also turned up with a surprisingly low peak player count on its first day. ScreenRant, Video Game Chronicle, and others noticed the player count hovering around the 600s on SteamDB. It's unclear the specific reasons for the low player count, but the graphics definitely haven't helped.
"Babylon's Fall" is available for PC, PS4, and PS5. It's advised that you get the game for whichever platform is most convenient for you. The latest Sony console doesn't seem to have made much of a difference in the overall quality of the game's visuals, which some fans have referred to as reminiscent of those seen on the PlayStation 3.