The Real Reason FIFA Removed This Football Legend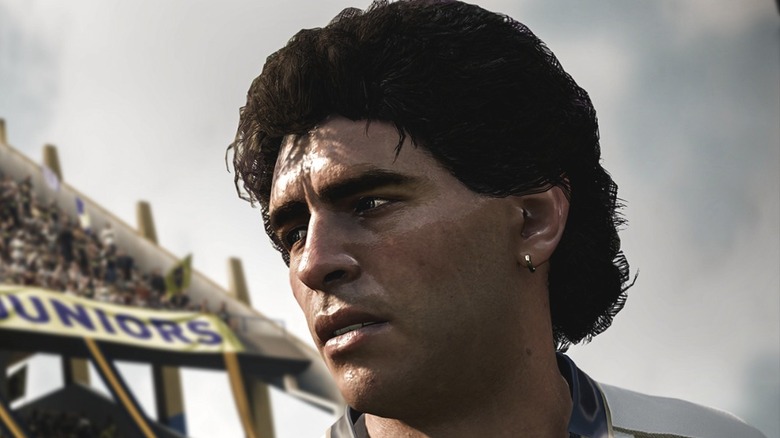 If you know soccer, you know Diego Maradona. With a career lasting more than 20 years and four world cups, Maradona is one of the best players ever to step foot on the pitch. And although the late Maradona's last official real-world match was in 2001 (per Hindustan Times), he has since been immortalized in soccer video games.
Since the beginning, Maradona has been a staple of soccer games, with his gaming debut all the way back in 1986 with "Peter Shilton's Handball Maradona." Since then, it's hard to find a soccer game that doesn't feature or reference Maradona. "FIFA 22," the newest game in the most popular soccer video game series, was no exception.
Until recently, Maradona was featured on four of the game's FUT cards, each representing the player in various stages of his career as a center-attacking midfielder. For the uninitiated, FUT cards are player cards that gamers use to form virtual teams. These cards are obtainable through FUT packs, purchasable through the game's marketplace. And because Maradona was such a strong player in real life, his cards reflected his skills with ratings over 90, making them highly sought-after.
However, Maradona has been pulled from EA's "FIFA 22," leaving many players upset and confused. Maradona isn't the first player to be expelled from "FIFA 22," but EA's reasoning for removing Maradona is quite a bit different from previous scandals.
Maradona removed because of a third party legal dispute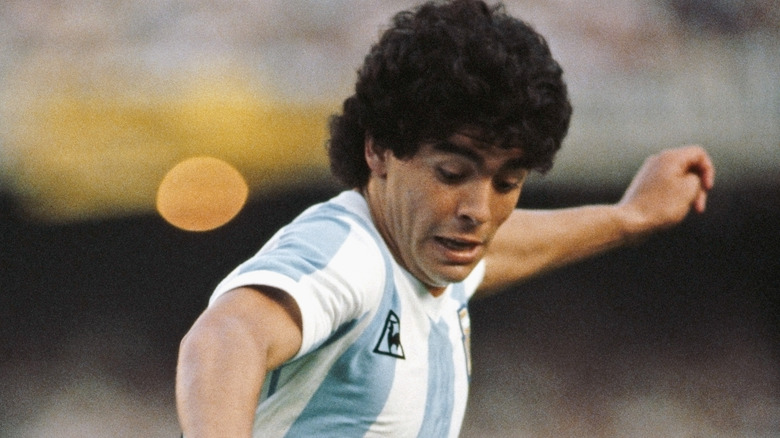 Getty Images/Getty Images
EA removed Maradona from "FIFA 22" this month, following a legal dispute concerning the rights to the late soccer legend. The disputes leading up to Maradona's removal began in March 2021, when a complaint was filed by the player's daughters. According to Maradona's family, argued that the company who sold his likeness rights, Sattvica, did not actually have the right to do so. Ultimately, the courts overturned this complaint, but this wasn't the end of the controversy.
According to Argentinian outlet Infobae (translation via VGC), EA made arrangements with Maradona's former manager, Stefano Ceci, to renew the rights to feature the player in "FIFA 22." However, the Infobae report states that the court eventually decided Ceci was not in a legal position to lend the rights to the Maradona brand. Therefore, EA's agreement to use Maradona has been rendered void. 
Now, as seen in an image posted to reddit by GeorgeCuz, EA broadcasted an official message to "FIFA 22" players upon logging in: "Due to a third party legal dispute, we must suspend Diego Maradona from appearing in FIFA Ultimate Team Packs, Ultimate Draft, and the Soccer Aid World XI team." EA went on to state, "We share our fans' disappointment and hope to bring one of football's greatest icons back in the game at some point in the future." 
It's safe to say EA is disappointed by the court's ruling on the Maradona brand, but this is just the latest problem the publisher has run into with the "FIFA" franchise. Just last month, fans learned that FIFA demanded $1 billion from EA amid a contract dispute.