Will Smith's Oscars Slap Has Reached Elden Ring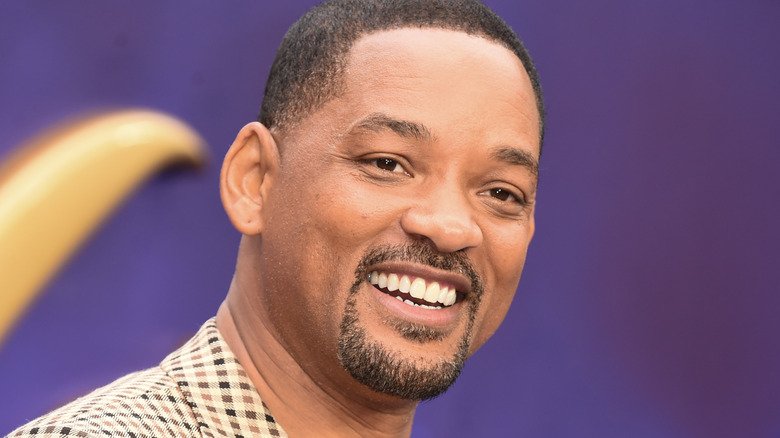 Featureflash Photo Agency/Shutterstock
Will Smith's Oscars slap has apparently transcended internet memes and entered "Elden Ring." If you have been anywhere near social media in the past week, you probably already know that Smith slapped Chris Rock for making a joke about his wife's hair during the Oscars. To make things worse, Pinkett Smith has alopecia, an autoimmune disorder that results in hair loss. The fallout resulted in talks of career restrictions, online debates, and many, many memes. Adapting the meme into "Elden Ring" is just one of the newer consequences of the ceremonial throwdown.
Advertisement
How is Will Smith in "Elden Ring," you ask? Well, "Elden Ring" players have reportedly been naming themselves Will Smith and slapping their fellow Tarnished in the game. One Redditor reported that their world was invaded by "WILL SMITH," who then proceeded to slap them before turning to leave. In the clip accompanying their post, the OP can be seen preparing for battle with a blood-letting ritual before allowing the intruder to approach them. However, before either could engage in combat, WILL SMITH slapped them. That seemed to be this Will Smith's only mission, considering that they turned to leave immediately after the slap.
"Dude just slap me and left," OP titled their post. It would seem like an isolated incident. However, others commented that actually many players were recreating the scene to reference the Oscars slap.
Advertisement
Elden Ring players make memes, not war
This Redditor might have had one of the most upvoted posts on the platform, but apparently more than one gamer posted about their experiences with separate incidents. "Bro this guy invaded me and another guy on this subreddit," one commenter responded. "Man really doesn't want [Malenia's] name in our mouth." 
Advertisement
The reference to Malenia, one of the game's most powerful bosses, is a joke replacement for Jada Pinkett Smith's name in the original incident. After all, the only thing keeping the "Elden Ring" slap from hitting the moment spot on is the silence. Players are unable to reproduce Smith's now-famous retort, as there's no voice compatibility in "Elden Ring." 
"KEEP MALENIA'S NAME OUT YA F****** MOUTH," one commenter joked. Meanwhile, others asked basic questions about the game like why the OP stabbed themselves and layered jokes upon others' jokes. In short, there doesn't seem to be much harm with the "Elden Ring" slaps — just humor.
Will Smith has already received consequences for his actions at the Oscars. He resigned from the Academy and some companies began to reconsider projects Smith was involved in. Some have also voiced disapproval of Chris Rock, though not to the extent that the public seems to be unhappy with Smith.
Advertisement