This Star Wars Legend Might Finally Be Joining Fortnite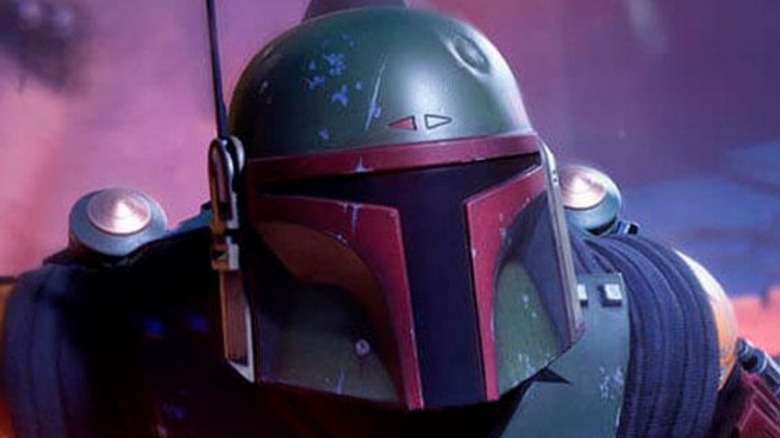 Epic Games
"Fortnite" is easily one of the most popular games in the world, and has been for years. It has maintained this regard by consistently adding new features to experiment with and keep the game feeling fresh. New maps, weapons, and modes debut with each season, providing a never-ending stream of content to ensure players remain invested. Epic also stays relevant by partnering with third party IPs, maintaining a constant flow of new character skins to unlock. In addition to its own original characters, "Fortnite" has introduced skins ranging from comic book heroes and villains to celebrities and popular streamers.
"Star Wars" characters have also made regular appearances in the battle royale. Emperor Palpatine even made a curious announcement in-game that many fans felt tied in with the opening text crawl in "Rise of Skywalker," leading some to question if "Fortnite" is canon in the "Star Wars" universe. Despite this history, one Sith Lord has remained curiously absent from the title over the years. However, new footage posted by Epic indicates this situation might be about to change.
Darth Vader may be coming to Fortnite
Epic Games just launched the brand new Unreal Engine 5, which developers will use to create the next installments in the "Tomb Raider" and "Witcher" series, among other projects. The company also showcased many of the features the new engine offers in a State of Unreal 2022 keynote presentation. 
After watching the video, Twitter user @polaqwym posted a screenshot showing a developer sitting at her computer and using the engine, noting the wealth of folders visible on the developer's screen. Many of the folders display the names of big IPs such as "Doom," "Family Guy," and "Loki." One name in particular stands out from the over a dozen featured, belonging to the Chosen One himself. Specifically, the video shows a folder titled "C3S3_Vader" alongside another labeled "C3S3_Jones." Based on this, many have speculated that Darth Vader will make an appearance in "Fortnite" Chapter 3 Season 3.
Epic has neither confirmed or denied the rumors, but the timing makes sense. Disney+ plans to release several new "Star Wars" TV shows in the next year, such as "Obi-Wan Kenobi" and "Ahsoka." The two companies may collaborate in an effort to build buzz around their respective properties.