Return To Monkey Island Will Clear Up This Controversy After 30 Years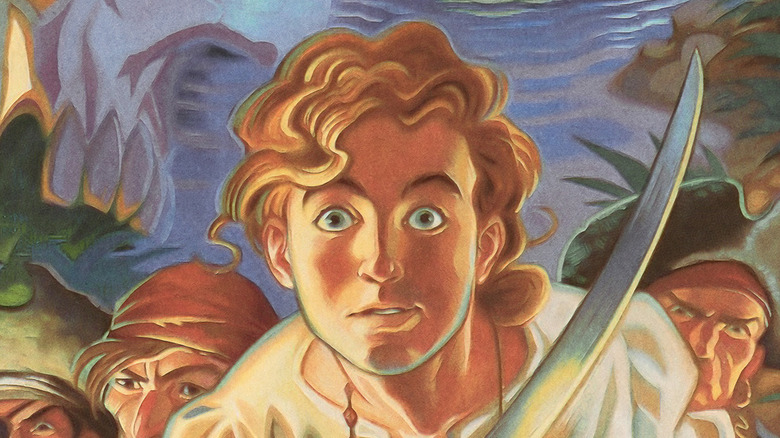 LucasArts
Although point-and-click puzzle games have fallen out of favor lately, the "Monkey Island" games still hold up. And while there have been many sequels in the "Monkey Island" series, only the first two games were directed by creator Ron Gilbert. However, much to the delight of fans, Ron Gilbert is finally coming back to the series with "Return to Monkey Island," which will act as a direct sequel to "Monkey Island 2: LeChuck's Revenge." Fans are eager to see how Gilbert handles the controversial ending of "Monkey Island 2," as the other games completely ignore it.
Advertisement
Beware of spoilers ahead for "Monkey Island 2: LeChuck's Revenge."
Of course, the ending of "Monkey Island 2" was typical meta-comedy from Gilbert, but not all fans liked it. In the final section of the game, players are met with a twist ending after confronting the main villain LeChuck. After a lengthy fight where the main protagonist Guybrush is victorious, LeChuck removes his mask and reveals he's Guybrush's brother Chuckie. But it doesn't end there. The two characters get interrupted by a character in a worker's uniform and are told to leave the building. After leaving, LeChuck and Guybrush find themselves in an amusement park, but they are no longer swashbuckling pirates. Instead, the two are now revealed to be children playing a game. They are then greeted by their parents before walking off the screen.
Advertisement
The game's ending naturally confused and angered players (per Guinness World Records), leading to many theories by the community about what actually happened. However, according to an interview with Ron Gilbert and Dave Grossman with Adventure Gamers, fans will finally get their questions answered.
We will finally know what happened to the kids
Adventure Games began the interview by asking Gilbert about the popular blog post the developer wrote in 2013 about how he would have made "Monkey Island 3." Gilbert replied by explaining that he and Grossman have grown since then, and "Return to Monkey Island" reflects that. 
Advertisement
Gilbert followed up by saying, "One of the things that was very important to me about this was that I did want the game to start right at the end of 'Monkey Island 2' when you walk into that amusement park. I wanted the game to start there." When pressed for more information, Gilbert explained, "I don't want to go into all the details of it, but ... it takes lots of weird twists and turns that you would expect from us."
It's unclear if this means the character's adventures were a product of a child's imagination or something more complex. But, if "Return to Monkey Island" is anything like Gilbert's most recent game "Thimbleweed Park," fans are in for more something fun and unexpected.