Elden Ring's New Update Lets You Be More Like Patches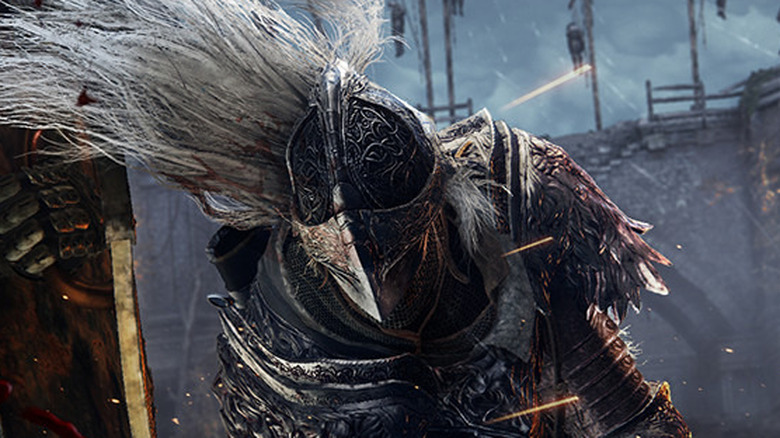 Bandai Namco
With every patch, FromSoftware adds new content and fixes to a game that many already consider perfect. However, some fans suspect this content isn't exactly new. Instead, it's been theorized that FromSoftware is reimplementing content that was removed due to time restraints prior to release. For example, a few "Elden Ring" NPC quests, like Diallos', appeared to end without a proper conclusion, so it's no surprise that FromSoftware would want to tie up those loose ends. Seemingly to that end, developers have already started to conclude some stories by adding Jar-Bairn's questline and multiple dialogue options to NPCs with Patch 1.03.
And now, with Patch 1.04, fans were treated to the biggest "Elden Ring" update yet. It enacted many balance changes, like fixing the broken Carian Retaliation spell after weeks of seeing it buff weaker items. Most notably, however, players are discovering the iconic NPC known as Patches received some love from the developers. And veteran "Souls" players are thankful, as Patches is a fan favorite character present in almost every "Souls" game. This new update not only gives Patches more to do, but it also grants players the ability to be more like him.
You can start squatting like Patches
Previously, Patches' questline would unexpectedly end after moving to The Shaded Castle. Of course, that's after getting through his lengthy questline that requires the player to clear out Volcano Manor and defeat Rykard, among other tasks. But now Patches is back, though players will have to backtrack a bit to find him.
To find Patches, head over to the Murkwater Cave, where players first come across the persistent thief. After making their way to the end of the cave, players need to head through the fog gate and interact with the familiar unattended chest. After opening the chest, Patches will confront the player for stealing from him once again — but instead of fighting, he immediately accepts surrender when he recognizes who he's dealing with.
After the encounter, players are rewarded with the Patches' Crouch gesture. Patches' crouch has been a popular joke among "Souls" fans for years, as it seems silly for a nimble thief to choose to sit like that all of the time. But according to some, the squat is likely a reference to the Japanese "Yanki Zuwari" pose.
Once players have exhausted the rest of Patches' dialogue, players can reload the area and see that the thief is now a permanent merchant residing in the Murkwater Cave. However, he doesn't sell any new items, so it might be more convenient for players to take him out and grab his Bell Bearing. And he definitely deserves it, considering Patches has been tricking players for years by somehow transcending time and space.