The Actress Who Plays Malenia In Elden Ring Is Gorgeous In Real Life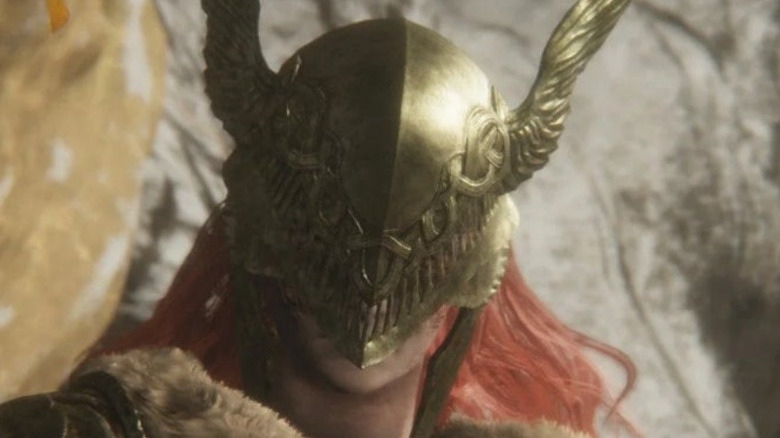 FromSoftware/Bandai Namco
Perhaps no boss in "Elden Ring" is as feared as Malenia, Blade of Miquella. To date, she might be the greatest achievement in developer FromSoftware's obsessive quest to make players cry. As an optional, late-game boss, she exhibits a level of brutal difficulty matched only by other FromSoftware games, reaching for that thing you dropped under the car seat, and 4D Rubik's Cubes.
Advertisement
Thankfully, FromSoftware also has an obsessive need to densely pack their distinctively difficult role-playing games with richly-crafted stories, making Malenia's boss fight well worth the extra effort (and many deaths) to experience. Born as the goddess of rot, Malenia is cursed with destructive power that is often uncontrollable. When pushed to her limits, she unleashes a deadly blight that long ago turned Caelid (one of the most dangerous areas in the game) into a festering red swamp filled with death and decay. Though she does have a kryptonite of sorts in half-naked samurai with jars on their heads, Malenia's powers undeniably make her one of the strongest forces in the game, albeit with a tragic downside.
Advertisement
However, just as much credit belongs to Malenia's voice actor, Pippa Bennett-Warner. Aside from being gorgeous in real life, Bennett-Warner expertly brings to life the tragic, yet overwhelming presence of Malenia. And though you may not have recognized the stunning British actress by her voice in "Elden Ring," you still might recognize her from her previous work.
Pippa Bennett-Warner is more than just a voice actress
Born in Banbury, England, Pippa Bennett-Warner has been a successful television actress since the 2000s, and an accomplished theater actress for even longer. Her first role, at age 11, was as Nala in a production of "The Lion King." Years later, she would graduate from the Royal Academy of Dramatic Art and continue her theater career. According to a 2015 interview with The Arts Desk, she appeared in classical productions such as "King Lear" and "Richard II," as well as modern productions like "The Witness" and "The Swan" during this time.
Advertisement
Bennett-Warner wouldn't appear in anything TV or game-related until she played Gemma Webber in the TV series "Holby City" in 2002 (via IMDb). She also landed an early video game role in 2004's "World of Warcraft," with subsequent years bringing more roles in series like "The Smoke" and "Doctor Who." More recently, in 2020, Bennett-Warner appeared in the Sky original Crime Drama series, "Gangs of London." There, she plays Shannon Dumani, the daughter of crime lord Ed Dumani (Lucian Msmati), and love interest to undercover cop Elliot Finch (Sope Drisu).