MrBeast's Latest Giveaway Did Some Damage To His Bank Account
MrBeast is a streaming star with a big budget and an even bigger heart. He was the highest grossing YouTuber in 2021 and continues to stand out as a leader in the field with large scale offerings like his recent real-life recreation of "Squid Game." Of course, it hasn't always been easy for MrBeast, but he consistently brings positive, energetic content to the internet. He may even be the only person who can call himself a streamer and burger restaurant owner.
Advertisement
What really sets MrBeast apart is his significant history of philanthropy, including elaborate giveaways. While many of these moments are sentimental and heartfelt — like the time he adopted every dog in a shelter, including Pinky, the canine he shares with girlfriend Maddy Spidell – some are just for kicks. In addition to his fast food business, MrBeast owns a wholesome chocolate company called Feastables. On April 15, he decided to host a massive giveaway where anyone who used a promo code could get Feastables for free – including shipping.
Though the Feastables special only lasted for 10 minutes, MrBeast knew it might have some significant financial implications. As he wrote on Twitter, "I'll lose a bunch of $ with each order but I want to give some of you that couldn't afford our chocolate a chance to get some." As it turns out, the big chocolate giveaway racked up quite the bill.
Advertisement
MrBeast's chunk of chocolate change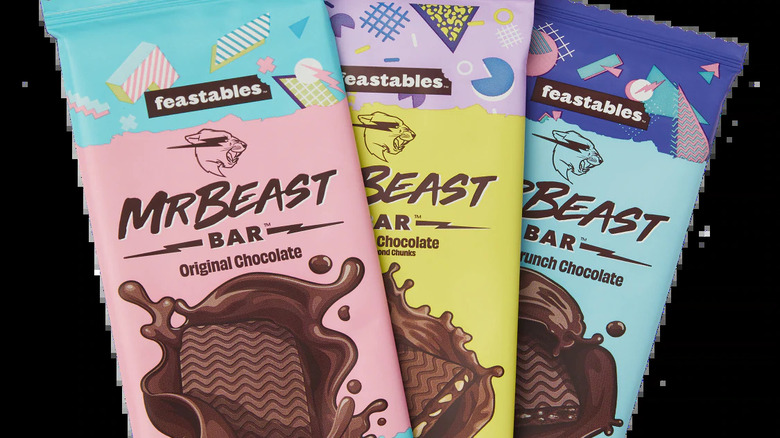 Feastables
In a Twitter update shared by MrBeast on April 27, the generous candy connoisseur revealed just how much of a hit his bank account took due to the 10-minute free Feastables extravaganza. In his words, "We assessed the damage after shipping out the chocolate and we gave $1,300,000 of chocolate away for free lol. I guess 10 minutes is longer than I thought."
Advertisement
In the comments, many fans thanked MrBeast and shared photos of their complimentary snacks. Getting in on the fun, the official Feastables account wrote, "that's a lot of chocolate." It appears several folks (like Twitter users @surge42_ and @TheBiggestGoon_) ordered multiple chocolate bars, so it seems MrBeast either had a fairly high cap on quantity or possibly none at all.
So, how much chocolate did the content creator and Feastables give away? The number was revealed during the event itself due to a website crash. In what has to be some kind of record, MrBeast gave away over a million individual bars of chocolate (via Dexerto). Though MrBeast took a hit in the short term, it'll be interesting to learn if the giveaway helps build momentum for his business and what he has planned next.
Advertisement