Things Are Worse At TSM Than Anyone Knew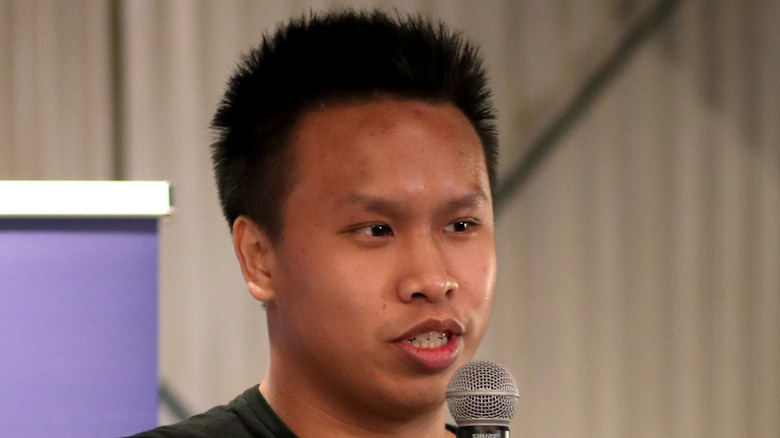 Christopher Polk/Getty Images
Blizzard isn't the only company in the gaming industry with an alleged toxic workplace. Earlier this year, esports organization Team SoloMid (TSM) was under scrutiny via an internal investigation and a separate investigation conducted by Riot Games. Both of these inquiries attempted to review the actions of TSM CEO Andy "Reginald" Dinh. According to accounts from former employees, Dinh has a long history of alleged bullying and abusing TSM staff. For those who have seen the notorious video of Dinh berating former pro player Dyrus, these claims may not be that hard to believe.
A short-tempered CEO unsurprisingly made for a high turnover rate at the company, with employees supposedly being fired by Dinh at the drop of a hat. But TSM remains profitable and has even expanded into the cryptocurrency market. However, a recent report from The Washington Post revealed that some of the company's actions may not have been legal based on California labor law. The state famously has stringent regulations on who can and can't be classified as contractors. California contractors benefit from setting their own schedules and being free from employer oversight. In contrast, full-time employees aren't granted those freedoms but instead receive employee benefits and are privy to the tools and equipment needed for the job. If TSM is indeed in violation of the law, it could have massive repercussions for the esports giant and its sister company Blitz.
How TSM may have broken California labor laws
According to The Washington Post's write-up on May 4, former contractors who worked with TSM allegedly received unfair compensation from the esports company. Many have reported working with TSM as independent contractors while being treated as employees. For example, one anonymous Blitz contractor claimed that they were expected to clock 40 hours a week and start work at 9 a.m. At least one contractor said they received payments below the state's legal annual minimum.
There are a few reasons why an employer would partake in illegal practices. "The employers think that they're saving money, and they are in the short term because they're not paying certain employment taxes, and they don't have to abide by all the insurance requirements and the wage and hour laws," California employment law attorney Robyn Coltin explained to The Washington Post. "But if they get caught, it gets really ugly." TSM will undoubtedly face trouble if the claims are true and the contractors take legal action. Although, the full extent of the supposed misconduct at TSM is unknown.
Some past TSM members haven't remained silent regarding how they feel about the esports organization following the recent reports. Notably, former "League of Legends" pro player and TSM poster boy Doublelift shared a bit about his experiences with the organization in a recent livestream. Additionally, Doublelift leaked an alleged letter from TSM threatening legal action against him for badmouthing the CEO (via Twitter). If legitimate, this could indicate that Doublelift might not be the only one being strong-armed into staying quiet.