The New Cyberpunk 2077 Anime Has Everyone Saying The Same Thing
"Cyberpunk 2077" players and anime fans alike will receive another reason to jack in when "Cyberpunk: Edgerunners" arrives on Netflix in September. The anime's Twitter account posted an action-packed trailer unveiling the show's art style and previewing its cast of characters. CD Projekt Red announced the show in 2020, informing gamers that Studio Trigger of "Kill la Kill" fame would be working on it. Now that CD Projekt Red and company have released world-premiere footage for the upcoming anime, the world has taken the opportunity to respond.
Advertisement
Perhaps predictably, a portion of the fanbase brought up the game as a point of comparison with the footage from the anime. Both viewers excited for the anime and those more critical of it have frequently referenced the enumerable bugs and glitches of "Cyberpunk 2077" at launch, which prompted widespread backlash, removal from the PlayStation Store, and even a lawsuit resulting in a $1.85 million settlement from CD Projekt Red. A wide swath of the "Cyberpunk" fanbase conveyed their excitement for "Cyberpunk: Edgerunners" and its art style, but many also used the trailer as an opportunity to debate whether "Cyberpunk 2077" is a property worth developing further.
The glitch of comparison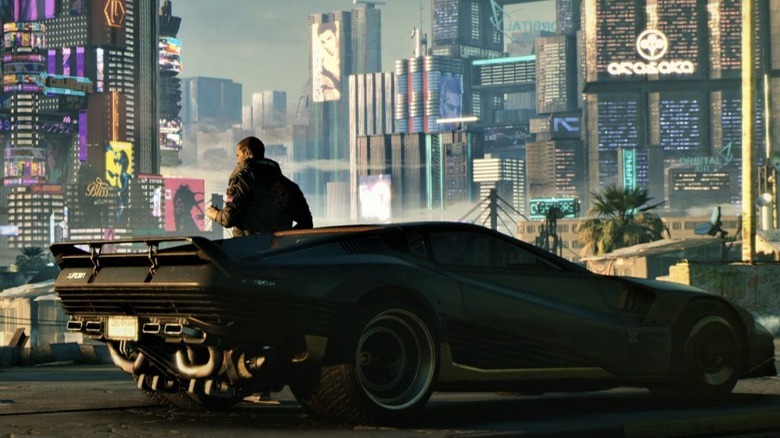 CD PROJEKT RED
The announcement tweet has reached over 21,000 likes at this time, with several admiring the art style as they referenced "2077." Twitter user @WoodyWoodChoppr praised the art style and music and noted familiar architecture from the 2020 "Cyberpunk" game. User @Christopher8101 agreed Studio Trigger matched the tone of the game perfectly with the anime's art style, but noted in a follow-up tweet that "2077," "would have fared better if it was PS5 and XSX/S and PC only."
Advertisement
Others claimed CD Projekt Red could have spent its budget for "Edgerunners" on improving "Cyberpunk 2077." Another commenter, @Bigdam89, said they convinced friends to buy "2077," a mistake they will not repeat with "Edgerunners."
Praise in reference to the "Cyberpunk" anime and the game has spread onto YouTube as well. In the highest voted comment on Netflix's preview for the Maelstrom Gang, user Arry Young commented that even though people disliked the game, the world building had a lot to offer. Young said he planned to check out the "Edgerunners." Another reported thoroughly enjoying the story and world-building of "Cyberpunk 2077," despite its performance flaws.
The previews may have brought up criticisms of "Cyberpunk 2077" in its early days, but CD Projekt Red and Netflix likely achieved the outcome they wanted in prompting lengthy discourse about both the 2020 game and "Cyberpunk: Edgerunners" at the same time.
Advertisement