After 10 Years, Fans Finally Got A Good Look At This Horror Game
Lunar Software
Developer Lunar Software announced sci-fi horror game "Routine" way back in 2012, but it eventually vanished from gamers' radars and seemingly disappeared forever. Now, "Routine" has officially been revived with a re-reveal trailer at this year's Summer Game Fest. Understandably, gamers who were once waiting for the title were hyped for the project's return.
This time, indie publisher Raw Fury is working with Lunar Software for to bring "Routine" to fans. Jonas Antonson, CEO of Raw Fury, also commented about the game's re-reveal in a press release.  "Like many others, I have been waiting for this game for a long time," he said in the statement (via WCC Tech). "Originally, I thought I'd just get to experience it as a gamer and a fan. But then the developers decided to team up with us! I'm beyond excited to go this amazing journey with them."
"Routine" is a horror game set in an abandoned space station. The new trailer opens with a cryptic, static-laden recording that matches the theme of an '80s vision of the future. The camera passes through demolished rooms and dark passageways, accented with flickering lights and mysterious wreckage. There's even a sneak peek at a bit of the gameplay and one of the monsters.
But why did Lunar Software decide to start over with "Routine," and what could we expect from the game's final form?
Why Lunar Software started over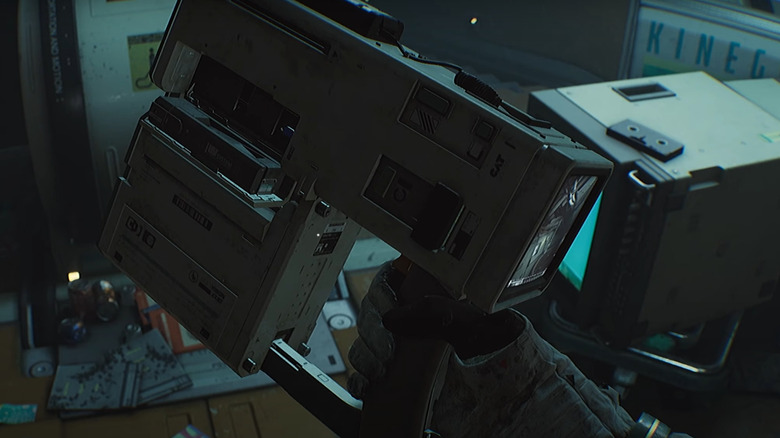 Lunar Software
In a studio blog, Lunar Software explained that it essentially "restarted production" for "Routine." The footage from the latest trailer is the all new version of "Routine," virtually unrelated to original build that was scrapped. The studio ultimately decided to start over because developers were unhappy with the original project. They needed to stop production for personal reasons, including money troubles and mental health. 
"As we were approaching what we believed to be the end of development, we were finding more and more things that we weren't happy with that negatively impacted the experience," read the blog. "We had worked on the project for 5 years at that point and simply couldn't release it as it was."
The team needed to work multiple jobs because of their tight budget. "Routine" wasn't the devs' only responsibility, and eventually the stress of other projects took over. According to the blog, the project eventually became a "massive strain" that they didn't know how to fix. 
"We didn't want to keep you waiting any longer and felt that it was time to share what we've been working on," the team added. "We can't wait to hear what you think."
"Routine" is currently in development for PC (via Steam), Xbox One, and Xbox Series X|S. It will also be available for Xbox Game Pass. There might not be a release date yet, but the fact that the devs felt the need to create a re-reveal trailer should say all it needs to. "Routine" is finally happening.