Tony Hawk's Pro Skater Fans Just Got Bad News From The Man Himself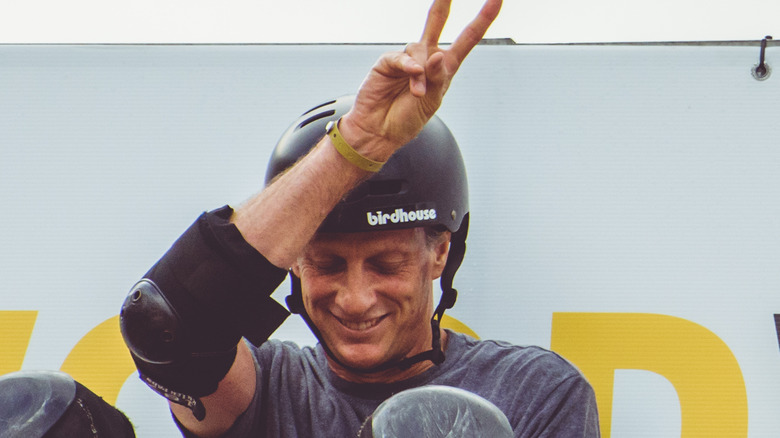 Arturo Verea/Shutterstock
"Tony Hawk's Pro Skater" was an unexpected success. When Neversoft first developed it for the PlayStation in 1999, marketing a game to the niche skateboarding community was a gamble. However, the game was an instant critical and commercial success, even among those who had never skated in real life (per VG247). It also had the added effect of cementing Tony Hawk as a worldwide icon, and warranted multiple sequels on various platforms.
Advertisement
Some may be hesitant to go back and play the earlier titles, as their graphics are over 20 years old now. But that changed when "Tony Hawk's Pro Skater 1+2" was released on the PS4 and the Xbox One. "Pro Skater 1+2" was a complete remaster of the first two games and was developed by Vicarious Visions. In January of 2021, Vicarious Visions was absorbed into Blizzard Entertainment, renamed Blizzard Albany (per Polygon). Many wondered if the company was still planning on remastering the rest of the "Tony Hawk's Pro Skater" games, and unfortunately, the skateboarding legend himself, Tony Hawk, recently shared some bad news with fans of the series.
Pro Skater 3+4 remaster isn't happening
During a June 20th livestream by andyTHPS, Tony Hawk joined the stream to play "Pro Skater 1+2" with fans. After a brief discussion about the recent Activision Blizzard controversies, the streamer asked Hawk if a "Pro Skater 3+4" remaster would happen. Unfortunately, Tony Hawk explained that the project was dead in the water. For the reasoning, Hawk said, "We were going 3 and 4, and then Vicarious got kind of absorbed, and then they were looking for other developers, and then it was over." When asked why the project didn't move forward after the absorption, Hawk explained," [Activision] were trying to find somebody to do 3 and 4, but they just didn't really trust anyone the way they did Vicarious." Additionally, Hawk explained that Activision reached out to other studios to hear if they had good ideas for a new "Pro Skater" game, but wasn't impressed with what it heard.
Advertisement
Although there won't be a new "Pro Skater" anytime soon, Tony Hawk is hopeful that the series can continue somehow. "Maybe when the dust settles, we'll figure it out. You never know," Hawk said. "I never would've thought we were going to do 1 and 2 20 years later." In the meantime, gamers can hop on a board in "Pro Skater 1+2" on both current and last-gen consoles or PC.