Dr Disrespect's 'Call' With Nike Is Turning Heads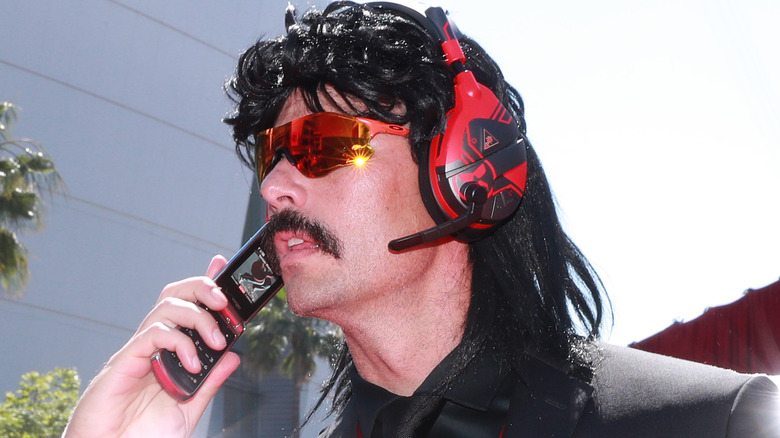 Rich Fury/Getty Images
Dr Disrespect is a boisterous streamer who needs no introduction. The Two-Time Champion has become known for his larger than life persona and scathing commentary. But something else that Dr Disrespect has become known for in recent history is his knack for picking brand partnerships. And a call during a recent stream has fans scrambling to figure out if the Doc might really have landed a deal with Nike.
Advertisement
On June 27, Dr Disrespect was up to his usual streaming shenanigans when he seemed to get a call on his flip phone. He answered, telling the person on the other end of the line that he could meet them whenever he was done streaming. The feed then switched to a green screen set of an alleyway, where the Doc once more took a call on his mobile (while standing inside a phone booth, bizarrely). On the other end, he hinted, was a Nike representative.
"You want to make custom Dr Disrespect gaming shoes?" he asked the supposed caller. "I think it's a great idea. Yes, I think there's a demand." He would go on to argue that gamers want shoes they can wear while playing their favorite titles, apparently so their feet don't get cold. The whole one-sided chat is truly a bizarre thing to witness, but it ended with Doc making an earnest pitch for "competitive Nike gaming shoes." He finally excused himself from the call, but told "Nike" that he'd talk to the corporation soon.
Advertisement
With that, the Doc hung up his phone and returned to his regularly scheduled broadcast — and meanwhile, his fans went wild trying to find answers.
Is Dr Disrespect serious about these gaming shoes?
Fans took to social media to try to figure out if the Nike skit was for real or not. Some began tagging Nike and were already asking for Dr Disrespect to sign their shoes. Others started making jokes about how other brands would have to get out of the way, like one Twitter user who quipped that Dr Disrespect shoes would soon replace Doc Martens. One thing's for sure: Whether the shoes are real or not, the hype certainly is.
Advertisement
And there's reason to believe that this skit may not have just been in jest. Before launching his own AAA game studio, Doc designed an arena for the battle royale shooter "Rogue Company," resulting in a collab that brought Dr Disrespect himself to the game as a playable character skin. Before the partnership was formally announced, Doc had a bit of fun with his social media followers by teasing the team-up for days. As part of his sponsorship deal with Mountain Dew, Dr Disrespect has gone so far as to create elaborate music videos and original songs extolling the virtues of Mountain Dew Game Fuel. Basically, the Doc doesn't do anything halfway when it comes to working with new brands. There's reason to believe that, as silly as the supposed "phone call" sounds, Dr Disrespect could very well be working with Nike in the near future.
Advertisement
It's also worth noting that this isn't the first time Doc has hinted at his Nike dreams. He's been receiving "calls" from the company for years, which could mean he's been trying to put a deal together for quite a while. Only time will tell if Dr Disrespect's gaming shoes are real, or if they'll make fans game better and leap higher than ever before.