Is Minecraft Legends Coming To Nintendo Switch?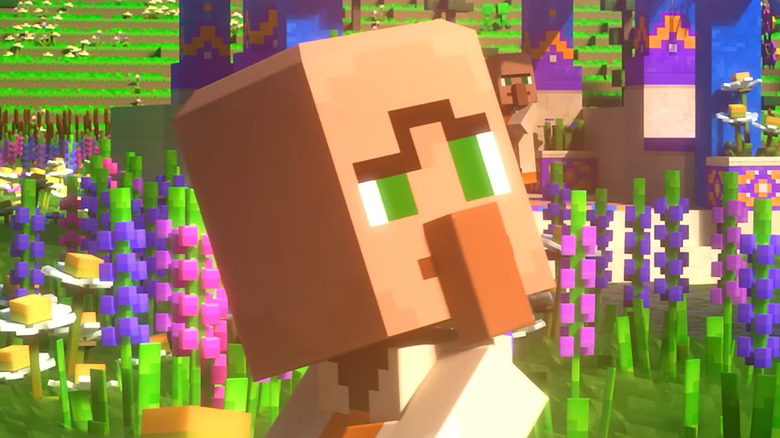 Xbox Games Studio
Mojang's "Minecraft" is one of, if not the, most popular game of all time. Thanks to frequent updates and additions, it remains just as relevant as it was ten years ago. Even though Mojang has carved a cozy seat at the top, this hasn't stopped the studio from reaching higher. In the past, Mojang has sought to expand the "Minecraft" universe into other game genres. For example, "Minecraft Story Mode" and "Minecraft Dungeons" were both "Minecraft" spinoff games developed by Mojang that featured gameplay that was very different from that of classic title. During the Xbox and Bethesda showcase at the Summer Games Expo, Mojang announced a new "Minecraft" spinoff, joining the ranks titled "Minecraft Legends." "Minecraft Legends" is marketed as an action-strategy game set in the "Minecraft" universe. Mojang also brought in some real talent to make the game happen, teaming up with real-time strategy veterans from Relic Entertainment. A team best known for the "Homeworld" series.
But because Xbox Games Studios is listed as the game's publisher, many were left wondering if the game will be available on other consoles. Specifically, the Nintendo Switch. Here's what we know so far.
Minecraft Legends is coming to Switch
During the June Nintendo Direct Mini, Mojang confirmed that "Minecraft Legends" will release on the Nintendo Switch in 2023 via a new trailer. In addition, the trailer featured new footage of "Minecraft Legends," where players take control of a hero tasked with saving the overworld after it gets invaded by angry Piglins from the Nether. Specifically, the trailer showcased players riding around on a horse to collect items, build bases, and control armies. These armies under the player's control will consist of the various "Minecraft" mobs players know and love, such as the Creeper, zombie, and archer skeletons.
However, the trailer didn't display much in terms of new content compared to the original announcement trailer shown during the Xbox and Bethesda showcase. So, the finer details of the gameplay and story of "Minecraft Legends" are still a mystery. And because the game won't release until next year, these components are still subject to change. 
Players that wish to stay up to date on "Minecraft Legends" and be the first to find out its specific release date should head over to the "Minecraft Legends" official website and subscribe to the newsletter. In the meantime, while waiting for "Minecraft Legends" on Switch, gamers can hop onto "Minecraft" on the Switch, where the recent The Wild Update just dropped.