Minecraft Reveals Heartfelt Technoblade Tribute
Famed "Minecraft" content creator Technoblade passed away last week at the age of 23. The news was delivered to fans in a video edited and posted by the YouTuber's father, who reiterated to Technoblade's fans how much the YouTuber had enjoyed sharing his gameplay and sense of humor with the world. Now, the world of gaming is giving back, and "Minecraft" developer Mojang has shown its love and appreciation for Technoblade by adding a representation of the YouTuber to the game.  
Advertisement
When news of Technoblade's death first broke in the early hours of July 1, the official "Minecraft" Twitter account posted some words of appreciation for the beloved YouTuber and streamer. "We have been trying to find the words, but all of us here at Minecraft are heartbroken over the loss of Technoblade," tweeted the account. "He meant so much to our community and brought so much joy. He will be missed dearly." The tweet concluded with emojis of a crown, a dagger, and a pig, paying tribute to Technoblade's iconic avatar of a piglin in a crown, not to mention his hilarious thirst for combat when playing his favorite game.
However, Mojang was not done quite yet with showing love for Technoblade. The company then took things to the next level by incorporating a shoutout to Technoblade in the game itself. Here's how fans responded to the tribute.
Advertisement
Fans react to Minecraft's Technoblade tribute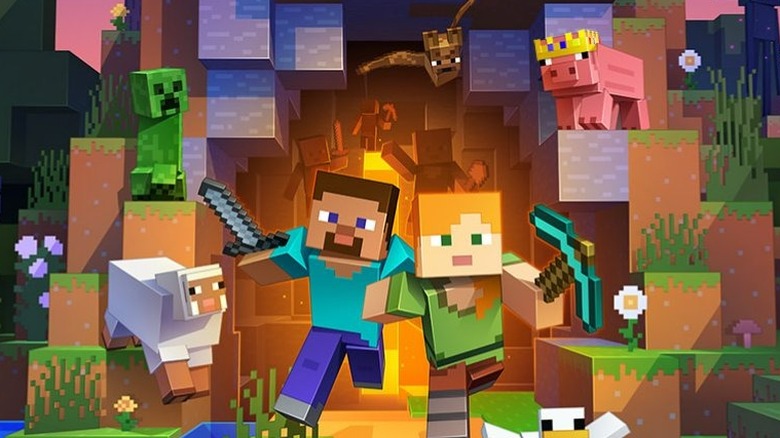 Mojang
Over the last few days, fans and fellow content creators have been happy to see that Mojang has updated the official "Minecraft: Java Edition" launcher screen with a pointed reference to Technoblade. In the background of the image, looming adorably over Steve with his sword and Alex with her pickaxe, players can now see a crown on the head of the adorable pig perched to the side. This is a clear nod towards Technoblade, who typically used some variation of just such a character to represent himself online.
Advertisement
Technoblade fans from all over have started sharing their reactions to the tribute along with screenshots of the launch screen on their own computers. Some have even posted side-by-side comparisons of the launcher to show the subtle design change from last week. At present, Twitter has become flooded with people thanking Mojang for the acknowledgement, as well as people remarking on how precious the pig is and how emotional it made them to see it on their screen. Even people who didn't closely follow Technoblade's content were happy to see him getting this kind of recognition in "Minecraft."
This tribute from Mojang has already inspired fans to ask for more Technoblade-specific features in the game. For instance, one fan suggested that naming a captive pig "Technoblade" should grant it the ability to wear a crown. Some fans are already expressing their hopes that this change to the launcher becomes permanent.
Advertisement
Technoblade has been immortalized in Minecraft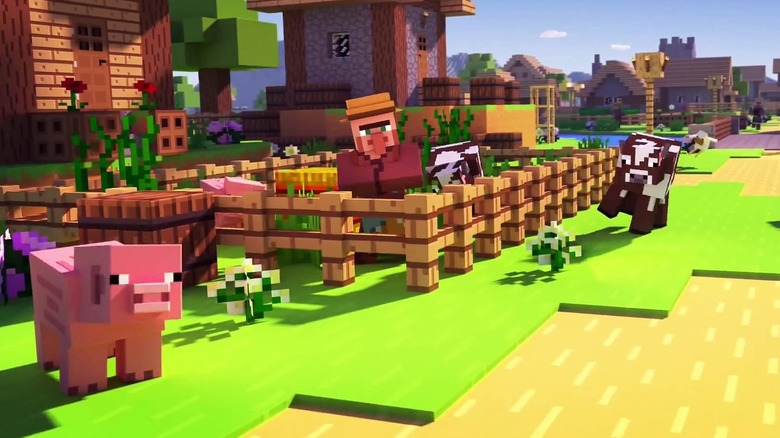 Mojang
In Technoblade's goodbye video, his father explained to fans that the YouTuber's cancer had progressed to the point where he was no longer able to make regular content. However, Technoblade was able to write a few parting words to his fans to thank them for everything and to reassure them that he was happy to have spent so much time with them. "If I had another hundred lives, I think I would choose to be Technoblade again every single time, as those were the happiest years of my life," read his final letter.
Advertisement
With this new launching screen, Mojang has ensured that Technoblade's virtual avatar has at least another hundred lives. And as seen from the overall response from fans, many feel like this is the perfect way to show appreciation for a creator whose love of "Minecraft" was delightfully infectious.
This isn't the first time that a fan has been immortalized in one of their favorite games after passing away. For instance, "Borderlands" superfan Michael Mamaril was made into an NPC in "Borderlands 2," where he could be found handing out sweet loot to players to help them on their way. When actor and comedy legend Robin Williams died, Blizzard Entertainment added a character named Robin to "World of Warcraft" — and naturally, this Robin was a genie, in reference to Williams' iconic role in Disney's "Aladdin."
Advertisement
It's always great for fans to see that their favorite creators are being recognized, and loving tributes like these go a long way after such a huge loss in the gaming community. Who knows? Maybe this won't be the end of Mojang's tributes to Technoblade.