How This VR Modder Makes $20,000 A Month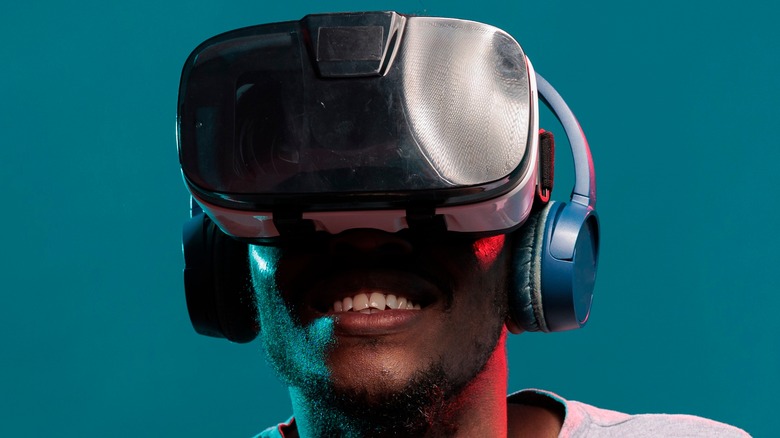 DC Studio/Shutterstock
A couple years ago, Luke Ross was a freelance software engineer with a passion for VR. Today, he's a celebrity in the VR modding community and makes over $20,000 a month from his Patreon account. His mods have been highlighted by sites like Kotaku and Polygon and he now devotes himself to modding full time.
Ross' road to success began simply enough. He decided to take a break from his freelance work and devote his time to VR mods. He found success bringing popular games to VR and released his VR version of "GTA 5" to the public for free. Since then, he's managed to bring other major titles such as "Horizon: Zero Dawn," "Cyberpunk 2077," and "Elden Ring" to virtual reality and made early access to these mods exclusively available to his Patreon supporters.
While Ross is making substantially more money now, he told Sean Hollister at The Verge that he's working much harder and longer hours these days. While the work of changing the game camera to 3D and integrating it with headset movements is easy enough for him, it can take a month to polish the experience so it's actually fun over the long term. Still, Ross seems happy with the increased income and to be working on something he loves. More than that, he hopes to have an impact on the industry going forward.
Supporting investment in VR
It's not just about the money for Ross and it's certainly not about internet fame. Luke Ross isn't even his actual name as he chooses to remain anonymous. For him, it's about supporting VR and showing developers that it's worth investing more in the technology. He told The Verge, "It's my hope that someone sees this, some of the money-movers in the industry and thinks, 'Okay, that can be done quite easily.'"
It's unclear whether he's succeeding in this mission at the moment. While his Patreon has become very successful, showing there is a market for more VR content, he hasn't heard from anyone in the industry yet. He has received neither credit nor criticism from the developers whose games he's modded so far. Despite this, Ross remains hard at work on his mods, and there may still be hope for the future of virtual reality.
New VR tech is currently in the works that could revolutionize horror. Sony appears to be investing more in the space with the PSVR2, and players still get some great VR games every year. With modders like Ross encouraging further innovation, fans certainly have plenty to celebrate at the moment.