The Devastating Death Of Yu-Gi-Oh Creator Kazuki Takahashi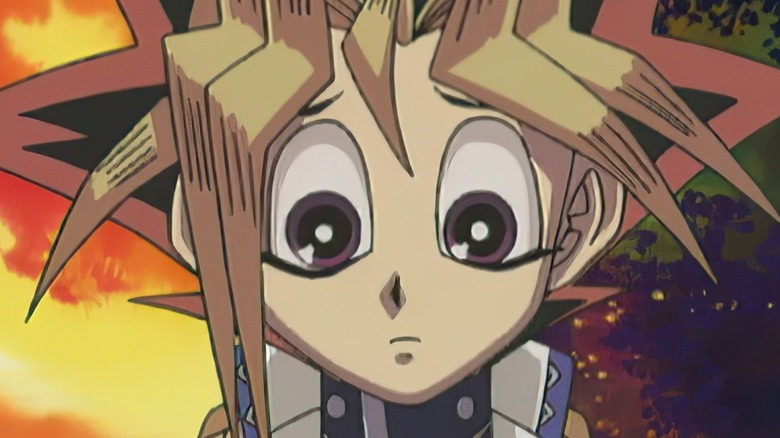 Studio Gallop
"Yu-Gi-Oh!" means so much to so many. The popular card battle series was the brainchild of author-illustrator Kazuki Takahashi, first appearing in the popular Japanese magazine Shonen Jump in 1996. Soon after "Yu-Gi-Oh!" got into the hands of readers, it swept Japan, prompting multiple anime adaptions.
And anyone that spent time watching cartoons in the early 2000s will know that "Yu-Gi-Oh!" eventually made its way to the western world via dubbed reruns. This furthered the series' popularity and became a foundational anime for many. Additionally, the "Yu-Gi-Oh!" series spawned a real-life card game based on the fictional battles in the manga. The "Yu-Gi-Oh!" card game was a success and is still popular, with matches occurring daily worldwide. Some have even made careers out of being professional "Yu-Gi-Oh!" players by competing in highly competitive tournaments. A successful manga, card game, and anime series made "Yu-Gi-Oh!" a global hit and, eventually, one of the highest-grossing media franchises of all time.
But none of this would have been possible without the talented author-illustrator who started it all, Kazuki Takahashi. Tragically, reports have confirmed that Takahashi passed away at age 60 earlier this week, and the situation surrounding his death is nothing short of tragic.
It may have been a tragic accident
On July 7, the English publication Japan Times reported that Kazuki Takahashi had passed away. The report stated that Takahashi's body was found on Wednesday in Okinawa Prefecture, 300 meters off the coast. According to media outlets, Takahashi was traveling alone in the area, so it took some time before anyone realized he was missing. However, the car rental company Takahashi used eventually reported him missing soon after the body was found, and they could not get into contact with the author-illustrator. This led the coast guard to suspect that the body was Takahashi's. Takahashi's cause of death has not been announced at this time. However, Takahashi was found wearing an underwater mask and snorkel, leaving some to believe it could have been a snorkeling excursion gone wrong.
Still, Takahashi's legacy lives on. His previous work continues to captivate audiences everywhere, and with the new anime "Yu-Gi-Oh! GO RUSH!!" and digital versions of the card game being released frequently, "Yu-Gi-Oh!" will live on. Of course, fans can always go back and read the "Yu-Gi-Oh!" manga's original run in Shonen Jump to remind themselves of how great of a creative Takahashi truly was.