Is Stray Coming To Xbox Series X And S?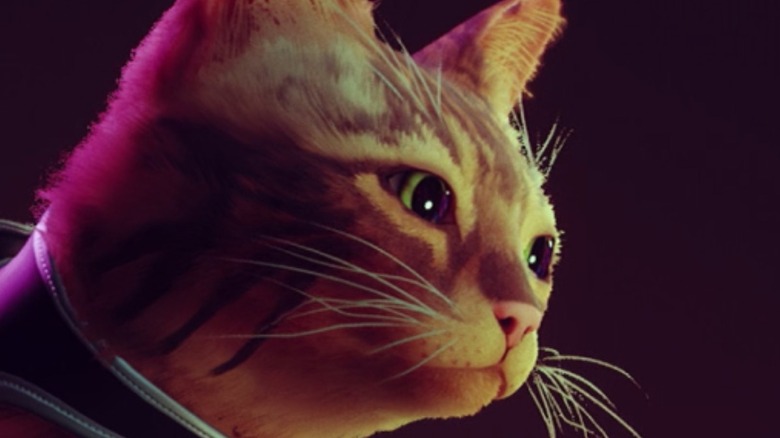 Annapurna Interactive
Cat lovers of the gaming world have been rejoicing ever since the announcement of "Stray," a third-person adventure game from Annapurna Interactive that follows the exploits of a ginger tabby trying to navigate the neon-lit streets of a futuristic city and find its way home. According to the game's official website, "Stray" will allow players to "see the world through the eyes of a cat and interact with the environment in playful ways. Be stealthy, nimble, silly, and sometimes as annoying as possible with the strange inhabitants of this mysterious world." The premise and aesthetic of this game seem to have a uniqueness to them, and many are curious to play it when it finally arrives.
It's been a little unclear just who will have the opportunity to play "Stray," however. The announcement trailer for the game was revealed during the 2020 PlayStation State of Play and it was originally supposed to come out in 2021. It has since suffered a bit of a delay, but the game's website states that it is now set to launch July 19, 2022, and it will be available on Steam and the PlayStation Store. The PlayStation Blog even states that "Stray" will be available for free to PlayStation Plus Extra and Premium members on the first day of release...  but will it come to Xbox?
Stray is a timed exclusive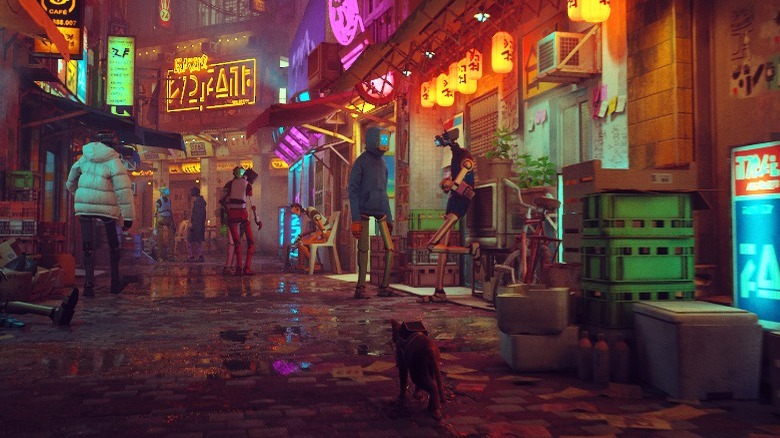 Annapurna Interactive
Gamers who chose to go with Microsoft's line-up of consoles have the advantage of certain features like Xbox Game Pass, but they may end up missing out on some of the exclusive games that the PlayStation is keeping all to itself. It seems like "Stray" is going to be one of those games and those who want to play it on the Xbox Series X|S may be out of luck — at least for a while.
"Stray" is a timed PlayStation console exclusive. The initial reveal trailer refers to it as a "console exclusive for a limited time. Also available on PC." You'd be forgiven for missing this, though: the message is written in teeny tiny print near the bottom of one of the slides at the end of the trailer, so it's easy for fans to miss. This means that Annapurna Interactive likely struck a deal with PlayStation so that "Stray" would only be available on the PC, PS4 and PS5 for a predetermined amount of time. It's unclear exactly how long PlayStation's exclusivity window will last, but it's entirely possible that "Stray" will be available to come to the Xbox Series X|S shortly after those rights expire. Still, Xbox fans shouldn't expect the game to come to their consoles any time soon.