How To Unlock Pusheen Skins In Fall Guys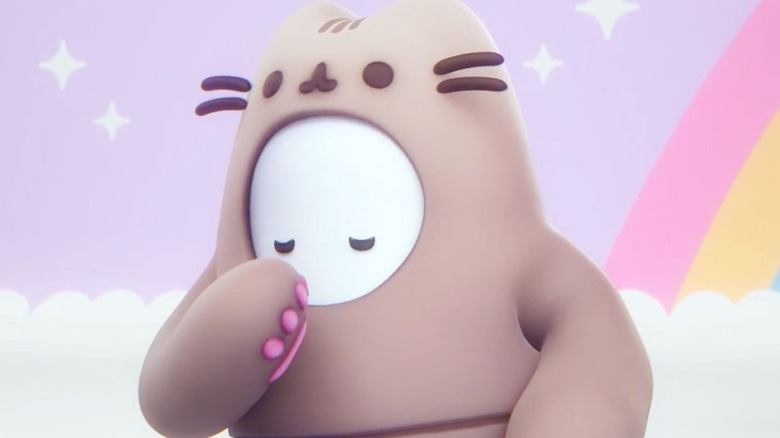 Mediatonic/Epic Games
The frantic, platform battle royale game "Fall Guys" is getting some of its cutest character skins yet. Mediatonic just announced on Twitter that the lovable cartoon cat Pusheen will be coming to the game in the form of two outfits: a classic Pusheen and an equally adorable Super Pusheenicorn. Both will be available in-game starting July 14.
Advertisement
Pusheen the cat began as a character on the website Everyday Cute — which is no longer active, but is thankfully preserved on Tumblr — and later got her own spinoff comics, merch, and website. Like most cats, the plump tabby is known for enjoying naps, snacks, and low-key adventures. And now, fans will get to bring her style into their "Fall Guys" matches.
Pusheen joins the ranks of other popular characters who have made their way into the game. Master Chief from "Halo" recently got a skin along with Major Mancake from "Fortnite," as well as Ratchet and Clank. To snag these adorable new skins, you'll need hand over some Show Bucks.
How much do these Pusheen skins cost?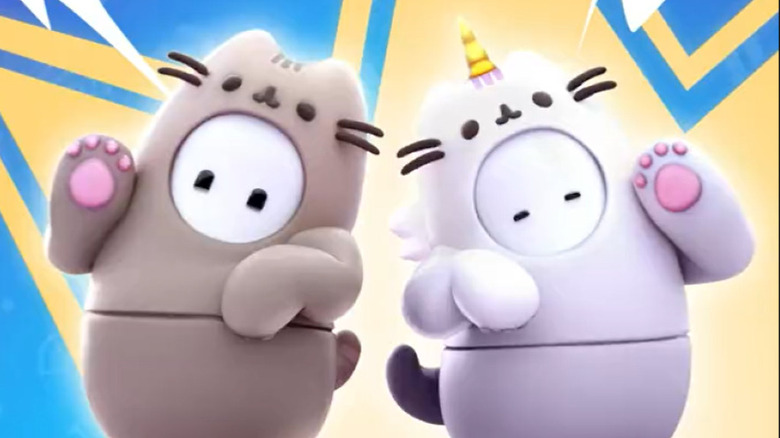 Mediatonic/Epic Games
Currently, each complete outfit costs 800 Show Bucks. You can also grab both together for 1,600 Show Bucks in a bundle that includes a cat-themed emoji (which itself sells separately for 400 Show Bucks). 1,000 Show Bucks can be purchased for $7.99 USD.
Advertisement
Show Bucks were introduced when "Fall Guys" went free-to-play in June. Despite these changes, "Fall Guys" remains a smash hit with fans and has inspired clones and competitors, including an upcoming "Kirby" game. It seems the game's expansion to other platforms, as well as its continued embrace of crossover collaborations like this one, has only served to widen the appeal of "Fall Guys."
The Pusheen skins will only be available from July 14 to July 18. While skins are rotated through the shop pretty regularly, there's no telling if or when Pusheen will return. If you're a Pusheen fan, be sure to grab them while you can.